A decade into the Boeing 787's service with Japan's All Nippon Airways, the airline is expanding the premium cabin and installing new seats throughout on its 787-9 Dreamliner aircraft, with seats from Safran and Toyota Boshoku to match those installed on its other domestic widebodies in a programme started before the COVID-19 pandemic.
ANA operates a two-class service on board these domestic widebodies, with Premium Class serving as the up front option equivalent to international premium economy or US domestic first class recliners.
On the newly outfitted domestic 787-9s, ANA is installing 28 Premium Class seats (ten more than previously) up front with 347 economy class seats behind for a total of 375 passengers.
That's a drop of 25 total seats from its previous configuration, which offered 18 seats in a 2-2-2 layout up front and 377 economy seats in the now-standard 777 layout of 3-3-3 in economy.
Those economy seats are from Japanese seatmaker Toyota Boshoku, and have evolved from those installed first on the airline's 767-300 in 2015 [PDF]. They're relatively basic slimlines offering a space-saving table with what the airline says is a redesigned beverage holder hole in the usual top-right-hand place with "a clover shape to make it easier to remove paper cups".
They're in a very on-brand deep blue fabric moquette, with a variety of mix-and-match patterns that are varied between seatback and seat pan in a manner that will go some way to breaking up the long rows of all-economy seating down the back of the 787-9.
Up front, Premium Class is from Safran Seats, and while ANA declined to name the model number in response to questions from Runway Girl Network "as they feature specially customized designs", it certainly looks like the Z600 and seat adjustment buttons suggest it is indeed electrically rather than manually controlled.
The colour, materials and finish are a calm and professional mix of browns and greys, with some light application of a wood finish in the end caps and surfaces in the divider between the seats, which also features a marbled stone effect vertical separator.
There's an asymmetrical privacy wing at head level, with the slightly longer wings between passengers in a pair, and that longer wing also features a cleverly positioned reading light. In addition to the swivelling tray table, there is also a small cocktail table to the front of the centre divider.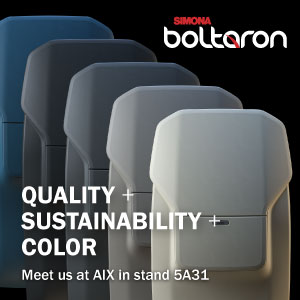 ANA promises "easily accessible PC power and USB port locations" for the Premium Class seats but these are not immediately visible on the premium seat renderings. In economy, both AC and USB are on offer as well, but here one AC socket per passenger is located under the seat in front, and USB-A sockets are visible under the IFE monitors.
Those monitors are, ANA says, 13.3" in economy and 15.6" in premium, and while the carrier makes no mention of inflight connectivity in its announcement there's no reason to suggest that the previously installed system has been deactivated.
Both the premium Safran and the economy Toyota seats are the same products ANA introduced on its eight domestic 777-200 and eleven 787-8 aircraft before the COVID pandemic in May 2019. The 777-200s appear from Airfleets data to have been parked since early 2021.
Interestingly, this means that all ANA domestic widebody aircraft — whether Boeing 777-200, 787-8 or now 787-9 — will have the same number of seats in the premium cabin. This is likely to bring operational flexibility benefits to the airline, which can now vary its fleet depending on the number of economy class seats it needs: 284 on the 787-8, 347 on the 787-9 or 364 on the 777-200.
Related Articles:
Featured image credited to ANA