Through the years, Boeing has used multiple aircraft types as "ecoDemonstrators" to test and refine the use of new technologies and methods to improve aviation's environmental performance. Today, the airframer said a Boeing 787-10 will kick off its 2020 program in August, and be tasked with testing ways to reduce emissions and noise. Four weeks later, the twinjet will enter revenue service with Etihad Airways.
"Boeing and Etihad will work with industry-leading partners, including NASA and Safran Landing Systems, to conduct aircraft noise measurements from sensors on the airplane and the ground," explained Boeing. "The data will be used to validate aircraft noise prediction processes and the sound reduction potential of aircraft designs, including landing gear, that are modified for quieter operations." Safran provides the landing gear for the 787.
Notably for readers of Runway Girl Network and others who are tracking the evolution of the nose-to-tail connected aircraft, an ecoDemonstrator flight will be conducted during which pilots, air traffic controllers and an airline's operations center "will simultaneously share digital information to optimize routing efficiency and enhance safety by reducing workload and radio frequency congestion", said Boeing.
This flight trial comes on the heels of last year's ecoDemonstrator tests aboard a Boeing 777, which saw SITA work in collaboration with Honeywell to similarly optimize the transmission of digital information between pilots, ATC and AOCs using Internet Protocol Suites (IPS).
"Following the completion of successful trials, the migration from ACARS protocols to IPS could benefit airlines by offering commonality across mainstream communications channels, as well as next-generation network compatibility and enhanced security," said SITA in March of this year.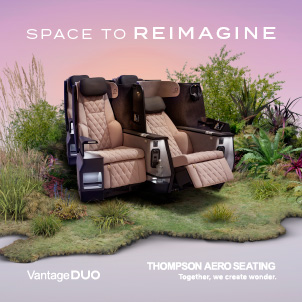 Various inflight connectivity stakeholders, including London-based satellite operator Inmarsat, believe that route optimization is a key way for the IFC sector to help slash emissions, and potentially save airlines billions of dollars. Lufthansa, for example, is among the airlines that have long studied the benefits of exploiting connected electronic flight bag (EFB) applications to avoid turbulence, improve safety and achieve a more efficient fuel burn.
Adding to the eco-credentials of Boeing's latest ecoDemonstrator program involving the Etihad 787-10, the airframer said today that all test flights will be flown on a blend of sustainable fuel.
"This is the latest program under Etihad's industry-leading strategic partnership with Boeing, focusing on innovating real-world solutions to the key sustainability challenges facing the aviation industry," noted Etihad Aviation Group CEO Tony Douglas in a statement.
It is also the first time the ecoDemonstrator program has used a 787-10 variant. The 777 used for last year's ecoDemonstrator flights carried out tests for a total of 50 projects, including the aforementioned SITA trial, as well as smart galley trials with Safran, Diehl and KID-Systeme. Boeing has conducted testing on a 787-8, a 757, and other types since launching the program in 2012.
Related Articles: