Low-latency Low Earth Orbit (LEO) satcom is certainly having a moment in civil aviation. But so too is low-latency, nextgen air-to-ground connectivity. To that end, SkyFive's work to bring its air-to-ground (A2G) inflight connectivity solution to operators around the world is progressing, with the firm confirming it has active projects in Australia, China, New Zealand, South Korea and Saudi Arabia, and that it's looking to serve Saudi Arabia's neigbours as part of a larger cluster in the Middle East.
SkyFive is also working with two Southeast Asian countries, and recently announced a technology verification activity with Japan's Softbank.
The German company is not new to the IFC market. It acquired Nokia's air-to-ground assets in 2019, after Nokia served as a key technology partner on the hybrid S-band satellite/air-to-ground European Aviation Network (EAN) built by Deutsche Telekom and Inmarsat (now Viasat), and it continues to support the EAN. But in the years since Runway Girl Network last spoke with SkyFive, it has commercialized its product and announced new partners, in addition to bolstering its footprint.
To enable mass proliferation of A2G technology, SkyFive developed Dragonfly, which it describes as "a postage stamp sized A2G module that can be easily embedded in aircraft communications systems by virtue of its standard form factor and interfaces".
The Dragonfly module, explains chief commercial officer Dirk Lindemeier, "allows any supplier of airborne communication devices to enable its products for connecting to SkyFive's A2G networks, which yields more choice for aircraft operators and optimized solutions for different sizes of aircraft." He adds:
We are strong believers in open architectures, and the idea of building a vertically integrated solution is alien to us.
New Zealand-based Flightcell, which provides communications systems for helicopters and light aircraft, has successfully integrated Dragonfly into its compact DZMx-branded terminal, which in turn has been commercialized.
Movement in EMEA
Outside the EAN, which already supports hybrid A2G/satcom-based inflight connectivity on hundreds of commercial jets flying in Europe, SkyFive expects that the first dedicated SkyFive A2G-fitted aircraft to enter commercial service will in the Middle East, either in commercial aviation or business aviation in the fourth quarter of this year or the first quarter of 2024. It has already made important headway in the region.
On the BizAv front, its SkyFive Arabia subsidiary — described as a Saudi mixed company with mixed limited liability — recently announced a strategic partnership with Dubai-headquartered Jetex, which provides private terminals, aircraft fueling, ground handling and global trip planning to its executive aviation customers.
"This groundbreaking collaboration aims to utilize the progressive expansion plan of SkyFive Arabia and its terrestrial network coverage across the Middle East and Africa, offering Jetex customers seamless access to the fastest inflight connectivity services available," say the two firms in a statement.
Saudi Arabia, meanwhile, "has issued a 15-years spectrum license for A2G, which was won by our local telecoms partner stc (Saudi Telecom Company)", notes founder and CEO Thorsten Robrecht. "We brought the first A321 of SAUDIA online, which has been flying for several months now. We are also engaged with several airlines in the region on deploying A2G fleet-wide."
In addition to winning its "first business jet customer" — the aforementioned Jetex arrangement — the SkyFive CEO reveals that:
[A]irlines from both Europe and the Middle East voiced out their interest in contiguous coverage for the entire EMEA region, which would allow aircraft to stay A2G-connected for six hours and more on certain routes — an exciting prospect for sure.
The firm's engagement in the Middle East is clearly not limited to Saudi Arabia, though the country functions as a regional anchor. "Instead, we are looking at a larger cluster, which also includes most neighbours of Saudi Arabia," says Robrecht.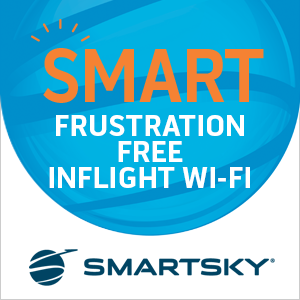 Even so, the SAUDIA project is quite high profile, involving Saudia Aerospace Engineering Industries (SAEI), Thales, Nokia, Eclipse Global Connectivity, and Athonet.
Ten months ago, SkyFive Arabia shared a video on LinkedIn about the test program, including footage of the equipped SAUDIA aircraft and the passenger experience on board. For its part, telco partner stc said the A2G service will allow users to enjoy 'high-quality, 4K video streaming, web browsing, and social media usage'.
SAUDIA's interest in A2G is certainly in sync with what a SAUDIA executive told Runway Girl Network back in in 2014, when he suggested that air-to-ground IFC is the preferred solution over land masses, and said at the time that US firm Gogo was welcome to table a proposal. It seems that SkyFive has taken the bull by the horns.
Helis and eVTOLs
In addition to its work to bring A2G to commercial and business aircraft, SkyFive will support both the helicopter market and — with an eye on the future — the nascent eVTOL market. As noted, its Dragonfly module is slotted into airborne devices like the Flightcell DZMx, and this will be used, for instance, for helicopters, whilst SkyFive is already working with Diehl Aerospace to integrate its A2G technology with the Diehl High Performance Controller for eVTOLs, yielding what it says is "the lightest-ever broadband solution for weight-constrained aircraft".
"Moreover, we are developing the capability for so-called C2 datalinks (command & control), which carry critical data traffic and therefore require to be redundant. That redundancy comes from a secondary satellite link, which is also getting miniaturized to a similarly sized module. Here we collaborate with Echostar Mobile as a satellite provider and Airbus as an eVTOL maker, which was publicly announced earlier this year."
The tests, says Echostar, are part of a project to commercialize urban air mobility within and between cities, "an ambition that depends on redundant satellite and terrestrial connectivity".
Over-water, and a potential US market entry
Robrecht tells RGN that SkyFive is eyeing over-water operations, noting that: "[T]his is already a reality, as Deutsche Telekom deployed A2G base stations on oil rigs in the North Sea."
Could we ultimately see this sort of activity in the Red Sea or Persian Gulf?
Interestingly, the company is also "currently assessing several options" for entering the US market, he reveals. Gogo Business Aviation and SmartSky Networks are air-to-ground IFC providers in the US. And Intelsat offers Gogo's service to the commercial sector.
Given the hotly competitive nature of the market, it is perhaps unsurprising to learn that Robrecht believes SkyFive has a better mousetrap.
Related Articles: