Thousands of Gogo's legacy air-to-ground (ATG) connectivity installations on business aircraft appear poised to lose access to inflight connectivity if their owners do not upgrade to Gogo's Avance products — or indeed to another IFC solution — by early 2026.
"Now that the Gogo 5G network is complete, Gogo is focusing on updating customers' service and experiences on their licensed 3G/4G network by updating to the latest LTE network technology. Legacy ATG 5000, ATG 4000, ATG 2000, and ATG 1000 equipment cannot connect to the LTE technology and will not be supported beyond early 2026," revealed Duncan Aviation in a message to operators last month.
"Without access to a network, those aircraft will no longer have any inflight connectivity," warned Duncan Aviation, which installs and certifies IFC solutions, and is a longtime partner of Gogo.
News that this transition will occur in 2026 comes as Gogo is known to be working towards the goal of permanently removing, replacing, and disposing of hardware from China's ZTE in line with US government interests.
3,600 tails on Classic at end of Q1
RGN sought color from Gogo. After all, Gogo CEO Oakleigh Thorne said on a 3 May earnings conference call that operators which have not adopted the company's current-gen Avance line of ATG systems "are generally satisfied with their current Gogo Classic product, which will continue to benefit from improvements to our ATG network. Our loyal installed base provides a solid financial foundation for our business for years to come."
A Gogo spokesman told RGN that: "There were 3,600 aircraft with our Classic (legacy) ATG systems on board (ATG 1000, 2000, 4000, 5000) at the end of the first quarter of 2023."
Asked to confirm the veracity of Duncan Aviation's statement — that support for these legacy systems will not extend past early 2026 — the Gogo spokesman said:
We are expecting to transition in early 2026.
3,600 aircraft is a meaningful number. To put it into perspective, we return to the earnings call where management confirmed that Gogo's ATG aircraft online reached a record 7,046 units at the end of the first quarter, representing 8% growth versus the prior year and 2% growth sequentially. Avance units online included 3,447 units, up 28% year-over-year and now comprise 49% of Gogo's total fleet.
So, roughly half of Gogo's ATG install base in the North American market could be seen by Gogo's IFC competitors as being potentially up for grabs over the next two years, if they don't tap Gogo for an upgrade. Some customers are clearly upgrading. For instance, Gogo on 31 May announced that longtime customer, flyExclusive, has selected its Avance platform for 40 aircraft, with flyExclusive chief operating officer Mike Guina referring to the deal as "connectivity upgrades".
Gogo kit, including Classic systems, are installed on more than 90 aircraft in flyExclusive's fleet, according to Gogo. But last year, the private charter operator also began upgrading some Gogo-equipped business jets to rival SmartSky Networks' nextgen ATG solution for CONUS. Company CEO Jim Seagrave told RGN at the time: "It's good business to have both of them in-house, Gogo and SmartSky."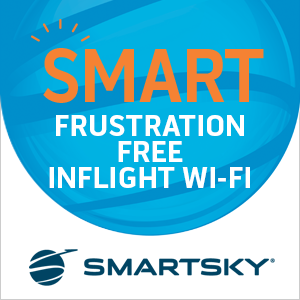 In addition to SmartSky ATG, a number of competing IFC options are available on the market. Depending on the size of the business aircraft in question, these include but are not limited to: Inmarsat and Iridium's latest-generation satcom via L-band (SwiftJet and Certus, respectively), which are distributed by multiple partners; as well as various tail-mount offerings supporting Inmarsat's Ka-band-based Jet ConneX, which is distributed by multiple partners (Honeywell, Collins Aerospace, Satcom Direct) and is now under the Viasat umbrella; plus Collins Aerospace's LuxStream Ku-band offering; and Viasat's own BizAv IFC portfolio. SpaceX's LEO satellite-focused IFC is also on the march.
Now that the North American business aviation community is learning of an early 2026 phase out for Gogo's ATG service support over Classic hardware, SmartSky, for one, is seeing fresh interest in its system from operators that carry Gogo Classic kit on their business aircraft. "[I]t's a big driver, as it means roughly 110 aircraft per month will need to be upgraded from now until then," a SmartSky spokesman told RGN.
He added: "The required 'upgrade' [offered by Gogo] should really be viewed as being an entirely new buying decision from the customer's perspective, due to cost and it requires all new equipment to be installed, which in most cases means downtime that's very similar to a fresh install with SmartSky."
Incentives on offer
Perhaps there has never been a better time to be shopping for IFC in business aviation.
Gogo is offering a $25K incentive to Classic customers that upgrade to its small form factor Avance L3 system supporting 3G connectivity (email/vpn/web/voice/text, etc) and $50K to those that upgrade to Avance L5 with 4G connectivity. Avance L5 is billed as "the easiest path to Gogo 5G when it launches".
Gogo's spokesman said the firm has worked with its dealer partners to streamline the upgrade process. "STCs for AVANCE L5 and L3 have been secured and in place across most airframes for quite some time now, so no new work needs to be done there," he said. However, Duncan Aviation said it's in the process of developing STCs covering the equipment upgrade for operators of Falcon 2000/2000EX aircraft, and several Hawker models. It estimates completion later this year.
"Downtime for the upgrade is minimal: five business days or less in some cases. The upgrade entails swapping out the older ATG box with the newer AVANCE L3 box. The older antenna will provide access to the LTE/3G network," explained Duncan Aviation in its note to operators. "Planning and scheduling upgrades take time, and there is already a growing demand, so don't wait to reserve your spot at the Duncan Aviation Satellite nearest you today!"
SmartSky, meanwhile, is offering similar financial incentives to would-be customers of its solutions, though its LITE ATG system for light jets and turboprops, and its Flagship product for larger jets, both offer a streaming class of service.
"SmartSky has two high-performance, streaming-level solutions depending on what size aircraft the customer operates. For mid-size jets and larger, we're offering a $50K rebate for them [Gogo Classic clients] to upgrade to our dual-antenna Flagship system. For small jets and turboprops, we're offering a $25K rebate if they upgrade to our single-antenna LITE system," said a SmartSky spokesman.
"In simple terms, our customers get the benefit of SmartSky's patented 5G technology now for any size aircraft, yet with installation and subscription pricing comparable to either Avance L3 or Avance L5, respectively, with no explicit limit on the number of simultaneously connected devices. Importantly, their Classic upgrade to LTE (driven by Gogo's desire to eliminate from their network ZTE equipment that is subject to various government prohibitions due to national security concerns) will still use the same limited amount of licensed spectrum that they've had in service since 2008, so while performance may incrementally improve, it is not even in the same league as what an upgrade to SmartSky would represent."
On the certification front, SmartSky reported from EBACE in Geneva that it was granted the first commercially available FAA STC for its LITE system – on the Bombardier Lear 60 business jet. This STC has relevance to its work to attract Gogo Classic clients (and indeed other operators). LITE, said SmartSky, "is a quantum leap in performance for small cabin aircraft". Several more STCs for the LITE system are anticipated in the next several months. And recently, the Flagship system was STC'd for the Falcon 2000 aircraft series.
Migrating away from Chinese hardware
It's no secret that Gogo is moving away from the original EV-DO hardware from China's ZTE in line with US government interests. The issue started brewing during the Trump Administration. In 2021, the FCC opened up an application program for reimbursements.
"Last summer, Gogo was awarded a $334 million grant under the Federal Communications Commission's Secure and Trusted Communications Networks program that would reimburse the company for expenses associated with accelerating the removal of Chinese telecom technology from the 3G and 4G networks. Because there were more qualified grants than originally planned, all grants were cut back to 39% of the original award, which in Gogo's case is $132 million," said Gogo's Thorne on the 1Q earnings call.
The Gogo CEO is hopeful that bipartisan legislation will ultimately fully fund the grants awarded by the FCC, and be approved.
RGN asked Gogo about the FCC program in relation to its $25K/$50K upgrade incentive program.
RGN: Are these upgrades part of the FCC's new requirements (as part of its broader reimbursement program, mentioned on Gogo's recent earnings call)?

Gogo spokesman: Gogo is participating in the FCC equipment replacement program. While the program is supposed to be for "replacement" and not upgrades, by replacing decade-old equipment (that is passed end-of-life) with new equipment, it will naturally improve capacity and performance.
Separately, an estimated 1,400 regional jets flying in the US and Canada carry Gogo kit with original EV-DO hardware from ZTE. And these too are seen as up for grabs in the marketplace, with Intelsat scoring a recent win for its multi-orbit satcom solution on Alaska Airlines' Embraer 175s.
Intelsat, which acquired Gogo's commercial business, has exclusive access to Gogo ATG in the commercial sector under a network services agreement with Gogo. Dave Bijur, who serves as Intelsat's SVP, commercial, told RGN at this month's Aircraft Interiors Expo in Hamburg that replacing aged IFC systems, such as the first-generation ATG systems coming off aircraft, represent a significant retrofit opportunity in the market.
"I think that there's a big play right now for these first-generation systems to be retired," he said.
Related Articles:
Featured image of SmartSky's Flagship system being installed on a Falcon 2000 credited to SmartSky