SkyFive's DA2G-branded direct air-to-ground inflight connectivity solution is under review by an undisclosed airline in New Zealand, which is eyeing possible deployment on domestic aircraft.
Zoltan Losteiner, who serves as director-APAC business development at SkyFive, tells Runway Girl Network that the undisclosed airline is "definitely engaged" and that talks entail "probably a little bit beyond just doing a trial" of DA2G, though the operator is not yet ready to be mentioned by name.
SkyFive acquired Nokia's ATG assets in 2019, after Nokia served as a key technology partner on Inmarsat's hybrid S-band/ATG European Aviation Network (EAN). Since then, in addition to supporting the EAN, SkyFive has been working to offer regional-focused ATG connectivity along similar lines to the EAN, but without the satellite component.
That includes bringing DA2G to narrowbodies, turboprops and 'low and slow' aircraft flying in Australia and New Zealand, as well as in Papua New Guinea, Malaysia and other Southeast Asian countries. Similar work is also afoot in the Middle East.
"[T]he A320 family — we have STCs already and that is basically part of the biggest chunk of the aircraft that we are aiming for," says Losteiner in reference to equipping A320s by using the STCs that were secured for the EAN. Though the STCs would require some adaptation to accommodate each country's regulatory and airline-specific needs (and won't require the S-band hardware component), this work isn't expected to be cumbersome or expensive, he says.
Headquartered in Munich, SkyFive is working with Eclipse Technics, which designed, certified and manufactured the install kit for the EAN, as well as MRO giant Lufthansa Technik — both "experts in the STC world and they are pretty confident, and they say that they can do it in a couple of months time for any airline. So we, by the way, have some plans already [in] this part of the world for pretty much all the A320s for all the operators. We have done already the homework for that as well," says Losteiner from his office in Sydney.
Last year, SkyFive completed Phase 1 of a technical evaluation and proof-of-concept exercise in New Zealand which involved early "trial kind of equipment" for helicopters and other small aircraft. NZ Police, St Johns Air Ambulance, and the Auckland Rescue Helicopter Trust participated in the demo. "I think that was a great success because it could show really the high-speeds, low-latency but it couldn't demonstrate the form factor" of what will be the final commercialized product for this sector, says Losteiner.
Based on its learnings from this demo system, an "extremely small and fairly light" commercial onboard terminal is being developed by New Zealand-based Flightcell International for the 'low and slow' segment, as well as for turboprops. Flightcell already provides mission critical cellular, satcom and aircraft tracking systems on thousands of aircraft operated by law enforcement, the military and for MEDEVAC applications.
Losteiner explains:
The main reason of our collaboration and actually it's a formal collaboration is that their product is going to be upgradable with our air-to-ground modem. So [Flightcell's] DZMx product — what they are selling all over the world — is kind of like a modular thing, you can plug in different communication cards, you can put in cellular modems or you can put in satellite communication modems as well, or you will be able to plug in our Band 65 modem as well.

So their aspiration obviously is they want to be the first one in this market and they want to sell more of their products. They want to sell their upgrade of their existing products as well and they want to get into the turboprop market that [they] don't operate at the moment.

In Europe, we are using Thales equipment for the modem on the [A320] aircraft and again these are not really standard LTE modems or LTE devices because they all have this special software which SkyFive [then Nokia] developed that is required for the high speed and the large distances. Plus it has all the aviation kind of features that are needed to manage the life of the connectivity.
The second phase of SkyFive's evaluation in New Zealand will see flight trials of the commercialized version of the Flightcell system. That work is expected to get underway this month. Losteiner reckons that the Royal Air New Zealand Air Force will participate in the trial. And larger commercial aircraft are expected to be involved.
This activity is not about proving the DA2G concept in the classic sense, he says. "We know it works. Hundreds of aircraft are using it in Europe. We do it as kind of like a show, as a commercial investment to demonstrate with them and get the potential customers convinced how great it is…" Because a ground network is needed to support ATG-based IFC across New Zealand, SkyFive can't rely solely on the 'low and slow' sector for business due to the costs entailed. "The solution will be commercially viable once we have the commercial aviation involved as well."
The company has a MoU with New Zealand-based The Broadtech Group, which owns and operates a nationwide network of transmission sites, and a regional digital terrestrial television network. Together they have done a good amount of preliminary work to understand what is required to build full coverage for the New Zealand area, including over the seashore for the police and other players that are interested.
Just to let you know, we can go up to like 160km so 100 miles from the shore because this is how deep the beam size…

Broadtech is our partner because they have the most expansive assets; what is needed for the network is really the towers. And because they are traditionally … not mobile towers but more like TV and radio broadcast towers, their location is much better suited for us because they are on the top of of the hill and larger so they can cover a much bigger footprint.

And so we know the locations. We have a high level design already in place. We know how many sites we need to build and we have pretty much everything in place to press the button as soon as we can sign up the first few customers.
At the moment, the COVID-19 crisis is an obstacle, as operators are in survival model, but SkyFive is optimistic it can start an initial rollout on domestic aircraft in New Zealand, and build on that.
Similar work is happening in Australia where Pivotel, a Gold Coast-based rural and remote communication solutions provider, late last year signed a memorandum of understanding with SkyFive to engage in a proof-of-concept trial of DA2G.
In a press release about the arrangement, SkyFive divulged further details about what the network will entail, explaining that Pivotel will deploy a DA2G network powered by Nokia's eNodeB and NEC's iPasolink Microwave technology, providing coverage to an area of around 50,000 square kilometres between Dubbo and Sydney, and that Flightcell's onboard terminal will be used as part of the trial.
Losteiner explains that Nokia's eNodeB base stations are relatively low cost. "So we are buying their product and we are installing our special software that is allowing the much higher speed and distance that is required from aviation."
NEC's technology, meanwhile, will connect the base stations to SkyFive's center core network, he says.
We are promoting and providing large capacity for every single aircraft. In order to have this large capacity, which is 100 Mbps with very low latency — obviously no satellite can match even remotely — that requires a very big pipe that connects base stations to our center core network. And that is coming from NEC. So they provide the transmission to connect our base stations to the rest of the network. There is nothing too special about it because they are already used in the others parts of the communication world but we need them because we need massive capacity.
Additionally, he reveals, Canadian firm CCI is manufacturing "probably the only special product that is needed for the network and that is the antenna. Because the antenna that we are using, they are very different from the normal terrestrial LTE or 5G antennas because their beamforming and characteristics will have to accommodate the large area that is has to cover above and around the base station." So Nokia, NEC and CCI are the three key hardware suppliers for the ground network.
When it comes time to roll out DA2G in commercial aviation, SkyFive's regional partners — such as The Broadtech Group in New Zealand — will be responsible for selling their capacity to the telcos and whoever else wants it. So the SkyFive solution will effectively be white labeled and partners can put their brand on the top of that if they choose.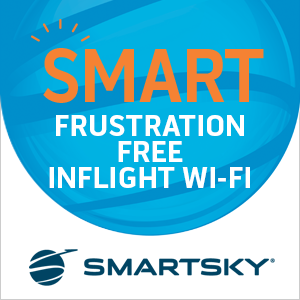 From a passenger experience standpoint, the goal would be for subscribers of wireless carriers to simply tick a box in their subscription plan for onboard Wi-Fi so "once you take your device or phone to the aircraft you will be immediately authenticated. So that is something that we want to push for in the next phase of the commercial deployment is the absolute simplicity of connectivity and that's the reason why we are promoting our solution to the mobile operators or the cellular operators because everybody has a mobile phone. So through them we can very easily serve the passengers on the aircraft."
From an onboard WAPs standpoint, SkyFive is not delivering its own solution. "There are people that are doing a very efficient job of getting WAP solutions on the aircraft so we see no point of competing. We are easy partners for that." And SkyFive can simply add its connectivity to an existing onboard wireless network.
For airlines that already have satcom installed on their narrowbodies, he suggests: "There is a business case for them to install our equipment and offload the satellite part and basically upgrade their service. If they already have onboard Wi-Fi equipment they have probably the most expensive part of the requirements sitting on the aircraft so our solution can upgrade that and provide a proper connectivity to the passengers."
SkyFive doesn't see the need to offer an EAN-like hybrid satcom/ATG offering, even in Southeast Asia. Yes, there are flights over the water in SEA, but most flight hours are happening over land, says Losteiner. Bringing cell towers to buoys would be too costly, though there might be an opportunity to explore doing so on oil rigs. With that said, there would be nothing precluding an operator from adopting satcom for aircraft flying over water or long-haul, but using SkyFive's solution when in the coverage area.
Related Articles:
Featured image credited to SkyFive