New HondaJets entering Volato's fractional ownership fleet over the next two years will be fitted with SmartSky Networks' nextgen air-to-ground (ATG) inflight connectivity solution under an agreement inked between the two firms that also includes the option to upgrade existing aircraft.
Based in Atlanta, Volato is a full-service private aviation company that took delivery of its first HondaJet in August 2021 and now lays claim to being the world's largest operator of HondaJets. Its arrangement with Honda Aircraft Company will see Volato add an additional 25 HondaJets by the end of 2025 to support its fast-growing fractional program, which offers a revenue share to owners. The aircraft are in production right now.
A large portion of these HondaJet orders, "more than 20 new aircraft", has already been earmarked to be fitted with SmartSky's small-footprint, lightweight LITE-branded IFC system, according to the two firms. LITE offers a "streaming level, low latency broadband inflight Wi-Fi" service that has been specifically tailored for smaller aircraft, including the HondaJet light jet which is optimized for missions of up to four passengers.
"After evaluating the available options for Wi-Fi for our fleet, SmartSky demonstrated the capability to deliver the high-quality connected experience our customers expect," said Volato chief operating officer Mike Prachar in a statement.
"We were also attracted to the fact that its software-defined features will allow us to keep up with new technology developments without requiring new hardware so we can keep our customers flying with no disruptions to service or the latest inflight Wi-Fi speeds."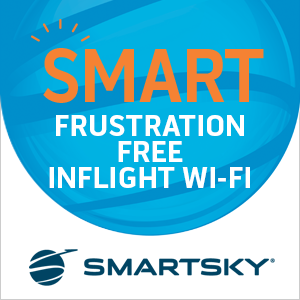 In an interview with Runway Girl Network, SmartSky CEO David Helfgott said the firm also "has our eyes on" equipping Volato's existing HondaJets with its nextgen ATG system, as well as incoming Gulfstream G280 super mid-sized aircraft. It will revisit those conversations with Volato when management is ready.
Gogo is the long-standing incumbent ATG provider in North America, but according to Helfgott, SmartSky, with Honeywell as its value added reseller, is seeing fresh traction for its IFC solutions given the delays to Gogo's 5G program, "their chip problems, and forced rip-and replace plan" for legacy ATG systems. This, combined with the fact that small jets and turboprops are "the least served market" for IFC — and SmartSky's LITE system is tailored for the sector — has helped to push leads towards SmartSky, he said, adding: "The legacy small jet market where Gogo has penetrated are looking for something better."
William Blair in a 6 September report on Gogo suggested that while the Gogo 5G news "has been frustrating with two steps forward and one step back, we believe it should be on track for 2024".
Meanwhile, SmartSky's Flagship IFC product for mid- to large-cabin private aircraft is already flying on a variety of aircraft types, including, interestingly, alongside satcom solutions fitted to Gulfstream 450s and 550s, as first revealed in Satellite Mobility World. Using SmartSky ATG as a "least cost routing" when over CONUS, and then switching to satcom over water, can reduce the data cap on an operator's satellite service, thus resulting in lower monthly costs overall, confirmed Helfgott.
"There are a lot of ways you can take advantage" of this, he explained to RGN. "You can use SmartSky ATG as primary and satcom as backup and you can go for a lower rate plan [with satcom]."
Another way, he continued, is to run certain kinds of traffic on satcom, such as Netflix and other streaming services under a limited package, and then use ATG for "interactive activity" including cloud-based financial applications. "We find that the larger cabin aircraft love that idea." But these considerations are less about IFC cost savings and more about utility. "Nobody wants that phone call from a CEO that it didn't work while they were on a conference call."
SmartSky also continues to bolster its digital platform and application-layer, Skytelligence, announcing the addition of three weather data providers — FLASH Weather AI, AvMet Applications and Meandair — in as many days to its "Predictive Weather Data Suite", via Skytelligence.
FLASH offers AI-based predictive lightning data; AvMet predicts aviation weather impacts, with forecasts updated hourly; and Meandair's Nowcasting Weather Engine technology assimilates numerical weather prediction forecasts with near real-time observations from a multitude of weather sensors including satellites, a network of ground stations, radar, and data streams from flying aircraft. These weather insights give the cockpit and crews greater vision and flight awareness, improving safety and sustainability.
Related Articles: