Viasat has not yet publicly disclosed its timeline for bringing a fully interoperable aero terminal to market that will talk to both Viasat and Inmarsat Ka-band GEO satellites to support inflight connectivity, but according to company president K. Guru Gowrappan, the satellite operator and aero ISP has "a good plan internally."
Interest in this topic has grown ever since Viasat announced in mid-July that its high-capacity ViaSat-3 Americas satellite has encountered a reflector deployment anomaly. Should the challenges persist, one contingency plan entails potentially redeploying satellites from Viasat's extensive fleet, which now includes Viasat's newly-acquired Inmarsat satellite assets. An interoperable aero terminal, once installed on aircraft, would be able to roam seamlessly across all of the assets.
"From Day 1" after Viasat completed its acquisition of Inmarsat, "the team have been on it, and I would just say we have a very good plan, and our customers will be happy with it. We're just not ready to disclose it externally," Gowrappan told RGN last month.
From a basic interoperability perspective, however, Viasat can run its network and Inmarsat can run its network "over third-party satellites including each other's or including different parts of each other's as we need to", noted CEO Mark Dankberg during the firm's 8 August earnings conference call, allowing, however, that:
The last piece is to be able to use both of them at exactly the same place at exactly the same time. And while we can do that in some cases, not all.
After the call, Gowrappan added more color, agreeing with RGN that, pertinent to the scenario described by Dankberg, you could "almost say" it's akin to leasing capacity on Inmarsat's Ka-band fleet, known as Global Xpress.
As such, should Viasat need to draw on Inmarsat GX capacity to support inflight connectivity growth over the Americas, it could pursue this sort of approach. And the changes required for aircraft would be "much more minor" as Viasat can accomplish this level of interoperability "mainly through software changes across the board" and some equipment changes in its ground stations, said Gowrappan.
The Americas market is now accustomed to high-capacity GEO satellite-supported IFC (and Inmarsat never secured a US-based airline customer for GX). Whether Viasat will pull in third-party capacity remains to be seen. But the firm does have "enough third-party access in place if we need to pull on it", noted the Viasat president, adding that "we're not there yet" to need to do that.
Asked if SES-17 is in play, he said: "I can't comment on that at this moment."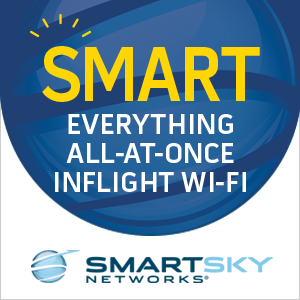 Despite the entry of LEO satellites to the IFC landscape, Viasat remains confident in its GEO-focused approach in civil aviation both from an economics perspective and indeed a sustainability perspective with Gowrappan saying that: "LEO doesn't drive space sustainability."
Even so, LEO in one fashion or another is part of its wider future. Inmarsat activated a LEO payload in 2021. And last week, Viasat's Inmarsat Government business announced it is one of 16 companies to be awarded a Proliferated Low Earth Orbit (PLEO) satellite-based Services (SBS) contract by the US Defense Information Systems Agency on behalf of the US Space Force's (USSF) Space Systems Command.
"As the United States and its mission partners become increasingly reliant on space-based capabilities for national security, it is critical to have resilient constellations that include satellites in geostationary (GEO) and non-geostationary orbits (NGSO)," said Viasat in a statement.
"Proliferated LEO (pLEO) constellations are part of a Department of Defense (DoD) strategy to provide additional resilience for satellite communications (SATCOM), remote sensing and other capabilities by diversifying orbits."
Related Articles: