During the entire life cycle of an aircraft, the cabin and its operations represent roughly 10-20% of its overall environmental footprint. Given this material impact, the commercial aviation industry has in recent decades taken several measures in the cabin to slash CO2 emissions, including reducing aircraft seat weight by roughly 30%, adopting galley/lavatory combos that free up space, significantly reducing power consumption in cabin lighting, and achieving immense weight reductions in interior textiles.
But there are numerous opportunities to go further to foster decarbonisation, recycling and circularity, which are seen as the three key enablers to a more sustainable cabin. The Cabin/Cargo Working Group of the German Aerospace Industries Association (BDLI) has explored these avenues in a new White Paper (PDF). And prominent members of the group shared their findings in June during a conference session at the Aircraft Interiors Expo (AIX) in Hamburg, where sustainability was a central theme of the show.
The goal of this work, explained BDLI Cabin/Cargo Working Group chairman Marc Fischer, is not only to ensure that industry can meet any environmental obligations posed by legislators, but to create a competitive advantage for industry stakeholders, especially airlines. "We have, first of all, the duty to enable the airlines to really make a credible claim with regards to sustainability. And that really starts in the cabin," he said, adding that industry will realize these ambitions "if every single one of us, regardless of what component and what environment we work in, makes a difference. So, it's time to innovate and to be inventive and to rethink."
Whether discussing the use of 3D printed parts in the cabin or exploiting AI in aircraft interior design, the panelists showed an eagerness to leave no stone unturned in their pursuit of a greener cabin. But industry's efforts to improve its green credentials were also on display "everywhere" at AIX, noted BDLI vice president equipment & materials Jörg Schuler during the session, which took place on Day 3 of the exhibition and was moderated by your author.
Indeed, to his point, Runway Girl Network journalists observed a raft of eco-innovations on the show floor: certain business class seats on display by Optimares and Thompson Aero Seating featured recycled thermoplastics; Diehl Aviation showcased a reimagined single-aisle premium cabin including a more sustainable overhead bin plus eco-efficient décor solutions; and Recaro Aircraft Seating highlighted its 'R Sphere' sustainability concept, which is part of a broader initiative at the seatmaker to build more environmentally-friendly products, end-to-end.
Additionally, industry's move to digitalise aircraft cabins to reduce onboard weight and wastage, and support predictive maintenance — also known as 'the IoT of the cabin' — was evident at AIX on the stands of Airbus, Collins Aerospace, and Diehl as well as other interiors suppliers, seatmakers and inflight entertainment and connectivity providers. "I think that the White Paper itself is a very good translation of what we see here" at the show, remarked Schuler. "It's a good communication tool to really translate the ideas in real action."
Yes, more fuel-efficient aircraft engines, alternatives fuels and more energy-efficient operations are some of the 'big ticket' items to drive sustainability in aviation, but as Airbus SVP procurement cabin and cargo Sandra Bour Schaeffer pointed out, life cycles are much shorter in the cabin, and there are structural solutions that can be implemented right now. "And I think this is something we need to do together."
To that end, BDLI's members are already collaborating for the greater good. "If you look at the panel of companies here, we are competitors. But if you're looking at it in terms of research, and then future sustainability, all of us … have common research projects where you see the same problems, the same challenges, the same goals, and we're working together," noted Hans Bernd Aringhoff, who serves as head of corporate innovation at maintenance, repair and overhaul giant Lufthansa Technik.
Decarbonisation
As outlined by the White Paper, some stakeholders are addressing the first key enabler of a more sustainable cabin — decarbonisation — by exploring the use of bio-based composite materials in aircraft interiors. These are obtained from renewable natural sources and can serve as a possible replacement for oil-based non-renewable plastics, which in turn also helps to address both recycling and circularity.
But in an industry where "every gram counts", biocomposites are not always the lightest option. Interestingly, that's not necessarily a dealbreaker. "[H]ere we are not just talking exclusively about weight, but eventually we will also see other parameters which will feed into this, such as the recyclability of the materials, such as the overall performance also of different parameters", according to Fischer, who works as senior vice president cabin & cargo engineering at Airbus. In terms of benefits, he said, these "need to be traded against each other" because, if provided at a global system level, that balance "is positive".
As an airframer, for example, we have an important role to play. And this is where the lifecycle assessment becomes very important, because we're not just assessing the individual component, but we're also assessing the aircraft as a whole.
When it comes to using biocomposites for interiors "it's always a balance", agreed Schuler, wearing his hat as CEO of Diehl Aviation. Whilst achieving weight savings in the cabin is crucial, biocomposites address circularity directly, he said. "So, if you put in bio-based materials, you get the circularity. And that's what we need. And then you have a full equation. And at the end, it's a powerful thing, which counts."
Recaro Aircraft Seating, too, is on board. To wit, its so-called "R Sphere" seat concept was created with lightweight and recyclable materials such as cork, wood, fishing nets and cactus. Company director of supply chain & sustainability Roland Grimm said during the session that he's "convinced" this is just the beginning of what can be achieved.
Recycling
The second enabler highlighted by the White Paper is the importance of ensuring that aircraft interiors can be recycled. "It's really about the ability to segregate materials at the end of life and actually then injecting them into the respective circles again, and that has an impact on the designs that we make," explained Fischer.
"Let me give you an example. Today we have the tendency of actually putting deco foils on pretty much everything in the cabin but once you have done that it's extremely difficult to recycle the associated partition or component or whatever you are talking about. I'll give you a story which I found really remarkable. Last year when I was at AIX, I went to a supplier and they showed me [a tray table] which they had made from recycled material and they said to me: 'don't worry, nobody will see that it's recycled.' And I walked away from that conversation and I said, 'why would I not want to see that? … it's actually made from recycled carbon fibers.' Because that table is really cool. But there is some mindset change that needs to happen as well."
Rather than hide from the fact that materials have being reused in-flight, industry could celebrate it — highlighting the beauty of imperfection when sustainability is achieved — and indeed help to change passengers' perceptions. According to Kirn, Germany-headquartered SIMONA Boltaron, work is now underway at the Green Cabin Alliance to create a universal insignia that would indicate, effectively that 'this is recycled material'.
This sort of concept, noted Schuler broadly, will work as soon as airlines recognize it as a marketing tool. "Imperfection can be a benefit if you can use it for your marketing."
Circularity
Central to any meaningful sustainability initiative is the embrace of circularity, which involves the responsible management of all resources used — from the raw materials to eco-design, manufacturing, the operational phase, and end of life.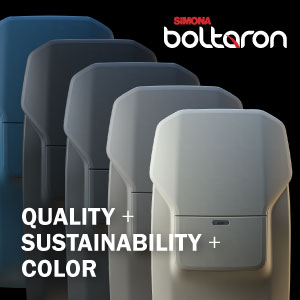 On this front, Europe could be seen as leading the pack, with the EU planning to be carbon neutral by 2050 (and Germany now aiming for a 2045 target), and EU law requiring firms to report on the impact of their corporate activities on the environment and society.
"One way to innovate," noted Airbus' Bour Schaeffer, is to "use less energy, less water" to produce the products, to be conscientious and "transparent" about the materials used in the cabin, and to "understand the impact of our choices". She added:
I think one important element to that will be the lifecycle assessment. We need to find a common baseline to be able to make comparisons and to define this whole world. And this is only something we can do all together.
Lufthansa Technik's Aringhoff pointed out that many in industry, including companies on the panel, are also obliged to meet certain ESG (environmental, social and governance) goals. "And especially if you look at that, if you want to get certified, you need to track the whole supply chain because for most of the companies, I would say the emissions that they produce is not the only thing, it's more about the whole supply chain. And for that, it's really crucial to have a common understanding of how we measure everything, and how we can pull it together the right way to know where the levels are, and where we have the biggest chances to improve." At present, he continued, the picture is too muddy. "And I think the challenge is the same for everybody here."
To address the problem, Fischer suggested that "what we need to actually establish is really the necessary standards and the ways of sharing data and making sure that we actually consolidate that data in common repositories and tools that allow us to make the kinds of assessments that we were referring to… So that's something that's important. And I think everyone has an interest to really contribute to this, because everyone will benefit from it. I'm absolutely convinced of that."
Whilst Airbus and Boeing shared complementary sustainable cabin visions earlier in the week at the Passenger Experience Conference, Bour Schaeffer didn't mince words when she said Airbus' vision is to "lead the way into sustainability and we really do believe that it's absolutely necessary so generations to come can enjoy flying as much as we do today and therefore we need to drive it. But it will only succeed if we do it commonly with our suppliers, with taking care of second life of aircraft, and I think that the willingness is clearly there."
Related Articles: