For seatmakers, some Aircraft Interiors Expo years are about big showy new product releases, while other years are more about developing their existing lines — both to make the most of their investment and to make that small adjustment that wins over an airline's passenger experience executives or accounting departments.
Thompson Aero Seating is taking an incremental and evolutionary approach to its present generation of four premium cabin products in 2023, with smart quality-of-life upgrades across its present range: the fully flat staggered Vantage, the direct aisle access staggered Vantage XL and XL+, the inward-facing herringbone VantageSOLO, and the angled recliner VantageDUO, itself released just last June.
Overall, too, the colour, materials and finish of the products on display has evolved, giving a steer towards where this widely selected supplier sees onboard aesthetics going: tactile fabrics, natural effects, warm earth tones, and natural elements.
On to the seats, and 2023 is a big year for evolutionary changes to inward-facing herringbone VantageSOLO, including a new bifold table integrated from elsewhere in the Vantage family that adds living space and an easier swing.
There's also a notable storage rejig: a new large laptop-sized storage slot is suitable for taxi, takeoff and landing, and allows a more efficient integration of the electricals, including USB or wireless charging, NFC readers, Bluetooth headphones and feature lighting.
The most surprising on the stand was the ultra-ultra-dense model, which compresses VantageSOLO down to a minuscule 29" of pitch, with a 23.8" bed width and 76.3" length (that's 6'4" or 193cm, but tapered). 
In reality, this was a squeeze too far at 29", though much less so at the row pitched at 33", down just two inches from the standard model's 35" pitch, which perhaps was the Goldilocks moment: if 29" is too hot, but 35" is too cold, 33" could be just right for the correct airline.
It is notable, though, that Thompson considered the 29" question one to ask, in the context of airlines seeking an answer to the narrowbody dilemma in business class — not least because Thompson's original Vantage is one of those answers.
On to that Vantage-Vantage itself, where Thompson is now showing the A321 Optimised version of the seat, tailored to the specific Airbus narrowbody cabin as opposed to the widebody cabins of the Boeing 767 and Airbus A330 for which it was initially conceived. This enables in turn a full extra 2" of width in both bed and seat mode, as well as more space inside the footwell and on top of the console.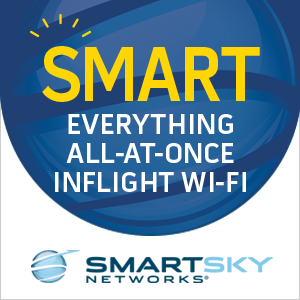 Thompson is also using Vantage as a familiar platform to ask questions about how seats can add — and, indeed, show to passengers — sustainability. The seatmaker was showing Kydex 5555RCL recycled thermoplastics, recycled (and recyclable) nylon carpets with PVB binder from Anker, and zero-waste, lower carbon leathers from Muirhead.
"Other things we're looking at are undyed yarns from our partners at Replin, using naturally coloured fibres to bring out more neutral tones rather than bleaching something white and dying it back to a more neutral colour," Reed Webb, industrial designer at Thompson parent AVIC Cabin Systems told Runway Girl Network.
"And then partners like Muirhead obviously do fantastic leather for our headrests and arm caps and stuff like that. And they've got their own sustainability stories they can tell themselves, but showing that we're willing to utilize [these materials] is the first step to an airline purchasing and flying it. So we've got to show it so airlines know they can have it. There's no point in suppliers just saying 'yes, we can do it'. If no seatmaker is willing to start using it, it may as well sit on the shelf."
The larger Vantage XL for twin-aisle aircraft, meanwhile, saw a year of small feature upgrades: passenger controls (which now feature haptic feedback), more options for stowage areas including an attractive backlit mirror, and more customisability.
Offering impressive living space, Thompson's Vantage XL also offers the option of honeymoon-style seating for passengers travelling together.
In the recliner-plus world, the angled paired recliner VantageDUO has taken a step further along the potential customer route with "a full development test programme in conjunction with an OEM", or original equipment manufacturer.
At the same time, Thompson is working through the implications of how to integrate this kind of recliner-plus seating into the cabin at the point where it transitions rearwards into economy, with a new integrated rear partition for VantageDUO.
Overall, it's impressive to see what Thompson was able to do with its products, even the older ones like the late 2000s' Vantage, both in terms of demonstrating ongoing innovation and being a showcase for this AIX's watchword: sustainability.
Related Articles:
Featured image credited to Thompson Aero Seating