MUNICH — With 30% sustainable aviation fuel and 70% kerosene-based jet fuel in its tanks, Airbus' Airspace Explorer A350-900 flight test aircraft took off from Toulouse–Blagnac Airport on the evening of 30 November with a key objective: demonstrate "the most energy efficient flight" by spending the least amount of energy possible across multiple touchpoints on the ground and whilst airborne.
When the widebody landed at its destination — Munich International Airport — precisely on time and with its eco-goals achieved, the power of air traffic management (ATM) optimization to slash fuel burn and CO2 emissions was apparent.
Speaking to Runway Girl Network onboard the flight, Airbus ATM engineering program manager Mattia Nurisso explained the specific measures taken by the airframer to maximize the efficiency of this particular flight.
"[W]e put some SAF onboard this flight. We used an electric taxi to push the aircraft back, a single engine taxi for the taxi part, and then after the takeoff, we coordinated with the different air navigation service provider (ANSP), the air traffic controllers, in order to secure us a smooth climb," known as continuous climb operations (CCO), he said.
"Of course, we tried to optimize as much as possible the route — to have a straight route between the two cities — and for the descent you see, we coordinated in order to have what we call a continuous decent operation (CDO), trying not to have any level off anymore but have a smooth descent."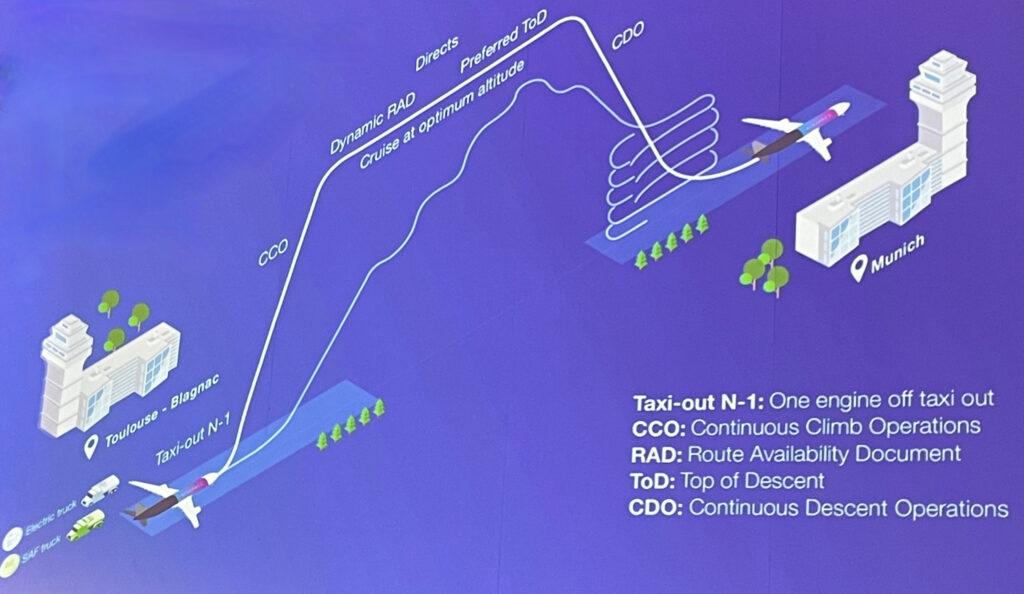 This CDO technique — whereby the aircraft descends from an optimal position with minimum engine thrust, avoiding intermediate level-offs — ensures "you are consuming less fuel" and ergo, reduces emissions, noted Nurisso.
No new or unique inflight connectivity pipe was employed for the A350 flight. Nurisso confirmed to RGN that the aircraft position was simply "supported by GPS". And VHF radio links commonly facilitate cockpit comms in Europe.
But this general paradigm is expected to change in time — quite literally and indeed figuratively — as Europe adopts 4D trajectory management, and satcom is ultimately used to see 4D realize its full potential.
A key pillar in the modernization of Europe's ATM system under the Single European Sky ATM Research (SESAR) programme (as well as the FAA's NextGen scheme in the US), the 4D concept connects aircraft and ground systems, and uses the real-time transmission of four-dimensional trajectory data (latitude, longitude, altitude, plus time) to better inform ATM operations.
This technology, says Airbus, "has the incredible potential to greatly improve an aircraft's trajectory prediction. By reducing the inaccuracy of current air traffic management prediction models by approximately 30-40%, the trajectory-based operations in four dimensions project is helping to pave the way to a more sustainable management of tomorrow's air traffic." The infrastructure is already being put in place.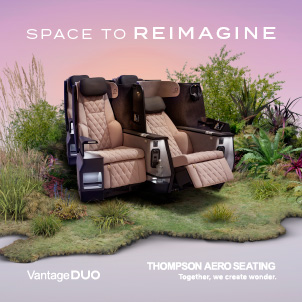 From a flight management system (FMS) perspective, French multinational corporation Thales is manufacturing a nextgen 'PureFlyt' FMS for new A320, A330 and A350 twinjets debuting in 2026 — as well as the retrofit solution for A320 and A330 aircraft — and was among the first companies to showcase how its system has been future-proofed to accommodate the implementation of 4D trajectory management methods. Honeywell has also been selected to provide nextgen FMS for these three aircraft families.
"It's in the plan of Airbus to have what we call the 4D trajectory-based operations so the possibility of sharing what's inside the flight management system of our pilot today with the air traffic controller in order to increase the awareness of the air traffic controller. It's not available yet for the A350. It's certified on the A320 and A330," said Airbus' Nurisso of the 'FANS C' over satcom that will enter into service on A320 and A330 aircraft families, and which is capable of 4D trajectory-based operations.
"On the A350, in the years to come, yes it will be made available," said the Airbus executive.

Because aviation is still migrating to an IP-based system, some industry stakeholders are presently using flight-relevant data to calculate efficient routes and provide 'initial 4D capabilities' using current technologies, including via the ACARS messaging system.
Nurisso demurred in discussing specific connectivity pipes, but emphasized that Airbus wants to be able to ensure its airline clients can transmit data via multiple channels "whether it would be VHF, satellite communications, whatever other technology will come in the future".
Standing ready with a solution, however, are satellite operator Inmarsat and the European Space Agency, which have been advancing the commercial implementation of their so-called Iris programme in support of SESAR's master plan. In the simplest terms, Iris is effectively an app that sits on Inmarsat's latest-generation, safety-certified, IP-based SwiftBroadband-Safety (SB-S) satcom service which transmits via secure L-band satellite payloads.
In the near-term, the main usage for Iris riding on SB-S will be to support controller-pilot data link communications (CPDLC) in Europe, complementing today's congested terrestrial VHF radio links. (Airbus is offering lightweight SB-S kit linefit on the A320 and A330.)
But Iris will ultimately also support 4D operations, and in turn slash 5-10% of CO2 emissions, per some stakeholders' estimates.
Nurisso confided to RGN yesterday that achieving a 10% reduction in emissions in this manner is the ultimate "dream".
ATM optimization clearly has a material role to play in cutting emissions. That's why Airbus sees it as the low-hanging fruit that can be easily plucked to rapidly improve aviation's eco-credentials.
RGN founder and editor Mary Kirby traveled as a guest of Airbus to Toulouse and Munich, but as ever all views are the author's own.
Related Articles: