With the IoT of aircraft cabins in its sights, Recaro Aircraft Seating developed a system for its new business class seat which alerts the crew if a maintenance problem needs to be addressed, ensuring a faster turnaround on the ground.
"We have that for our CL6710, the business class long range seat, for the actuation systems. The data is recorded and the system displays up front when maintenance is required, for example, for one of the actuators," explains René Dankwerth, Recaro's new general manager, Aircraft Seating Americas.
"So, we have that and we are already offering it to the market with a product."
The CL6710 debuted on El Al's Boeing 787s, and more recently launched on TAP Air Portugal's Airbus A330neo. But Recaro sees an opportunity to use sensor technology for economy class seats. To wit, during the APEX EXPO this fall, the company worked with Airbus to showcase the iSeat, part of a "Connected Cabin" concept that links different cabin elements including economy seats to a central data collection system.
The iSeat concept would enable cabin crew to know if seats are in their upright position for takeoff, for instance, or if a life jacket is missing (which is sadly, a very common occurrence).
"We believe that the market will go in that direction," says Dankwerth, noting that Recaro and Airbus are continuously collecting feedback to bolster the business case.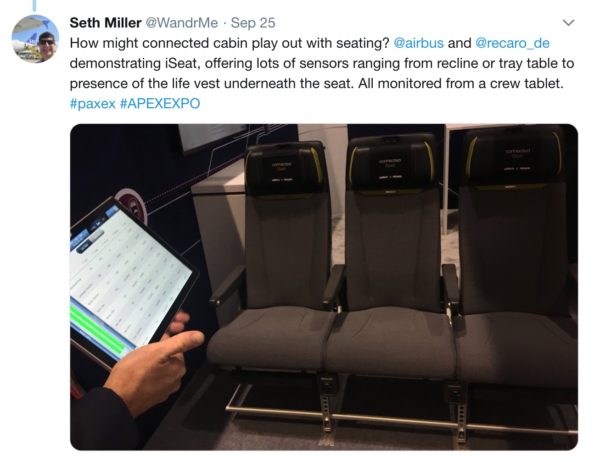 Rockwell Collins, now Collins Aerospace, has also told us to prepare for smart cabins. "When booking flights, or sitting in smart cabin seats, a digital interface will enable passengers to order specific meals, drinks, blankets, and amenities for a catered travel experience that reduces crew workload and improves passenger touchpoints. Were you asleep and missed lunch?  Notify the galley from your smart seat. Would you like a glass of wine with dinner instead of a soft drink? Change your pre-order by sending a message to your flight attendant," predicted the firm in an Op-Ed for RGN last year.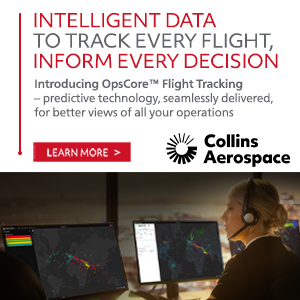 Slapping sensors on everything from safety equipment and inflight entertainment systems to galley ovens will support real-time inventory management. For instance, galley sensors will determine the inventory required for restocking the aircraft and communicate that information to ground personnel. This concept – which is being promoted by Panasonic Avionics and catering giant gategroup, among others – could also finally address the problem of massive food wastage in the airline industry.
Inflight connectivity also has a role to play in the IoT of the cabin, with crew able to send maintenance data in real-time so that technicians with solutions are ready when the aircraft hits the gate. "For sure, these are trends we are absolutely following," says Recaro's Dankwerth.
But there is still much work to be done before the IoT of aircraft cabins is fully realized. "The next big step that is necessary from my perspective is really creating the overall system that can handle all the data in a way that it makes sense for the airline – that they have access to the right spot for the right data. And I think this is what we see right now, " he says.
"There are several solutions coming up and that's going to be the really interesting thing because customers will always say 'collecting data on the seat is fine but I need an overall solution; how can I use the data then?'"
Adds the Recaro executive, "The difficult thing is now to decide what makes sense."
Related Articles: