Throughout the forty-odd years that business class has existed, much of its design and development has been focussed on evolutionary and revolutionary kinematics, especially over the last two decades as fully flat beds with direct aisle access have become the norm. Adding on form and function has been a key part of the story — but what if aviation rethought the model, turning the business class seat into something much more residential: the divan?
Enter SoFab from Italian seatmaker Optimares, where the only moving parts of the entire product are a pull-out cushioned storage area that turns the seat from a comfortable chaise lounge into a full-weight bed, using a simple, low-weight manual actuation model rather than electrics.
At the Aircraft Interiors Expo, Runway Girl Network sat down — quite literally, in the SoFab — with David Proctor, Optimares' director for global business development, to learn more.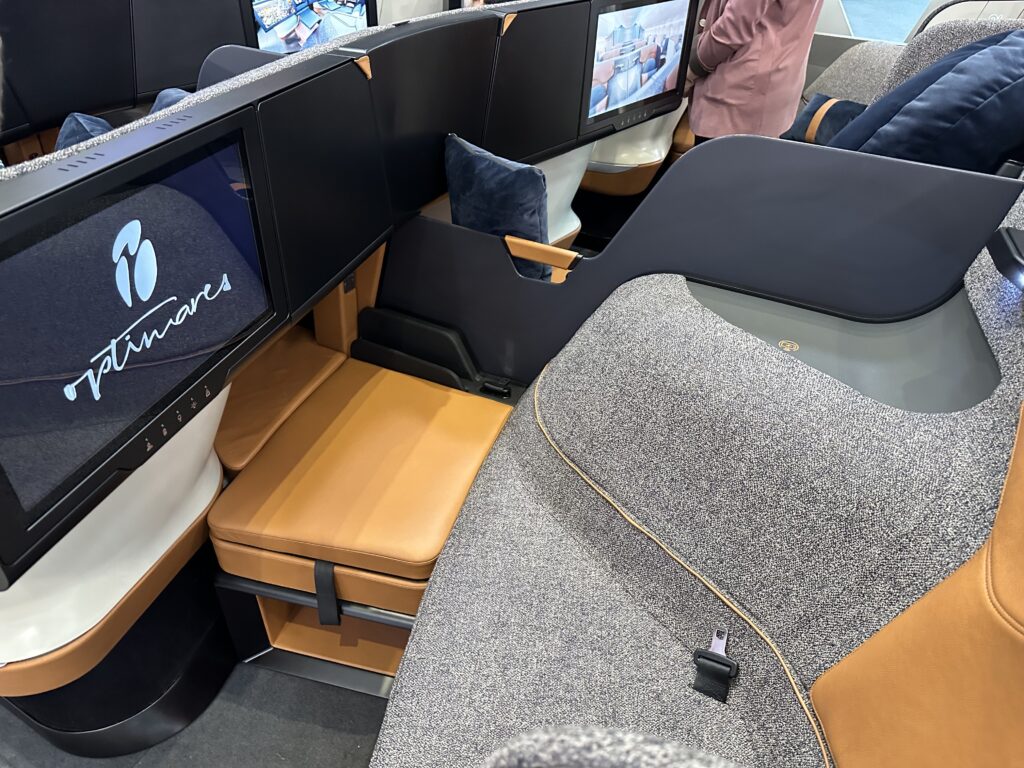 SoFab, Proctor tells RGN, "is a sofa bed, and you pull out this simple mechanism to get into a bed space. The result is: all of the space you have is yours to use, whereas a traditional reclining seat, although you might have space around you, you can't really use it."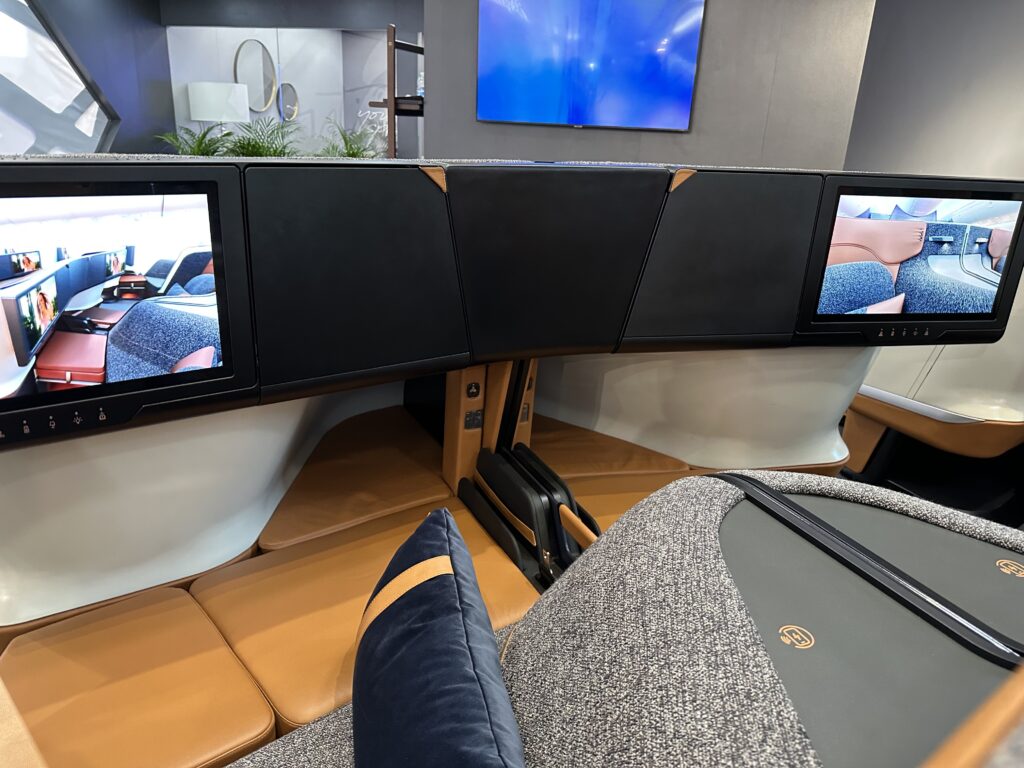 There being nothing quite so professionally and personally delightful on the Thursday afternoon of AIX week as putting your feet up in a comfortable, well-padded seat, your author was only too happy to test it out. Even — or especially — for exhausted legs and tired feet, stretching out on the SoFab felt unusually natural, similar to popping one's feet up on a living room ottoman or chaise lounge.
The curved backrest and swooping armrest, together with plump pillows, mean that passengers of many sizes will find the seat spacious and comfortable, not just when sitting down facing forwards like a traditional airline seat, but in stretching out and curling up as well.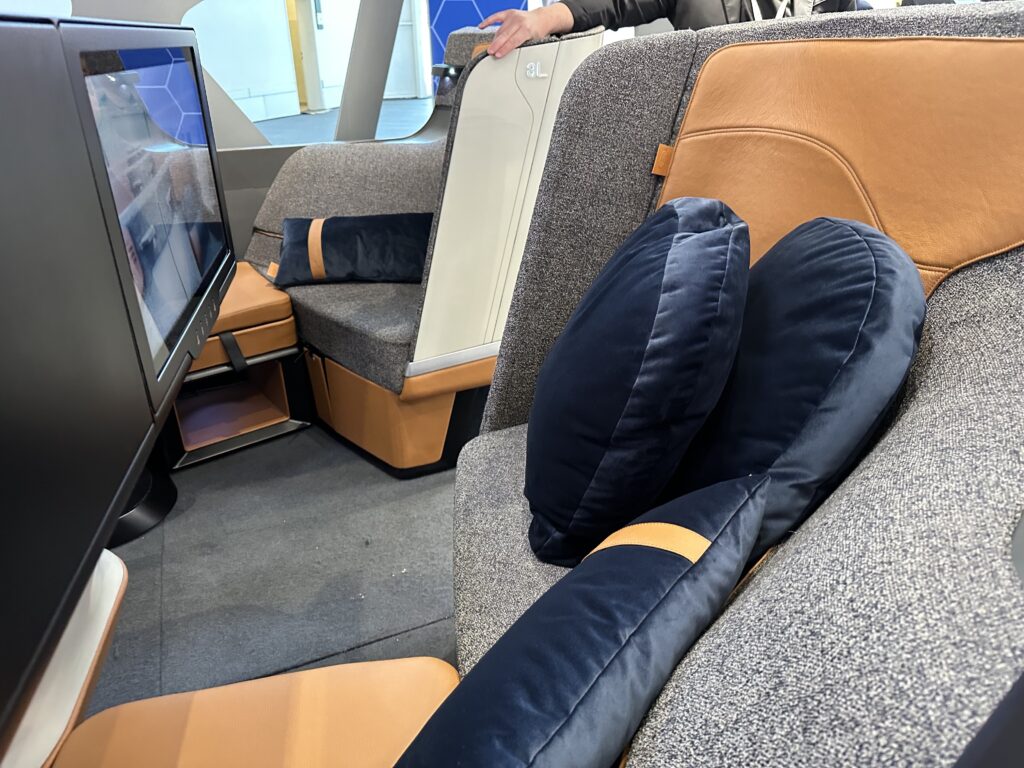 Pulling out the divan legrest horizontally to create the sturdy wide bed was a revelation: it swung smartly into place, reminiscent of some of the more comfortable sofa beds one might use. 
Italian seatmaker Optimares is displaying an all-mechanical business class seat — for a 1-2-1 config initially aimed at the A330 — that is half the weight of regular business seats with actuators. I had perhaps a little too much fun trying it out. What do you think? #AIX23 #PaxEx pic.twitter.com/LbbM6qpegz

— Mary Kirby (@MaryBKirby) June 7, 2023
This manual movement via a leather pull-tag is also, as RGN contributor Justin Yarbrough reminded us over socials while at AIX, inherently more accessible for blind and vision-impaired people compared with touchscreen controls or non-tactile buttons.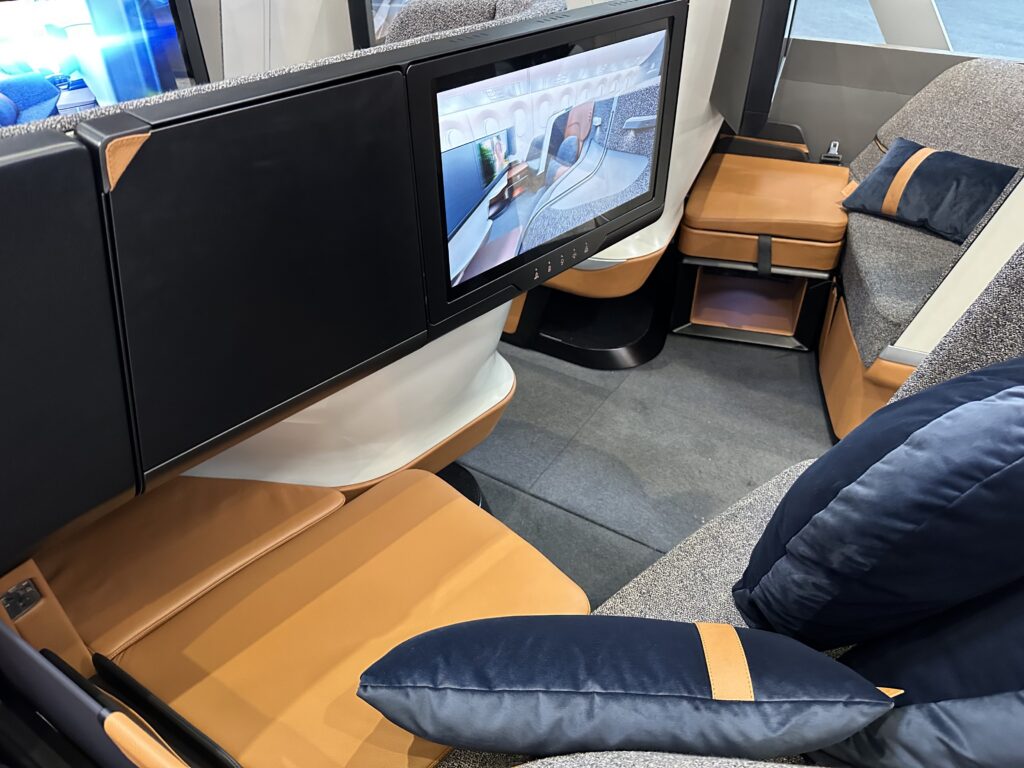 Optimares is advertising SoFab with an 80" bed width and 45" pitch on an Airbus A330, the same bed length but a 42" pitch on the slightly wider A350, and a 76" bed with 34" pitch on an A320 narrowbody.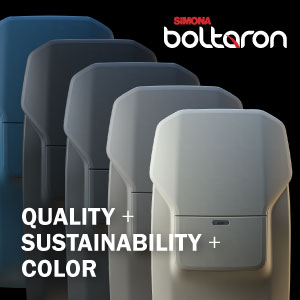 SoFab, Proctor says, "has been driven and is designed in the direction of sustainability. So we looked at, obviously, the first thing we can impact: weight. So weight equals fuel burn, fuel burn is not a nice thing, and it's expensive. We considered the whole design for this product from that direction. By taking out the actuation system, straightaway you take out the weight, you take a lot of cost — and also, from a supply chain perspective, it's a big long supply chain for actuation systems.
"There's a lot of energy into the manufacturing of the actuation system in itself. So by stripping out all of the framework, all of the kinematic, all of that functionality, we ended up with just this mechanical divan."
Working with plastics specialists SIMONA Boltaron, Optimares is doubling down on sustainability with the supplier's Terreform product, made from recycled scrap feedstocks, on elements of SoFab's table, headset, electrical box and wireless charger.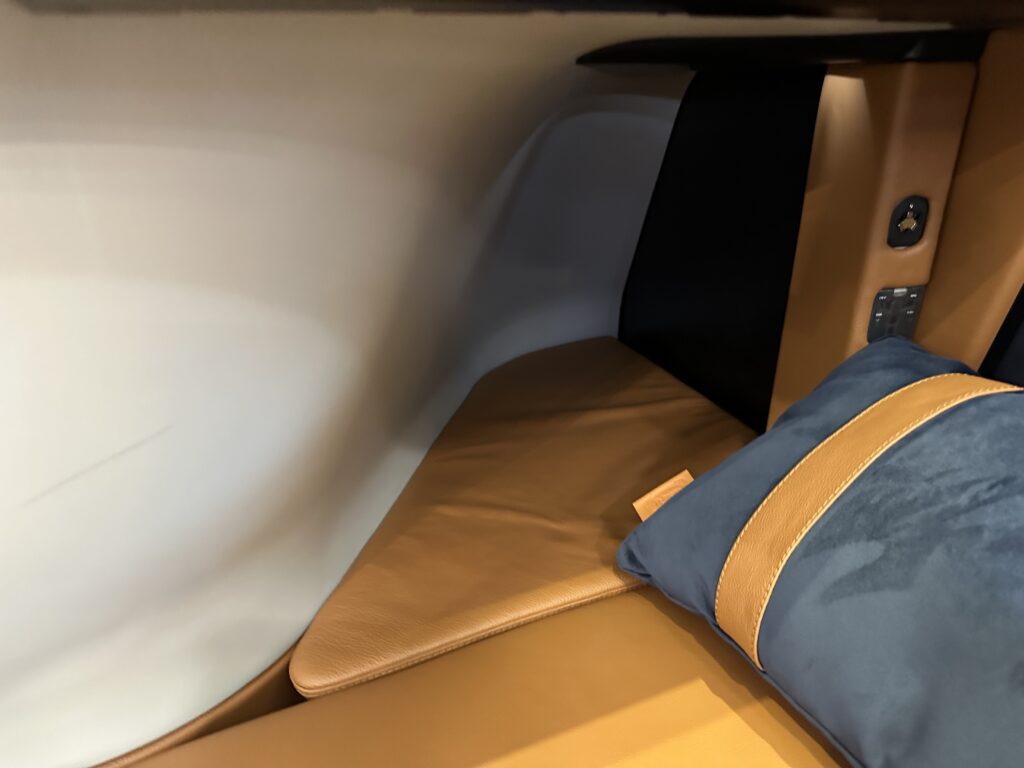 Optimares says that doors are an option for the seat, although it is considering how to achieve similar privacy goals without adding the weight that comes with a full-height door.
Having only started working on the seat in November 2022, Proctor assesses, "I'd say we're at the beginning of our certification process, we've done our own simulation testing. Next will be the dynamic testing that we'll have to do to ascertain the HIC perspective and everything else… it's moving in a fair pace."
Related Articles:
All images credited to the author, John Walton