A lot of airlines carry the same inflight entertainment system on board their aircraft for as long as ten or 15 years. But IFE screens and associated technology typically evolve at a much faster pace than aircraft seats and other interiors.
That's why, when Panasonic Avionics Corporation (PAC) set about to design its next generation inflight entertainment system, it listened closely to customers about the long-term pain points they've experienced, such as their need to update IFE hardware without going through the costly and time-consuming engineering certification phase, including head injury criterion (HIC) testing.
"We really took a thoughtful approach to how to improve both the passenger experience, and then how to make something that the airlines can keep up-to-date and then swap out as required and deliver a terrific experience. And so, the hardware architecture fundamentally changed. The software architecture is fundamentally changing," says Panasonic Avionics CEO Ken Sain.
The fruits of PAC's labor, known as Astrova — and featuring inherent modularity, sharp 4K OLED screens, and USB-C charging connections that provide a guaranteed 67 watts of charging output and the ability to flex up to 100 watts of power — is now the fastest growing product ever to hit its portfolio.
Launch customer Qatar Airways will bring Astrova to its Boeing 777X fleet. SAUDIA is retrofitting 30 widebodies, a mixture of A330s and 777s, with Astrova and with it will provide up to 100 W of direct current power, via USB-C, at every seat. And United Airlines recently revealed at the Aircraft Interiors Expo (AIX) in Hamburg that it will install Astrova on select new Boeing 787 and Airbus A321XLR aircraft beginning in 2025.
PAC says it's winning the majority of IFE business — as much as nearly 70% — on the strength of Astrova. But just how has PAC accomplished this feat?
Sain explains: "Our monitors used to be smart monitors, and the processor was in the monitor. Problem is that the processor in the monitor is in the HIC path. So, if you want to run a bigger software package because you want to do something amazing around personalization, you'd have to change the monitor. The minute you change the monitor, you're in a normal seat retrofit, so most airlines won't do that — because it's so expensive — for seven to 10 years. In this case, we took the GPU [graphics processing unit] and the CPU [central processing unit] and put it in the seat box. And we took Bluetooth and USB-C ports and put them in the peripheral bar. So those can be swapped."
He continues,
As USB-C goes to USB-D or USB-E, as Bluetooth goes 5.0 to 6.0 to 7.0, the customers will be able to change just the peripheral bar and have an upgraded system right then and there and do it on an overnight without having to do HIC tests.
To be clear, this is not the clunky IFE seat box of old, consuming your legroom. "It's a third smaller, it's lighter. It's more powerful. It fits inside the seat rails, and it provides like three inches more footwell space," says Sain.
"We even changed the harnesses between them, you know, moving from what the industry's been using forever, 1950s technology, to the latest technology. It looks like a USB cord, almost. But it's high power, high throughput and it's future-proofed for anything that we can see going forward."
Regarding the choice of 4K OLED screens for Astrova, PAC is also "absolutely convinced" that this is a long-term solution for airlines, says Sain. The company recently attended a trade show in Los Angeles where all the big screen manufacturers come together. "Not one of them had anything but OLED screens. And so, this is the right technology that lasts for a long time," suggests the Panasonic Avionics CEO.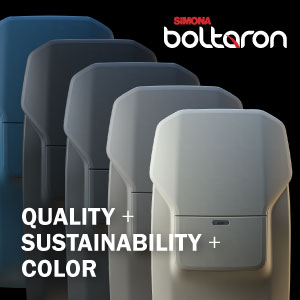 One complaint about going 4K for IFE screens is that there is still not enough 4K content being delivered to the airline market. But PAC's Astrova engine can upscale 480p content to 4K.
Certain studios are very particular about how their content is shown so if you're going to show 4K content, they want to make sure it meets the expectations of the original creators. That's why PAC has ensured that its Astrova monitors are compliant with HDR10+, the high dynamic range video technology that adds dynamic metadata to HDR10 files, with the dynamic metadata used to adjust and optimize each frame of the HDR video to the display's capabilities in a way based on the content creator's intentions.
In keeping with the big new IFE screen trend in commercial aviation, Panasonic took the opportunity at AIX to unveil five new larger Astrova screens for first and business class, with a 19" screen targeted at high-density business class; 22" for standard business class; 27" for front row 'super business' and for airlines that want to differentiate standard business class; 32" for front row business or first class; and 42" for first class.
Notably, every new size monitor introduced at AIX 2023 has already been selected by an airline.
Related Articles:
Featured image credited to Panasonic Avionics