Iridium Communications' first-generation voice and data solutions are installed on over 60,000 aircraft today. Now, the satellite operator says its next generation Iridium Certus service for aviation, operating over its NEXT Low Earth Orbit (LEO) L-band satellite constellation, is ready to support the aviation industry's evolving connectivity needs, including aboard commercial transport aircraft, business and private aircraft, helicopters, and Uncrewed Aircraft Systems (UAS).
In a statement published this morning, Iridium has formally introduced the 'Iridium Certus aviation commercial service', saying the success of Certus technology in maritime and land applications has paved the way for its entry into the aviation realm.
Handily, multiple value added manufacturers (VAMs) and value added resellers (VARs) stand ready to provide an array of satcom solutions that will transmit via Certus to connect cockpits and cabins.
For civil aviation, Collins Aerospace's IRT NX-branded satcom system is available, facilitating download speeds of up to 704 Kbps via the Iridium Certus 700 service. IRT NX offers segregated non-safety and safety channels in the cockpit, in anticipation that Certus will get the green light to support FANS-1A safety services following flight trials at the end of this year, and approvals in 2024.
A competing product from Honeywell for cockpit communications, known as the Honeywell Aspire 350, boasts a small, lightweight footprint, and also transmits via Iridium Certus 700. It features an active high-gain antenna and dual element antenna.
"Using L-band satellite frequencies that are superior for cockpit communications, Iridium Certus for aviation is an ideal complement to commercial transport passenger cabin connectivity Ka/Ku band services and can be a primary service for small-to-mid-size business jet cabins," suggests Iridium. "It would also be preferred to HF/VHF for electronic flight bag (EFB), flight critical data, and passenger communications during oceanic flights."
Also available is ACR Group Corporation-owned Blue Sky Network's SkyLink 7100 kit, which is a UAS datalink solution that supports autonomous communications & data monitoring Beyond Visual Line of Sight (BVLOS) among other applications, and transmits via Iridium's lower bandwidth Iridium Certus 100 service, with top download speeds of 88 Kbps.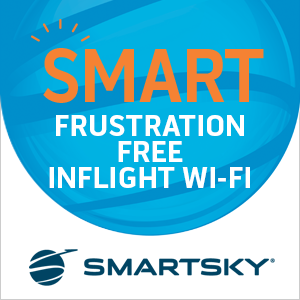 But other VAMs are nearing market entry for their Certus aero satcom products.
Blue Sky Network sister Skytrac, which is also an ACR Group company, told RGN last month at the Aircraft Interiors Expo in Hamburg that it was in the home stretch to completing its new 2-MCU satcom terminal, the SDL-350, which now features speeds of 352 Kbps from and 704 Kbps to the aircraft to facilitate cockpit connectivity, and capabilities such as EO/IR imaging, FDR streaming, EFB applications (graphical weather), telemedicine, VoIP communications and IFE.
This version of the SDL-350, said Skytrac director of business development Ruben Stepin, is an IP connectivity solution, and "the first five boxes are going out already this month to customers", he said in early June. The next version will support aviation safety services to ensure readiness for when Certus is expected to be approved for safety by regulators.
At the end of the day, Iridium Certus is aiming to be "the preferred solution for a wide range of aviation applications, from drones to airliners", says Iridium executive director of aviation, John Peterson. The company competes with Inmarsat-now-Viasat's L-band network in these verticals.
Related Articles: