AERQ has completed head injury criterion (HIC) testing on the in-seat displays that will fly — as part of its AERENA open IT platform — on an Airbus A320 operated by leisure carrier Eurowings Discover.
Achieving HIC is an important certification milestone for AERQ. But due to aircraft availability, the company confides it is now eyeing aircraft equipage in early 2024 instead of late 2023.
The joint venture between South Korean multinational technology conglomerate LG Electronics and MRO giant Lufthansa Technik, which has vowed to digitize aircraft cabins through AERENA, tells Runway Girl Network:
All testing has been performed and we will be good to support the installation [for Eurowings Discover], which will probably take place in early 2024 due to aircraft availability.
The A320 will serve as the test aircraft for AERENA, with entertainment content, e-commerce opportunities and advertising piped over LG seatback monitors to passengers, whose own devices will play an integral part of the experience.
Notably, the implementation for Eurowings Discover and other would-be airline partners will see AERQ's new complementary ground infrastructure, called AERENA Experience Studio, pressed into service.
Accessible via website login, AERENA Experience Studio is effectively the realization of AERQ's stated vision to streamline airline and third-party app development, testing and deployment; provide a one-stop-shop for airlines to configure advertising inventory and publish it on board (the firm is now working with digital advertising trading platform Inadvia); and support rapid content processing for airlines by leveraging the cloud.
Indeed, AERQ touts that AERENA Experience Studio can slash the time it takes to complete video asset encoding, integration, and deployment to aircraft from a months-long process to less than a week, and in some instances to as little as 48 hours.
Keenly aware that the rapid delivery of cached direct-to-consumer (D2C) entertainment content will play a key role in the IFE mix for airlines, AERQ has entered discussions with streaming media providers, recently inking a deal with Berliner Philharmoniker's Digital Concert Hall to bring an exceptional concert experience to passengers.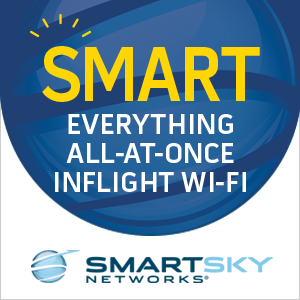 The ultimate goal of AERENA Experience Studio is to accelerate all required processes "immensely" while generating ancillary revenue for airlines, says an AERQ spokeswoman. To that end, AERENA Experience Studio introduces the concept of "day-to-day UI configuration" to aviation, whereby airlines and their content service providers can easily and flexibly manage their digital real estate on board and the way content is prioritised for certain passenger groups.
"AERENA Experience Studio is all about data-driven decision making and driving rapid experimentation like A/B testing," explains Son Yob (Louis) Pak, co-managing director at AERQ. To wit, AERENA Experience Studio offers a simulator for remote preview and virtual testing of passenger UI and apps.
"The data analytics capabilities are designed in a way that airline teams can immediately make use of actionable data and pro-actively apply changes to passenger experience to maximise passenger satisfaction and revenue generated on the AERENA platform," adds Pak.
During the Aircraft Interiors Expo (AIX), which will take place from 6-8 in Hamburg, Germany, AERQ will share how the AERENA Experience Studio empowers airlines to gain control and customize their digital experience on board, whether content is shown via in-seat displays and/or cabin digital signage featuring large OLED screens.
"Exciting projects are coming up with our partner Eurowings Discover," says AERQ. "Experience our inseat displays, integrated into a seat row of Geven at our AIX booth, and get a glimpse of how the installation of our AERENA Inseat System in Eurowings Discovers' A320 test aircraft will shape the future of the aircraft cabin."
Related Articles:
Featured image of AERQ's content credited to Mary Kirby