Approaching Pittsburgh International Airport, my nerves started to kick in. I was about to fly to Europe for the very first time to visit my grown son, and fly solo to boot.
As my husband dropped me off at the curb, I felt super emotional. But I put on my big girl pants, as they say, and headed inside to an American Airlines kiosk to check my bags for the regional flight to Philadelphia, and onward to Venice, Italy aboard the carrier's Boeing 787.
I pulled up the American Airlines app on my phone, but I couldn't figure out how to scan it. A super nice agent saw that I was frazzled and immediately jumped in to assist. 
The agent put the bag tag on my luggage, and helped me to stay calm. Luckily, when I lifted my heavy suitcase onto the scale, it was under the 50 lbs limit for checked luggage, weighing in at 47 lbs. Thank God!
I know readers of this website are accustomed to the musings of seasoned travelers who don't think twice about flying internationally on their own. But I am incredibly grateful to this agent for sensing my anxiety, and putting me at ease. Her words and actions made me feel like, YES I CAN DO THIS!
Next, I made my way to the security checkpoint. A TSA agent yelled "next victim, (I mean passenger)" and I headed over for him to scan my passport. I removed my shoes as instructed and loaded everything onto the belt. The process was smooth and painless, and it wasn't long before I was at the airport gate, ready to board.
On the first leg of the journey, to Philadelphia, I sat in Main Cabin economy class. A very personable girl was sitting beside me so we chatted a bit, and before we knew it, we were landing in the 'City of Brotherly Love'.
Given that my flight to Venice was scheduled to depart at 7:19pm, I had precisely 1 hour and 20 minutes to deplane and get to the next gate, which was about a 20-minute walk. I made it with plenty of time to spare. American's boarding process, by groups, was easy to understand!
I was worried about my suitcase making it onto the flight to Venice, but an Apple AirTag luggage tracker that I purchased before the flight showed me that it had in fact made it to Philadelphia. Best purchase ever!
For the second flight I was in seat 8D, in Premium Economy.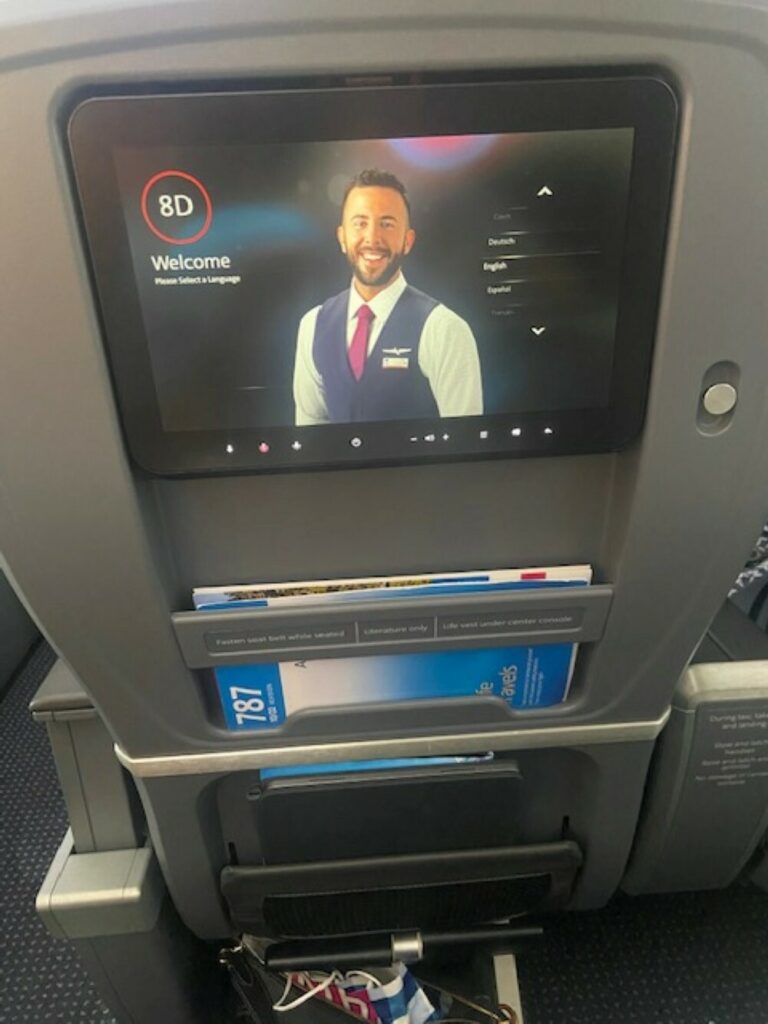 To my surprise there were two empty seats in my row. What a luxury to be in Premium Economy. The seat reclines quite a bit and is so much wider and more comfortable than the Main Cabin seats.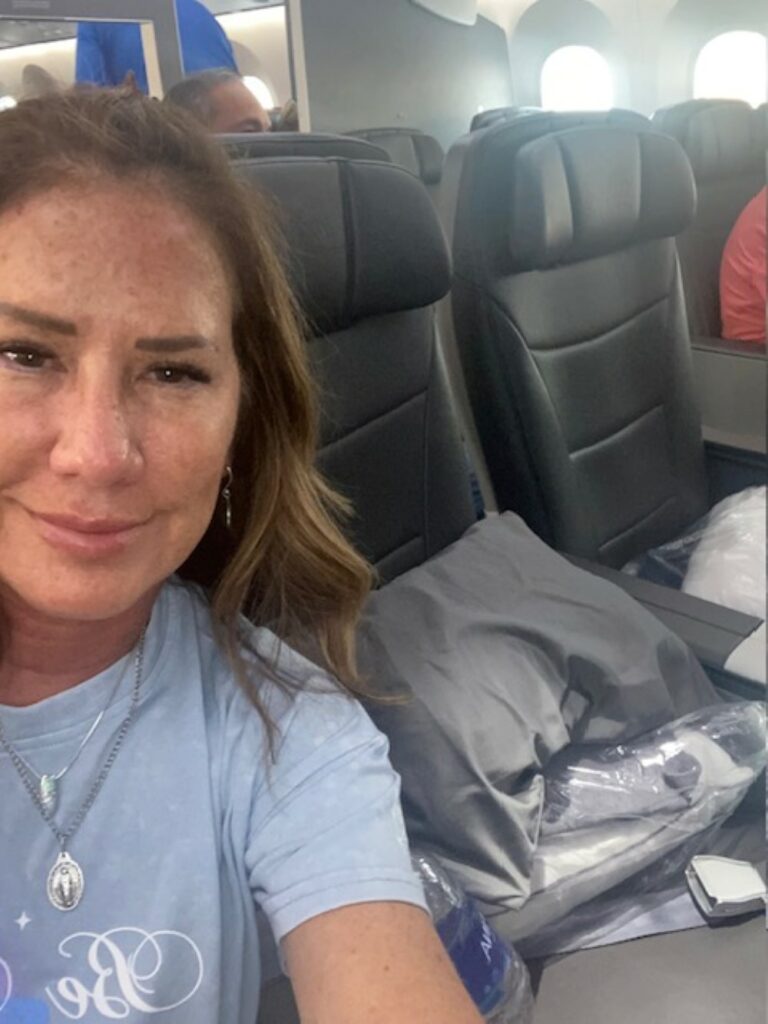 The seat also features a footrest that goes up and down.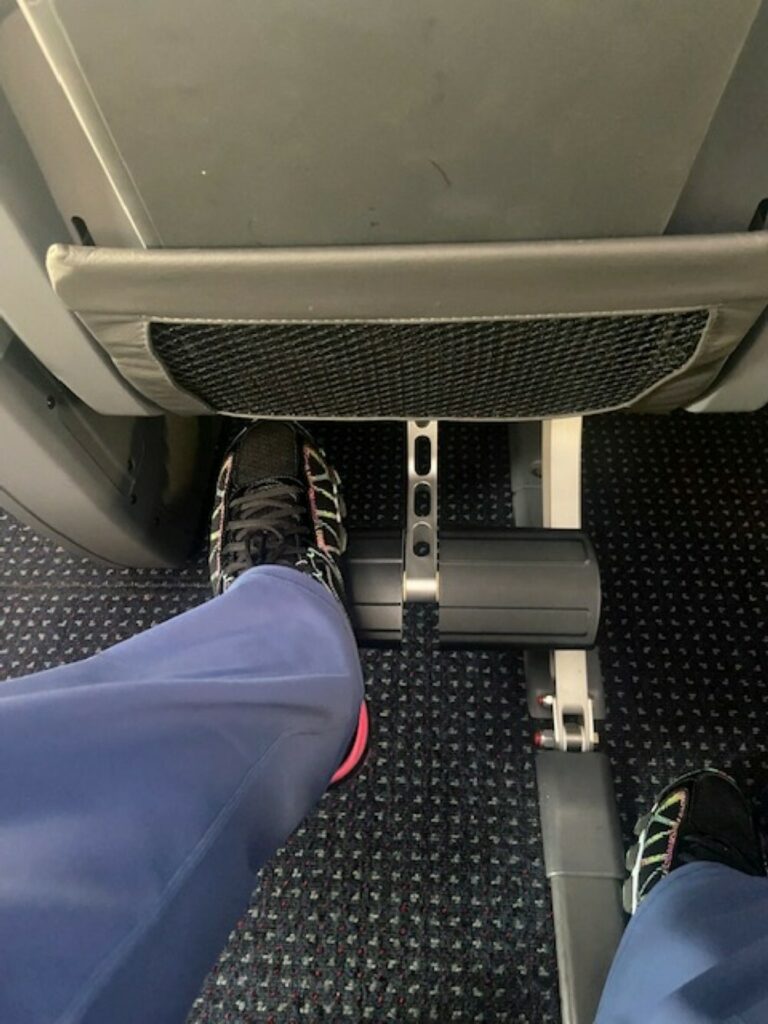 A big plastic bag with a pillow, blanket, headphones, ear plugs, eye mask and toiletry bag awaited each Premium Economy passenger at their seat. Everything came in handy and made the trip more comfortable.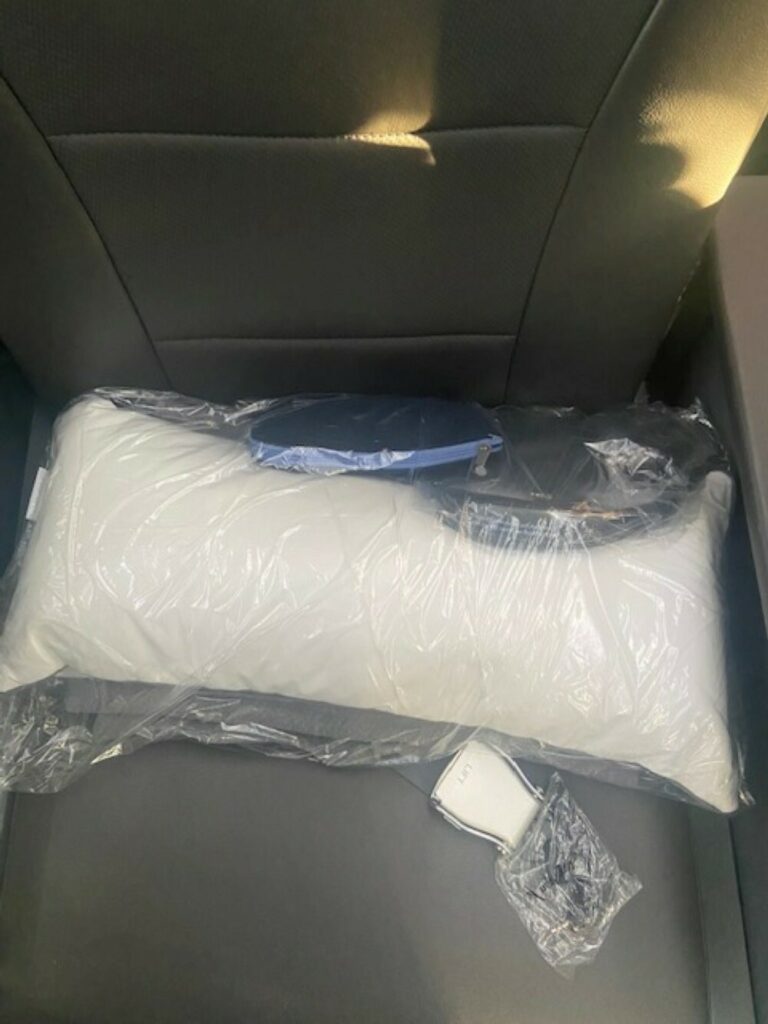 Tucked into the left armrest, the tray table was easy to access and use. In the right armrest sat a remote control with two sides — one for controlling the television, and the other a qwerty keyboard that I didn't find a need for. The nice gentleman across the aisle showed me how the remote worked.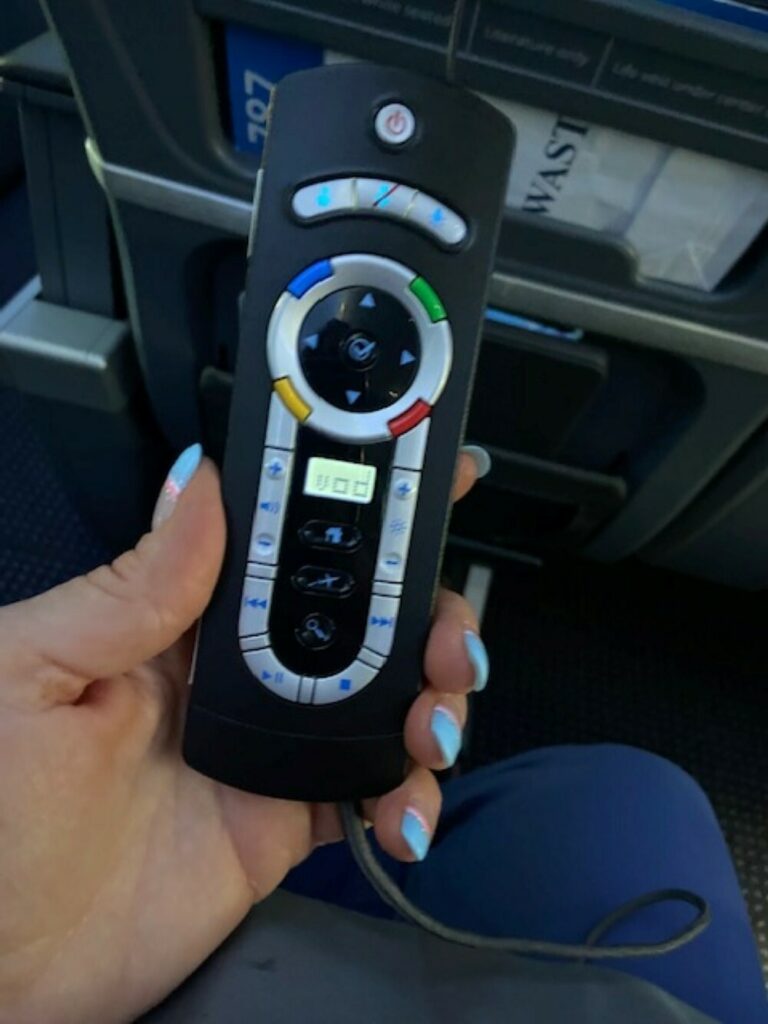 I scanned through the movies and decided to watch the psychological triller Alice, Darling featuring Anna Kendrick and Charlie Carrick. The movie is about an abusive boyfriend pushing Alice to the breaking point. She decides to go on vacation with some girlfriends and when his vengeance is unleashed, it tests her strengths. It was a B- in my opinion. But there were plenty of other entertainment options.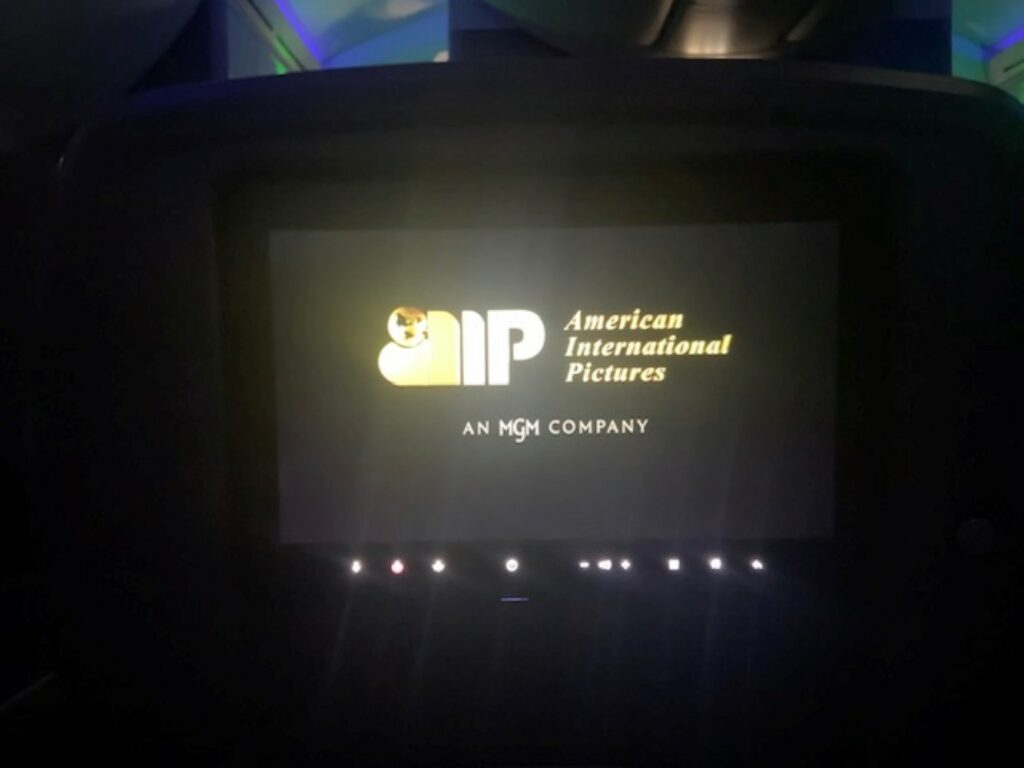 I also had fun watching the plane's location on the screen. It's nice to have an idea about where the heck you're at during any point in the flight!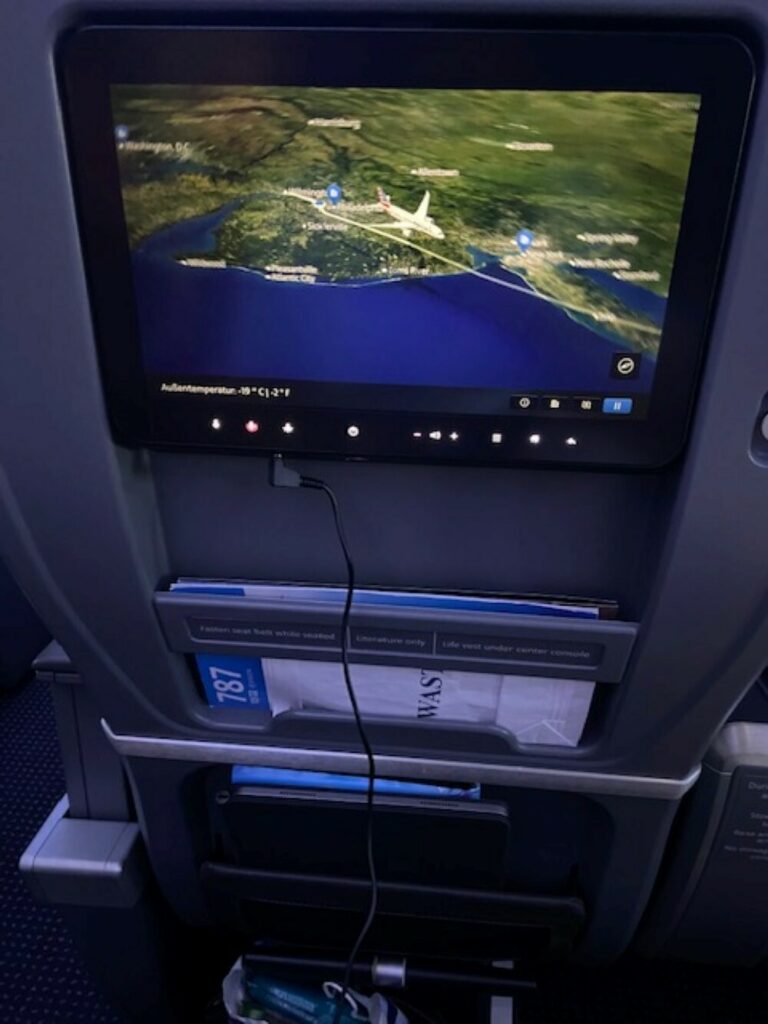 A flight attendant came by offering drinks so I decided on a rum and Diet Coke to ease my nerves.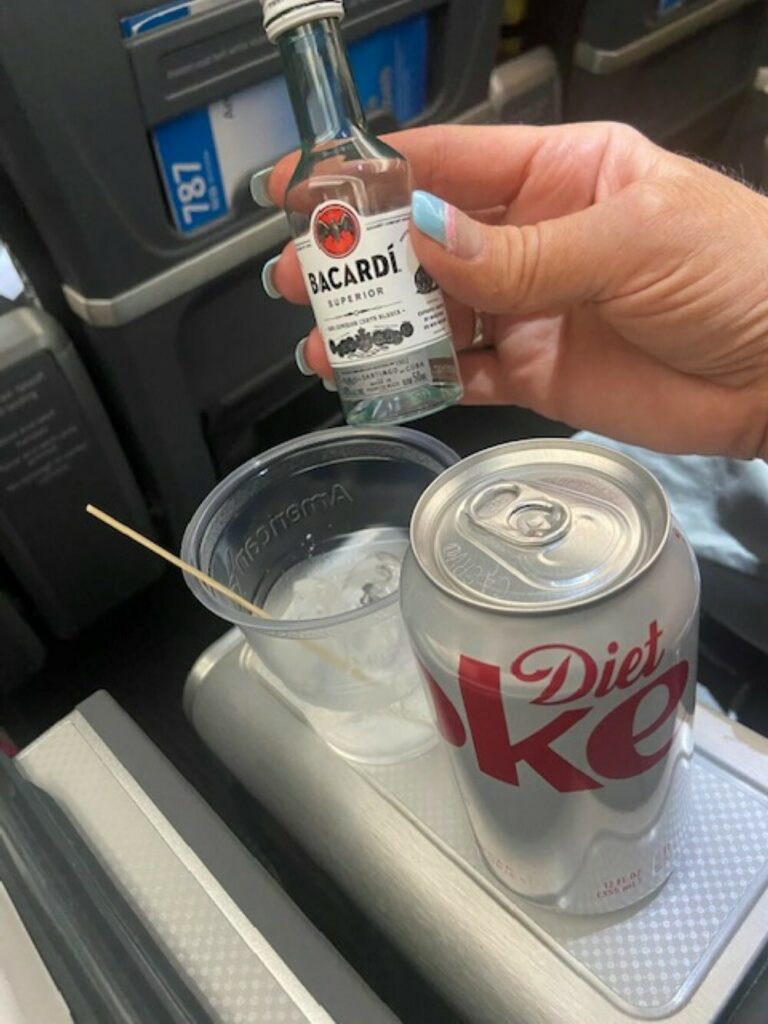 Approximately two hours later, dinner was served. We were given two choices for the main dish, chicken or ravioli. But by the time the attendant got to my row, there was no chicken left. I took the ravioli that I was given, and can confirm that it was quite good for airplane food.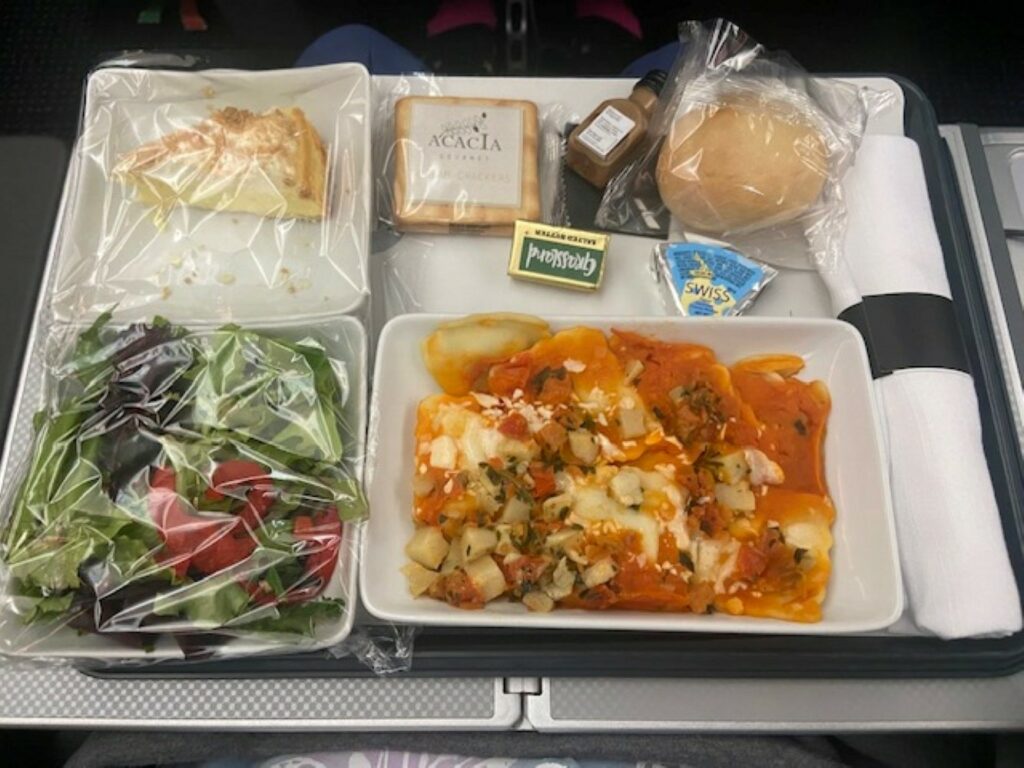 So too was the salad and dressing, bread roll, Swiss cheese, Acacia crackers and lemon dessert.
I decided to watch another movie in the hopes that it would put me to sleep. The movie was Don't Worry Darling and I think I only got through about 30 minutes before falling asleep for about three hours on this Premium Economy seat. Scoring three hours of sleep on an overnight flight really felt like a win! 
A continental breakfast of yogurt with granola, fruit, and juice was distributed by crew roughly an hour before landing.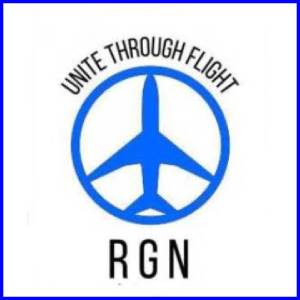 By this time, I was getting super excited to get off the plane to see my son who assured me that he would be on the other side of the Customs door in Venice.
When we landed, I immediately checked my AirTag via the app and it showed that my bag had made it to Venice.
Customs was easy; they scanned my passport, did a facial recognition scan and stamped my passport. I grabbed my luggage and out the door I went, where my son was happily waiting for me.
I couldn't have asked for a more seamless experience for this my first-ever trip to Europe. It started off on a great note, with an American Airlines agent who cared.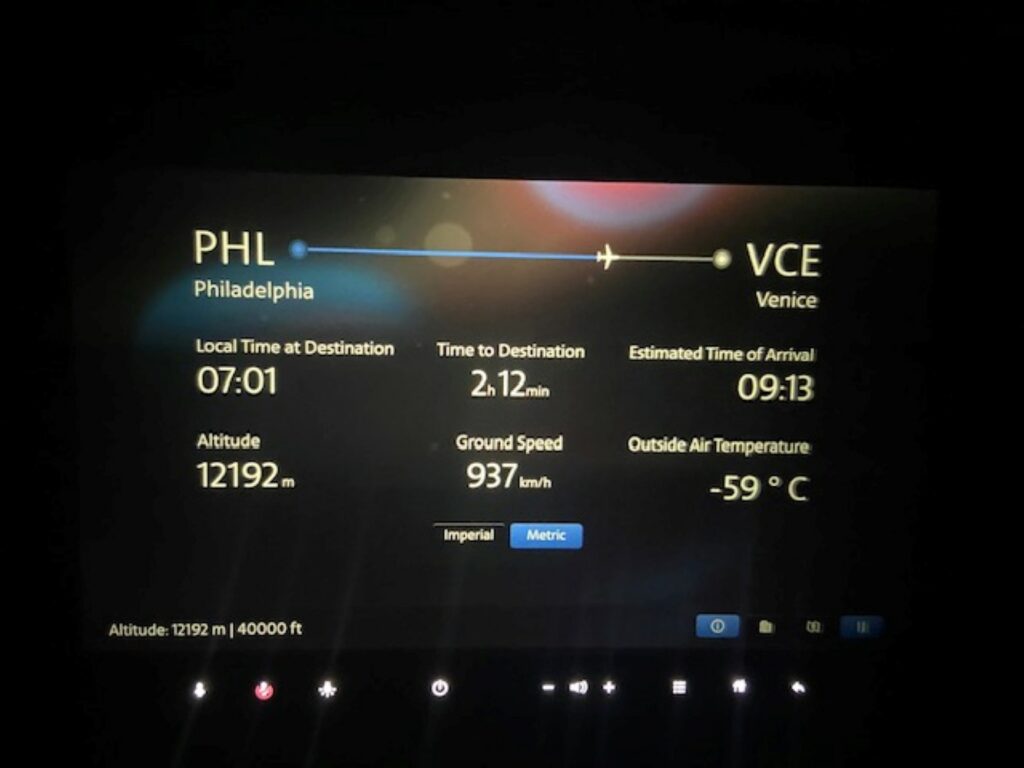 Related Articles:
All images credited to the author, Lori Zombek