As SpaceX customer JSX offers its passengers a complimentary — and notably, a frictionless and portal-free — streaming class of Internet service on its Embraer ERJs, Viasat customer Delta is going in the opposite direction by rolling out Delta Sync Exclusives, a curated new digital experience for mobile devices that will not only act as the 'front page' gateway to free Wi-Fi for its SkyMiles members but serve as an "entirely new platform for entertainment and discovery".
These approaches speak to the growing diversity of free Wi-Fi models being employed by admittedly diverse operators right now. One is fully unencumbered and unfettered; the other is effectively a personalized, curated platform that will take frequent flyers to the Internet if that's where they want to go but will also tempt them with exclusive content including access to a free trial of Paramount+ or inflight games.
Quite simply, when it comes to inflight Wi-Fi, one size does not fit all, a point highlighted by multiple industry executives during an IFC-focused session moderated by yours truly at APEX TECH in Los Angeles.
Intelsat senior vice president, commercial David Bijur, for instance, saliently stated: "[I]s everybody ready to go to the frictionless market? The answer is no. Many of them don't want to because this is still a profit center for many airlines. This product is one that could go from being a profit center to being a gigantic cost center and even as we get our own costs down, even as we provide better services for less money, I think airlines are still hesitant in all corners of the planet to do that."
He added:
I just think that there's different strokes for different folks. And, you know, once you've figured out one airline, you've figured out one airline.
Conference attendees laughed and nodded in agreement at Bijur's comment. Even so, SpaceX and its direct, low-latency, LEO-focused, frictionless IFC approach is teasing disruption in aviation.
In addition to JSX, which is now offering Starlink IFC fleet-wide, SpaceX has deals in place with Hawaiian Airlines, as well as low-cost carriers airBaltic and JAL subsidiary ZIPAIR Tokyo — the latter is currently a customer of Panasonic Avionics' Ku-band connectivity system. In their messaging about bringing Starlink to passengers, these airlines seem largely aligned with SpaceX's IFC vision, with airBaltic promising no "hassles or login pages", ZIPAIR touting "seamless connectivity", and Hawaiian assuring that "once passengers step onboard the plane the Internet works seamlessly throughout their flight".
Indeed, according to SpaceX's Nicholas Galano, who is responsible for Starlink sales and business development, "Frictionless is the word we use and if you take a look at what some of our early partners have announced already, whether it's JSX, Hawaiian, airBaltic or even ZIP, this idea of frictionless [is] just like when you're walking around with your cellphone in your living room, just with wings: you walk on the plane and the Internet works. I think for us that passenger experience really resonates with us…"
Simplicity, he added, is one of the ways to ensure that the passenger experience is great. "That's why we are really happy to find those great partners that can lean into that as well and want to provide that. And of course, we are in a fortunate spot with the capacity that our low-latency network — with the Starlink satellites — is able to provide, where we can provide that experience to every passenger on the aircraft."
Anuvu executive VP connectivity Mike Pigott broadly warned attendees about some of the regulatory hurdles to offering frictionless service on a global scale, noting, for instance, that there are "plenty of countries around the world that require passenger identification in order to get on the network. So we don't live in a world of just sort of open everything. We live in a world of telecom regulatory reality and so this isn't just a technology argument." 
Moreover, some countries have banned or restricted certain applications, like TikTok, or require that traffic be routed through their country. "[Y]ou need to land traffic in Russia if you want to operate over Russian airspace," Pigott noted, for example.
Portal/payment choke point
However, given the talkability around frictionless IFC right now — in the context of SpaceX's Starlink Aviation play — it seems relevant to state the obvious: some portals and payment solutions can and often do create a barrier to entry for passengers.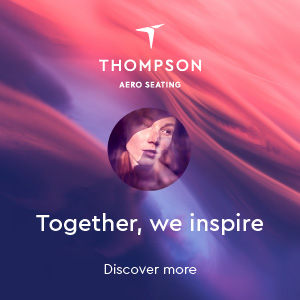 Ironically enough, I was recently reminded of this fact when flying American Airlines to Dallas to test JSX's Starlink service. During the outbound Philadelphia-Dallas flight, I watched an advertisement in exchange for a brief free session of Viasat-powered Wi-Fi, during which time the Internet worked wonderfully! But when it came time to pay for the service, American simply would not (or could not) take my money, despite repeated attempts to process the transaction via both PayPal and credit cards. Long past the time that other passengers would have given up, I kept trying but to no avail.
Bizarrely, the problem persisted when I boarded my return flight and tried to pay $19 for a full-flight session. So, whilst still on the ground, I switched on my mobile data briefly to see if I could sort of jam through a payment via PayPal and voila, I was connected.
I'm not singling out American or Viasat as being unique. I have faced difficulty when trying to consistently access paid Internet sessions on five of my last six connected flights spanning different systems and service providers. Talk about bad luck.
It shouldn't be this difficult.
Pros/Cons/Workarounds?
Given some of my recent experiences, Galano's discussion about frictionless Wi-Fi really resonated with your author. Equally, I'm cognizant of the fact that Part 135 operators without a frequent flyer program (JSX) and low-cost carriers which unbundle virtually every aspect of their business (airBaltic and ZIPAIR) are different beasts than full-service carriers (though Starlink customer Hawaiian doesn't fit quite so neatly into the LCC box).
And of course, without a dedicated portal, an airline loses out on branding, advertising, partnership opportunities, and frequent-flyer integration, not to mention the ever-important ability for passengers to stream cached IFE content to their device if the live connection isn't available (or to draw eyeballs away from the Internet, in a bid to spare bandwidth or to promote a streaming partnership with cached content).
So, I find myself asking: will major international airlines flying widebodies or longhaul narrowbodies with economy class passengers packed tooth to jowl ever risk relying solely on IFC to entertain their passengers? But also, couldn't a LCC like ZIPAIR get creative by offering frictionless Wi-Fi, and then create a QR code-focused portal around its onboard food and beverage menu that highlights branding, advertising and other content (and also serves as back-up entertainment should the IFC not be available)? And given some of the aforementioned challenges, is it only a matter of time before SpaceX finds itself fleshing out a fuller IFEC approach, and perhaps pursuing partnerships, for international airlines? (Over at Twitter, Elon Musk has hired as CEO, Linda Yaccarino from NBCUniversal, where she was the chair of advertising sales.)
Low-latency, big capacity
While Starlink IFC is presently wowing customers on JSX and some equipped business jets, SpaceX's Galano assured at APEX TECH that the service is capable of supporting larger types, including narrowbodies and widebodies.
"With Hawaiian, of course, they fly both narrowbodies and widebodies, so that's definitely something that's not only in our future, that is something that we see happening today as we get ready to fly on those fleets," he said in late March. (On an aside, and specific to BizAv, Gogo Business Aviation CEO Oakleigh Thorne suggested during a 3 May earnings conference call that SpaceX is encountering some STC challenges.)
Even as multiple aero ISPs tout multi-orbit, hybrid GEO/LEO solutions for commercial aviation, SpaceX reckons that the capacity it is bringing to the table, including with its Gen 2 and eventually Gen 3 constellations, and the low-latency nature of its Ku-band LEO network will be a "game-changer" in terms of the passenger experience, with Galano suggesting:
Folks need as much capacity as they can and for us, we see that as reality. And we are again in the unique position where we can solve that in a different way. And for us that way is just by launching more satellites. If you were to nitpick, you could say we are multi-orbit with our Gen 1 and Gen 2 constellations being different shells and different technology types.

So with that same [Starlink ESA] antenna, you're gonna get served with our Version 1 and 1.5 satellites. And now again, with the Version 2 satellites, are four times more capacity. And then eventually with the next generation larger ones that will launch on Starship, even more capacity.
This sort of low-latency capacity, he suggested, opens up "a whole new world of opportunity primarily for the passenger experience but we have always talked about the nirvana of improving aircraft operations with connectivity". And vertically integrated SpaceX seems happy to directly serve the airlines, taking what Galano referred to in general as "a very prioritized approach"
In a potential nod to the importance of embedded IFE, Galano suggested that "maybe there's some future integration you can have with the seatback televisions on aircraft if you have them to connect to this".
SpaceX is obviously not the only player talking about the benefit of a more frictionless Wi-Fi experience. Global IFC standards body, Seamless Air Alliance — which boasts a 'who's who' of members including Delta, Airbus and Boeing — is endeavoring to help make inflight Wi-Fi just that, seamless. To that end, it is working with mobile network operator association GSMA, as cellular providers increasingly include inflight Wi-Fi access in their offer.
"Panasonic is definitely on board with the vision of what the Seamless Air Alliance is doing, so the role that Wi-Fi roaming is going to have in connectivity moving forward. So we see the frictionless elements of connecting as important. We also see the role of telcos and our market as being very important moving forward," said senior director of operations – connectivity Scott Rees.
Inmarsat, which is now in the home stretch to being acquired by Viasat, reckons that the conversation is shifting away from bandwidth and speed to service and delivery, given the glut of capacity coming to market overall.
Company vice president Europe, Middle East and Africa Neale Faulkner said: "I don't think that the future arguments we will be having is around speed, is around bandwidth. I think it will be a lot more around service. It will be more about consistency.
"I think it will be a lot more about: what do you want on the aircraft? As in … either a frictionless environment or a full kind of portal with embedded wireless IFE or whatever. A frequent-flyer integration, those type of services."
Related Articles: