Viasat is looking at "melding" its strategy of directly serving commercial airlines with that of Inmarsat's value added reseller (VAR) model for Global Xpress when it completes its acquisition of the London-headquartered satellite operator, company president and CEO Richard Baldridge has revealed to Runway Girl Network.
Asked by RGN if he could share any color around whether the Inmarsat GX VAR ecosystem will remain in play post-acquisition, Baldridge said: "I think it's going to depend on their [the VARs'] performance, but I think we're looking forward to having the ecosystem that Inmarsat has built."
He continued:
And I think what you'll see is things happen in two ways — one, we'll begin to use some of that ecosystem where we traditionally haven't, and we'll have a bit more vertical integration than Inmarsat has. So, I think you'll see some melding of the two strategies.
Inmarsat counts aerospace giants Collins Aerospace, Honeywell, Thales, Panasonic Avionics and SITA as GX VARs. Safran is not a service provider for GX, but it offers its own GX hardware package inclusive of the Honeywell-made JetWave antenna alongside its in-seat IFE system.
Baldridge said Viasat is really looking forward to closing the Inmarsat acquisition. "I think there is a lot of things that we can do with the assets they have. We bring a technology list that they haven't really had access to. They have fantastic spectrum assets and I think we'll be able to put them in play in the mobile market as well, so I'm really looking forward to getting our hands on those."
Viasat's list of airline customers includes but is not limited to Azul, Aeromexico, American, Delta, United, JetBlue, El Al, Finnair, SAS, and Qantas. A raft of carriers have signed on for Inmarsat GX, including China Airlines, Lufthansa, Qatar Airways and Singapore Airlines, among others. Both Viasat and Inmarsat offer Ka-band satellite-powered cabin connectivity.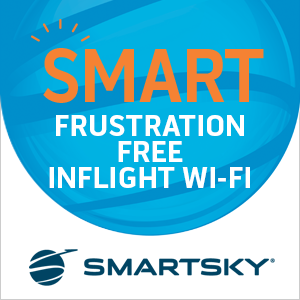 Moving ever closer to completing the deal, Viasat and Inmarsat recently agreed on a package of legally-binding economic undertakings with the UK Government's Department for Business, Energy and Industrial Strategy (BEIS) as part of the proposed combination of the two companies.
Maintaining core satellite, network and cybersecurity operational capabilities in the UK, and ensuring continued ownership of Inmarsat's current satellite fleet by a UK company are among key facets of the package.
The UK is generally welcome to foreign equity ownership though it restricts ownership in the airline industry to 49% and can limit or pull the cord on deals in other sectors if a large transfer is deemed to be contrary to the interests of the country.
Baldridge told RGN that Viasat's ownership "will not be limited". And While Viasat hasn't finalized subsidiary structures yet, Viasat will own them.
In an email exchange, Viasat previously stated: "Viasat has no plans to sell the satellites, which are part of the core assets of the business we are acquiring."
Related Articles:
Featured image credited to Viasat