Viasat has entered into a definitive agreement with Inmarsat to acquire the London-headquartered satellite operator for $7.3 billion, in a move that will create a global communications behemoth which — among its many assets — will boast a remarkable portfolio of inflight connectivity solutions and a significant customer base in civil aviation.
Under a definitive agreement inked between the two firms, Viasat will acquire Inmarsat in a $7.3 billion transaction comprised of $850 million in cash, approximately 46.36 million shares of Viasat common stock valued at $3.1 billion based on the 5 November closing price, and the assumption of $3.4 billion of net debt.
Notably, the combined company "intends to integrate the spectrum, satellite and terrestrial assets of both companies into a global high-capacity hybrid space and terrestrial network, capable of delivering superior services in fast-growing commercial and government sectors", said the two firms.
"This advanced architecture will create a framework incorporating the most favorable characteristics of multi-band, multi-orbit satellites and terrestrial air-to-ground systems that can deliver higher speeds, more bandwidth, greater density of bandwidth at high demand locations like airport and shipping hubs and lower latency at lower cost than either company could provide alone."
The combination is highly complementary. A leader in mobility, Inmarsat has long provided communication services to maritime — with over 100,000 safety-equipped vessels — aviation and government entities. In aviation specifically, Inmarsat offers a near global Ka-band cabin connectivity solution called Global Xpress (branded as Jet ConneX in business aviation) as well as L-band supported cockpit communications and safety services. Multiple aerospace giants serve as value added resellers for Global Xpress, and their airline customers include Lufthansa, Qatar Airways and Singapore Airlines, among others.
In August, Inmarsat announced plans to bring together its existing GEO satellites with terrestrial 5G and what is envisaged as being a small constellation of LEO satellites, as part of an integrated, high-performance solution called Orchestra.
Viasat, meanwhile, offers a high-capacity Ka-band inflight connectivity solution in North America, over the North Atlantic and in Europe, in addition to an advanced residential business in North America. It has enjoyed a remarkable trajectory in aviation, and counts American Airlines, Delta Air Lines, JetBlue Airways, United Airlines, El Al, Finnair, SAS and Qantas among its customers.
The firm also supports the business aviation community with a near global Ku-band solution, as well as regional Ka IFC. It is readying to launch the first of a three-satellite ViaSat-3 constellation in 2022. The third ViaSat-3 satellite, for the Asia-Pacific region, is intended to plug the gap in Viasat's Ka coverage map, but it is still years out.
By acquiring Inmarsat, Viasat will have a broad portfolio of spectrum licenses across the Ka-, L- and S-bands and a fleet of 19 satellites in service with an additional 10 spacecraft under construction and planned for launch within the next three years. And quite technically, it will have an immediate offering for the Asia-Pacific region through Inmarsat's GX network which in time will include polar coverage.
Viasat has pursued a more proprietary approach to IFC so there will be work ahead as and when the firm brings together its Ka offering with Inmarsat GX in aviation and other markets.
Together the two firms would have combined revenue of $4.1 billion if the transaction were to be completed in calendar year 2021.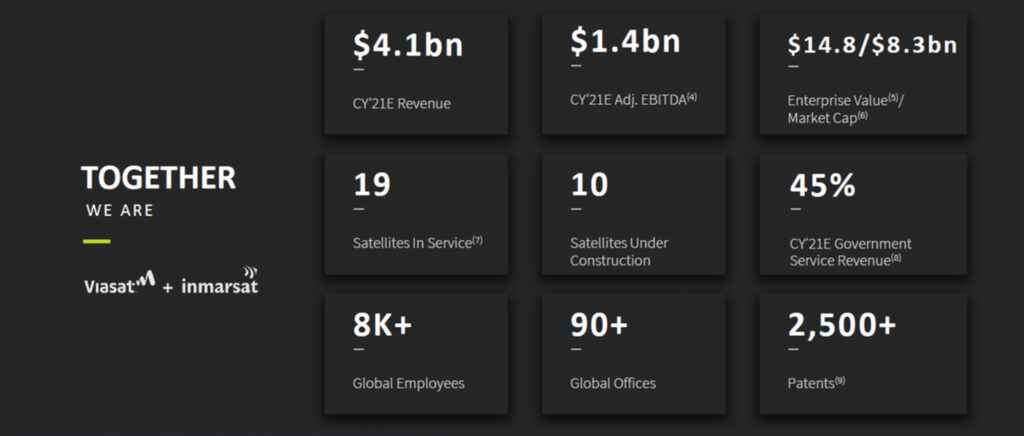 "Viasat is a terrific innovator and Inmarsat brings some powerful additions: global reach, a broad distribution channel, robust business momentum and a presence in highly attractive global mobility segments. Together, the two companies will create a new global player with the scale and scope to help shape the future of a dynamic and growing industry," said Inmarsat CEO Rajeev Suri in a statement.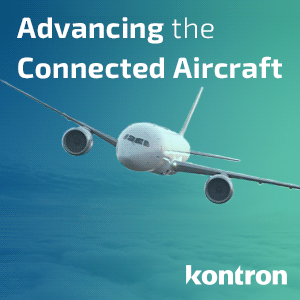 Calling the deal "a transformative combination", Viasat executive chairman Mark Dankberg said: "Inmarsat's dual-band global mobile network, unique L-band resources, skills and capabilities in the UK and excellent technical and operational talent worldwide, are powerful complements to Viasat's business. Together, we can advance broadband communications and create new hybrid space and terrestrial networks that drive greater performance, coverage, speed, reliability and value for customers. We look forward to welcoming the Inmarsat team into the Viasat family."
During a conference call this morning, management signaled that the terrestrial component of Inmarsat's Orchestra plan is likely to be pursued.
Viasat plans to build on Inmarsat's presence in the UK and assures it is committed to preserving and growing the investment of the combined company in UK space communications, as well as supporting the recently published National Space Strategy. It intends to grow Inmarsat's London headquarters, as well as its footprint in Australia and Canada and across Europe, the Middle East, Africa and Asia-Pacific. Indeed, Viasat's second ViaSat-3 satellite will be controlled from the UK.
Related Articles:
Featured image credited to istock.com/ipopba