French multinational corporation Thales says it is working with its airline customers to come up with "the best long-term solution for their connectivity needs" given the news that SITA is exiting the cabin IFC service business and that Inmarsat is in line to be potentially acquired by Viasat.
The revelation that SITA intends to withdraw from the space first broke at the Airline Passenger Experience Association's APEX TECH conference in Los Angeles, and was later confirmed to RGN by Yann Cabaret, CEO of SITA For Aircraft.
Thales has a longstanding relationship with Inmarsat, having pursued a technology roadmap that tracked alongside Inmarsat's aero service offerings, including embracing SwiftBroadband (SBB) L-band-supported connectivity for its airline clients and later Inmarsat Aviation Global Xpress (GX) Ka-band.
Notably, Thales' TopConnect integrated connectivity/IFE solution facilitated OnAir (later SITA unit SITAONAIR) as the communications service provider.
In one example of how the three entities — Thales, SITA and Inmarsat — are intertwined on various airline projects, your author recalls that Thales in 2010 announced a rather significant SBB connectivity + nextgen IFE deal with Qatar Airways, whereby cabin connectivity was to be integrated with the IFE, and OnAir was to coordinate with Qatar Airways on the service offering. (Qatar later migrated to GX. And roughly in 2017, Inmarsat started taking a more direct approach with Qatar, obtaining a STC to retrofit the carrier's 777s. SITA appears to still act as a service provider for Qatar, whose website refers to its inflight GSM service, for instance, as OnAir. Inmarsat and its GX service, however, have been front and center in Qatar's most recent IFC and live television deals,)
"Obviously, we are aware of SITA's public announcements. We have a number of airline customers that use Inmarsat GX connectivity and have a variety of relationships with Inmarsat, SITA and ourselves," Thales InFlyt Experience chief executive officer TK Kallenbach told RGN in a statement.
"In addition, we have to be mindful of the changing landscape with Inmarsat's possible merger with Viasat," he said.
RGN asked Thales if it intends to transition out of being an Inmarsat GX value added reseller (VAR) itself in the commercial aviation space.
Kallenbach stated:
We take an airline-centric approach to connectivity and are working with each of our airline customers to come up with the best long-term solution for their connectivity needs in light of SITA and Inmarsat's situation as well as emerging new technologies, solutions and aircraft OEM sponsored programs.

We have no plans to exit global connectivity, but the landscape of potential offerings are certainly changing. And we want to offer the best solutions tailored to our airline customers and their passengers.

We also continue to actively offer our FlytLIVE connectivity solution using the new SES-17 satellite over the Americas. FlytLIVE provides state-of-art high speed aero Ka connectivity with unrivaled inflight performance and gate-to-gate coverage. It is fully deployed with Spirit Airlines on their current fleet of A320 family of aircraft. In fact, we just celebrated our 1 year anniversary of Spirit's full connectivity service across north, central and south America. FlytLIVE is a terrific connectivity service for single aisle aircraft operating in and across the Americas.
Asked if any of Thales' customers have begun the transition process over to Inmarsat as ISP, an Inmarsat spokesperson told RGN:
Whilst this decision by SITA For Aircraft doesn't impact any other VAR partnership, we continue to engage with any company impacted to ensure a smooth transition for the airlines.
Inmarsat, which continues to operate as a separate company to Viasat until the latter's acquisition of the former is complete, stressed to RGN that it has not opted to end its GX VAR program.
"SITA For Aircraft's decision to move out of the inflight cabin connectivity domain will not impact Inmarsat Aviation's other VAR partnerships. This is a symptom of the increasingly competitive environment in the IFC sector, which is causing companies to reassess their strategic priorities," said the Inmarsat spokesperson.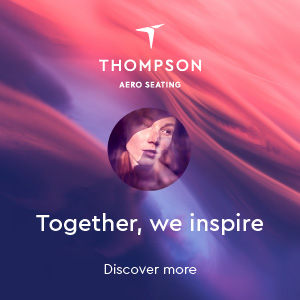 But will Inmarsat simply assume all 1000-plus aircraft that are fitted with SITA's IFC (powered by Inmarsat SBB and GX) in the world fleet?
The Inmarsat spokesperson stated: "Inmarsat Aviation and SITA For Aircraft are liaising with each of the affected airlines to support a smooth transition as required, so they can continue to deliver seamless global connectivity to their passengers via Inmarsat Aviation's award-winning solutions."
The European Commission is presently in Phase 2 of its investigation of the proposed $7.3 billion acquisition of London-based Inmarsat by Carlsbad, California-headquartered Viasat, and has expressed concerns that the transaction may allow Viasat to reduce competition in the commercial broadband inflight connectivity market. As certain customers of SITA's cabin IFC service migrate to Inmarsat, will this have any impact on the EC's probe?
Meanwhile, in an interview last week with CNBC, Inmarsat CEO Rajeev Suri said he expects the merger with Viasat to receive unconditional approval from the US FCC "soon, in the next couple of months".
Related Articles: 
Featured image credited to iStock.com/Fotokot197