There's a fresh wind of new medium-to-long-haul low-cost carriers blowing across the Asian market, and especially in Japan where ANA's new seats, brand and service concept for the relaunched Air Japan joins both ANA's low-cost carrier Peach and the existing Zipair Tokyo from Japan Airlines. It's an all-economy 324-seat Boeing 787-8, and it's an interesting blend of Japanese modernity that hits successfully in a number of areas.
In context, Air Japan was previously the charter operation of ANA, resurrected in the early 2000s as a sort of internal full-service mini-carrier with full ANA branding. In 2022, the new Air Japan was announced as the medium-haul low-cost arm of the group, joining the well-established LCC Peach within the ANA group and aiming to focus on flights from Japan to southeast Asia. It will operate Boeing 787-8 aircraft reassigned from ANA's mainline operation from February 2024, from Tokyo Narita and Osaka Kansai (the international airport on an artificial island about an hour out of town).
Alongside numerous routes from ANA mainline, Peach already flies from Osaka Kansai to Bangkok Suvarnabhumi, so it will be interesting to see how the group positions these two operations. Indeed, an inherent question is "why is Air Japan not just Big Peach?"
Acumen says that Air Japan is positioned "as neither full-service nor a low-cost carrier", and the general impression hits somewhere between as well: the Landor-designed brand and livery is simple and modern, and the "r j" logo is clever — expect to see flight attendants doing the "Air Japan Hands".
The new uniforms are interesting and there's rather charming boarding music developed in conjunction with Tokyo University of the Arts that features traditional instruments including the koto and shakuhachi. 
Onboard, it's an all-economy configuration, so every seat onboard will thus be the Z110i Economy seat from Safran Seats — the same as seen on Breeze's A220s, though much narrower for the nine-abreast 787 layout. 
The seat falls into that kind of category that could perhaps be called "fully featured but clunky": it's comfortable enough (at least for a few minutes at trade shows, in your author's experience) but the stuck-on aesthetic of the flight attendant call bell/light switches and USB power modules just looks inelegant — especially in the real-world models from the release video, which shows them in an accent blue colour.
And it's busy; there is an unusual amount of safety information placards affixed to the seatback, including 'no-smoking' and seatbelt information signs.
Notably, the rendered imagery shown doesn't include either 'no smoking' or 'seatbelt' signs on the overhead passenger service units.
Acumen brand experience director Mike Crump tells Runway Girl Network that "our visuals are not 100% accurate as we did not have full Boeing cabin data when we did these visuals — so they are more representative." It will be interesting to see what the final cabin shows.
Pitch will be 32", rather above average for economy, and there's no seatback inflight entertainment, but we can see a personal electronic device holder plus seatback sockets for USB-A and USB-C cables. The release video suggests that streaming entertainment will be available, but there are no details as yet.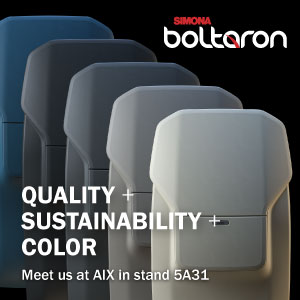 Whereas Air Japan is all-economy, JAL group LHLCC competitor Zipair Tokyo offers the Jamco Venture fully flat outward-facing herringbone with direct aisle access, and within the region options include a premium economy option with Scoot and Korea's Air Premia, as well as AirAsia X's angled Premium Flatbed product.
The colour, material and finish (CMF) of the Air Japan product includes an unusual dusky salmon "sunrise colour" — which is being called akebono-iro, or "dawn", although in general this colour is rather closer to what we'd know as "coral" in most examples. Within the Air Japan palette, it would fit within the colour family generally referred to as "millennial pink". 
It's only used as the most light of accent colours onboard, though, with a tiny bit of pink piping around what's otherwise a very dark gray experience, with both the Ultraleather seat cover and the seatback thermoplastics notionally the same colour. Given the clunky nature of the seat, it's a bit of a behemoth, especially from behind, where there's something reminiscent of the serried ranks of Dark Trooper robots from The Mandalorian in terms of aesthetic, if the Dark Troopers had pink piping instead of red eyes.
Sure, it's different from beige, but could this have been more welcoming, with a headrest or capping piece in either the millennial pink, the complimentary indigo blue or both?
Related Articles:
Featured image credited to Acumen/Air Japan