First-generation electronically steerable antennas (ESAs) coming to the civil aviation market are being positioned as capable of talking to LEO or GEO satellites and switching between the two. But the ability to support dual-beam operation, connecting to both LEO and GEO satellites simultaneously at a price point palatable to operators, is the sort of game-changing technology that Gilat Satellite Networks is pursuing, in addition to NGSO-specific aero ESA kit.
Gilat is already deeply embedded in the multi-orbit realm with its ground segment equipment. Its SkyEdge IV baseband satellite communication platform is being deployed across SES mPOWER MEO and SES-17 GEO  (which, incidentally, together are being positioned for future multi-orbit aero services through the Airbus supplier-furnished HBCplus inflight connectivity programme). The multi-orbit, multi-service SkyEdge IV platform is also being deployed by Intelsat for the satellite operator and aero ISP's "global IFC mobility network", says Gilat VP mobility and global accounts Amir Yafe. "The ability to support next generation satellite architectures was key in their selection of SkyEdge IV," he tells RGN.
Indeed, the success of SkyEdge IV, as well as Gilat's modems and transceiver product line, helped to drive a record year for the Israeli firm's mobility and inflight connectivity segment in 2022. In the fourth quarter alone, "we had a strong quarter with about $20 million of orders for both our baseband and transceiver product lines" for inflight connectivity, company CEO Adi Sfadia said during Gilat's recent 4Q/full year earnings conference call.
For Gilat's ESAs, Yafe tells RGN, the company is determined to make the kit "as compatible across all networks as possible regardless of their baseband selection". That includes all potential network providers in GEO, MEO or LEO.
He says:
One such example – our Ku commercial aviation ESA will support dual beams and will allow for the simultaneous use of both GEO satellites and LEO satellites while in-flight providing superior performance on both GEO and LEO compared to any existing antenna out there today.
"For the business aviation market," adds Yafe, "we do see a need for customized, small form factor and high throughput ESA array which would be optimized to NGSO satellites and can support a wide variety of business jets."
In 2020 Gilat demonstrated its ESA technology over Ka-band GEO and LEO, and later separately tested a fully conformal ESA array product for Airbus Defence and Space that is completely flush with the aircraft's fuselage and does not use a radome. And in the past two years, the firm has seen "increasing interest from the market" for its ESA technology in both commercial aviation and business aviation, says Yafe.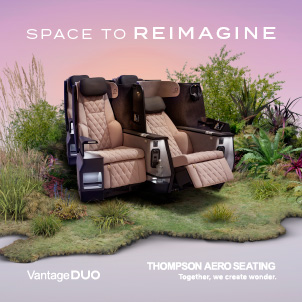 Additional live aero testing over LEO will be conducted this year. And Gilat continues to target 2024-2025 for market launch for its aero ESA line.
Yafe explains: "With respect to ESA we believe our technology is applicable for all orbits and networks and believe that a 2024/2025 will be key in early market adoption of high performance ESA arrays for the commercial and business aviation markets. 2024-2025 is the target to launch ESA products to market taking advantage of the large capacity contributions of GEO and NGSO constellations."
That happens to be roughly around the same time that SatixFy UK's new ESA is expected to debut, with the expectation that it can operate simultaneously over both the OneWeb LEO network as well as GEO networks.
Related Articles:
Featured image credited to Gilat