Co-chairing the Seamless Air Alliance's inflight connectivity interoperability working group, Airbus and new member Boeing are "both driving to the same goal" of making linefit IFC components more standard and interchangeable to ensure that airlines have the flexibility to swap or upgrade service if they see fit, member executives told Runway Girl Network at the APEX/IFSA Exhibition in Long Beach.
"[T]he interoperability group, now driven by Airbus and Boeing, gives gravity to the situation so to speak. Now, it's not us pushing the idea of interoperability like we were four years ago. Now it's Airbus and Boeing working together. I mean, when they were presenting yesterday, you could hear a pin drop. That's how much focus and attention they got from a standing room only group of our members wanting to know what's next in the program and participating," Seamless CEO Jack Mandala told RGN in reference to the alliance's meeting in Long Beach.
Mandala added that the interoperability group is "one of our biggest working groups right now as far as participation". The scope of this work item includes inflight connectivity, Aircraft Interface Device (AID) capability, and operational/administrative data including Electronic Flight Bag, aircraft health monitoring and more.
But on the cabin connectivity front, specifically, the interoperability working group's efforts just happen to sync nicely with the direction that Airbus is already headed with its supplier-furnished HBCplus program. Airlines that tick the box for HBCplus when buying Airbus commercial aircraft will be able to change their managed service provider (MSP) whilst leaving the lion's share of IFC hardware in place.
I'm certainly not alone in seeing the correlation between Seamless' work and the HBCplus announcements from Seamless founding member Airbus. Satcom guru Peter Lemme, who is known in industry for his Arinc 791/792 standards work for broadband antenna radome install packages, and now serves as Seamless Air Alliance chief consultant, noted on Twitter that the alliance is:
developing guidance for breaking apart backhaul as a functional component, with means to reuse the antenna and easily change the modem. Also, how to change MSP easily.

[Seamless] architecture promotes functional interchangeability of both backhaul and also portal.
Specific to the alliance's work, Arnaud Mestrallet, who serves as end-to-end connectivity architect for Airbus' commercial platforms, said Boeing shares the same objective as Airbus – that is "to make the life of our airlines easier at the moment of the first installation of their inflight connectivity system, but also to upgrade it. So that's why we are looking for more interoperability in order to make the bricks interchangeable between them and not for the airline to be trapped with a system getting old. So, they have the possibility to upgrade it and to give the best performance of connectivity to their passenger."
Bryan Wiltse, who handles cabin systems and feature strategy at Boeing, said in a published statement about the interoperability working group: "The program covers requirements for physical architecture and logical interfaces and ultimately delivers a more flexible system to the airline."
(On an aside, as part of HBCplus, Airbus has adopted "one antenna to rule them all", at least in the Ka-band frequency, i.e., the Safran Passenger Innovations terminal with ThinKom VICTS as core. But whilst Boeing hasn't publicly announced the same SFE approach (yet?), SPI's terminal is also going through the offerability process at Boeing, and both Airbus and Boeing customers are able to select this product today for future aircraft. A cluster of Qatar Airways Boeing 787s have already been fitted with the kit.)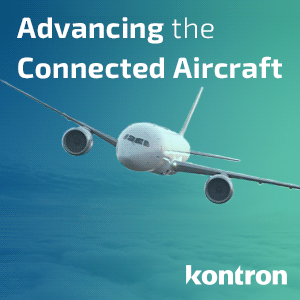 Meanwhile, the interoperability working group is taking a longer-term view of making electronically steerable antenna (ESA) components interchangeable, with Mestrallet describing it as a ten-year project "in order for the system to be clearly completely agnostic of any constellation and of any system supplier".
Seamless also reports that all its member airlines — numbering roughly a dozen operators — are now using its new Seamless Release 4 (SR4) toolkit, which features an IFC "design feature checklist", in their requests for proposals (RFPs). A video highlighting Alaska Airlines' use of the toolkit was on display at the alliance's APEX/IFSA EXPO stand.
"So, you know all of the airlines that are part of us are using it in their RFPs and it's an easy way for a smaller airline that doesn't have a big staff to put together an RFP and get competitive bids back and have an apples-to-apples comparison, with common definitions and so it's being used," said Mandala. Even service providers that aren't part of Seamless "have purchased the toolkit in order to be able to respond to these new RFPs that are coming out with the airlines", he noted.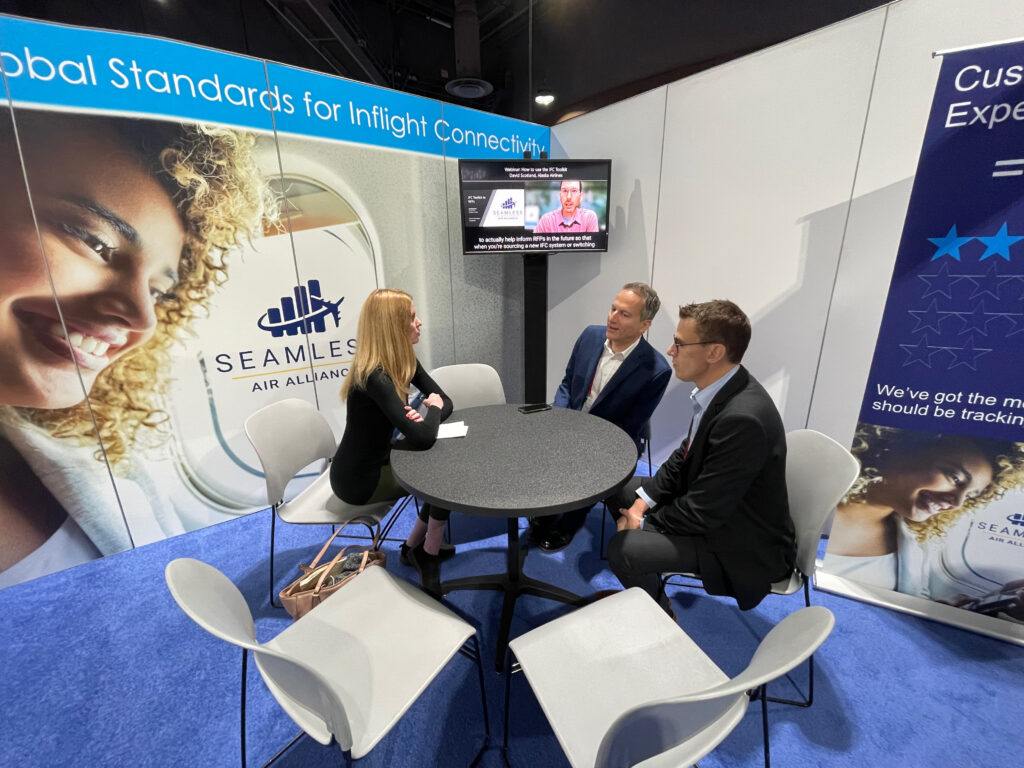 A critique that Seamless received is that its toolkit is too big, he said. "It's 550-some odd measures you know, and it's a little deeper than some of the airlines want to go. So, they came back and said 'we need to put together a Seamless certification program that puts together sort of a core group of measures, a smaller group of measures, maybe 50 or 100 that we ask service providers to agree to provide to us so that we can hold them accountable and get a deeper dive into the data behind what's impacting their systems.' So that should be your Seamless-Certified programs, right."
To advance its work in IFC performance measurement, a new research laboratory has been set up. Developed in conjunction with Seamless members GlobalReach Technology, Riverbed Technology, and Thales Group, the lab will be available to all alliance members who wish to measure service quality. It will also be used to develop and validate a hardened set of satisfaction indexes which Seamless said is  "paramount to predicting IFC service quality".
Seamless is not the only entity addressing this need. NetForecast, which measures Wi-Fi experience, is currently being trialed by several airlines. It wraps both quality of experience (QoE) and quality of service (QoS) measurements into a single score.
Effectively, Seamless and indeed NetForecast are helping airlines ensure that their service providers meet their SLAs.
"But the good news is the service providers are participating in the process and they've agreed to share that data, you know, anonymously, but so that we get the right scale and we understand which are the most important, and we agree on the common way of doing it," said Mandala of aero ISPs' participation in the Seamless lab tests.
Will Viasat join the Seamless Air Alliance?
"There's no movement right now. We're constantly talking to them. I do believe they'll join. Maybe even soon," said Mandala. "We are talking. I think it's just a matter of time."
For its part, Viasat vice president commercial mobility Don Buchman told RGN in answer to the question: "We'll see … We're not alliance allergic. We belong to the Wireless Broadband Alliance, the Streaming Video [Technology] Alliance." 
He said Viasat "haven't seen the angle yet" but thinks "seamless connectivity is good. Wireless Broadband Alliance does that, terrestrially. So Hot Spot 2.O and all the things being launched with them. They're basically bringing together all of those."
Featured image credited to Alaska Airlines, an active Seamless Air Alliance member.