Now a distribution partner of OneWeb's broadband services for commercial airlines, inflight entertainment and connectivity provider Panasonic Avionics has confirmed to Runway Girl Network that it is "not moving forward" with ThinKom Solutions' Ku-band VICTS antenna for its nextgen IFC solution, but instead will focus on Stellar Blu's multi-orbit electronically steerable antenna (ESA) package with Ball Aerospace's scalable subarrays "as being our next generational aero terminal" for hybrid LEO/GEO satellite connectivity.
In an interview with RGN, Panasonic Avionics VP, Connectivity Business Unit John Wade explained that the firm in 2021 selected VICTS for nextgen Ku-band satellite-supported IFC with the intention of supporting Airbus linefit deliveries. "So that was PAC's position as it relates to the Airbus linefit program," he said.
Since then, Airbus has announced its new HBCplus linefit supplier-furnished equipment (SFE) catalogue option for IFC, selected Safran Passenger Innovations' terminal for the program — with ThinKom's Ka-band VICTS as core — and is offering a choice of Inmarsat or SES as managed service providers (MSPs) for Ka-band transmissions.
While Airbus has indicated it is open to adding additional MSPs to the HBCplus program including those that support Ku-band connectivity, and the airframer is in talks with OneWeb, it has not announced which terminal will support Ku or who will serve as Ku MSP. But Stellar Blu vice president of sales Stephen Rice has revealed to RGN that his firm is pursuing both Airbus buyer-furnished BFE and SFE linefit offerability for its Sidewinder electronically steerable antenna, saying:
We are working with Airbus (BFE) and Safran (SFE via HBC+) on offerability of our Sidewinder ESA.
For its part, OneWeb does not see Ku-band VICTS as optimal for its services. Sidewinder has already been successfully tested on a Boeing 777-200LR commercial jet over OneWeb's LEO network. And OneWeb is "very much in the ESA camp", as OneWeb vice president – mobility services Ben Griffin recently expressed to RGN. Panasonic is also now in the ESA camp, confirmed Wade, stating:
We really see the ESA evolution as being the next logical step in the evolution of antenna technologies, so our focus right now is on the Stellar Blu [ESA] as being our next generational aero terminal.
He said Panasonic is "obviously very interested in what Airbus is doing around HBCplus", and pointed out that OneWeb — which has favored a B2B partnership approach — has indicated it is not keen on going direct as aero ISP. Indeed, Griffin told RGN that if Airbus selects OneWeb as a Ku-band MSP for HBCplus: "We'd much rather maintain our indirect wholesale approach, so in that sort of scenario [we] would have distribution partners serving as MSPs." That would obviously be good news for Panasonic, as well as Intelsat, which is also a distribution partner of OneWeb in commercial aviation.  (Not unlike Panasonic, Intelsat is also eyeing an ESA-enabled future.)
So OneWeb will approach aero through distribution partners, noted Panasonic's Wade. "So, our view is consistent with OneWeb's, which is for Airbus to offer OneWeb, it will be doing so as part of the distribution partner network."
He added, however, that: "Retrofit is obviously the first step in all of this; it will be faster to market than going down the linefit route."
Focus on "Diamondback"
While Panasonic's agreement with OneWeb enables it to offer OneWeb-powered IFC "standalone" or paired with Panasonic's own GEO service (as facilitated by its agreements with Ku-band GEO satellite operators around the globe), Wade said Panasonic's initial, nextgen IFC solution is expected to be multi-orbit, combining the OneWeb LEO network with its GEO network. As such, Panasonic will focus on the multi-orbit ESA from Stellar Blu known internally as Diamondback.
"There are two terminals that Stellar Blu offers — Sidewinder which is LEO-only, and Diamondback which is GEO/LEO and our initial plans are to focus on the Diamondback and have that as our aero terminal which will work both with the PAC GEO network as well as OneWeb LEO network," said Wade.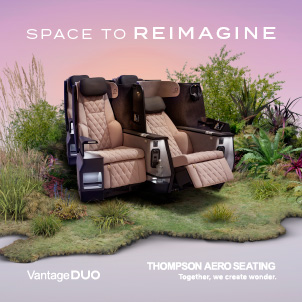 Stellar Blu's LEO-only hardware will be STC'd on the 777 and other aircraft when the final avionics package is released and will require certification flight testing. Stellar Blu continues to target certification and initial service "this summer", revealed Stellar Blu's Rice.
Stellar Blu is already looking at STCs for a number of other common airframes. And, according to Wade, there has even been some early-phase work done on Diamondback STCs.
Interestingly, Wade isn't bothered about who owns the STCs, whether that be Stellar Blu or indeed Delta Engineering, which is owned by Panasonic Avionics. "The end goal is to get the STC." He also isn't too terribly pressed on the linefit IFC hardware front.
Meanwhile, Boeing's buyer-furnished approach to linefit IFC hasn't changed, noted Wade. And so, if and when Stellar Blu achieves linefit offerability for Diamondback to support hybrid OneWeb LEO and GEO service on Boeing aircraft, Panasonic would effectively benefit as linefit distribution partner.
Your author notes that this partnership approach is somewhat different than how Panasonic has addressed the market in the past. Wade suggested that we should expect more of the same.
"It's a very different Panasonic today from the one it was from a legacy position," he said, noting that the firm has a new CEO, Ken Sain; a new CTO, Satyen Yadav; a new VP product & portfolio management, Andy Masson; a new head of IFC, himself; plus a new legal chief counsel, Abby Brief "so at least five senior executives that bring a real breadth of aviation experience".
All of us come out of aviation in some shape or fashion and therefore we're bringing our own experience to bear, and yes, we are more willing to consider partnering with the right people rather than do it all ourselves.
Panasonic is in discussions with several potential airline customers for its hybrid LEO/GEO solution, and a number of them "are extremely interested" in what NGSO satellites will bring in terms of capacity and cost for IFC, said Wade.
"We're all very excited about what we can do and that excitement is being shared by a number of airlines."
Related Articles:
Featured image credited to OneWeb