LONG BEACH — AirFi, which lays claim to being the number one portable wireless IFE provider in commercial aviation, is gearing up to install its so-called AirFi LEO connected box this month on Faroe Islands-based Atlantic Airways' Airbus A320 family aircraft. Inflight messaging and crew applications will be supported, in addition to the usual streaming entertainment functionality provided by AirFi's kit.
During the APEX/IFSA EXPO in Long Beach, AirFi founding partner and CEO Job Heimerikx explained that his firm has entered into a "three-party partnership" involving Skytrac —an Iridium value added partner which will provide the AirFi LEO antenna and receiver — as well as satellite operator Iridium, whose Certus 100 service will transmit the data.
Skytrac is "very strong within the search & rescue and the helicopter business and the private jet business so that's their forte normally," noted Heimerikx, "and we bring the normal airline business into that mix and we directly work also with Iridium."
"This group is the only group of people that can bring the Certus network to the commercial airline space," he suggested.
To facilitate this thinly connected solution, Skytrac's tiny antennas will be mounted to aircraft windows, as demonstrated by Heimerikx below. Passengers should expect to be able to use WhatsApp and messaging via "all social media platforms" without pictures, he said. "We filter out the picture for you."
AirFi LEO is not the first Iridium-powered light connectivity box to debut with window-mounted antennas. Wizz Air has been rolling out AS-IP Tech (ASIP)'s novel Bluetooth connectivity solution across the carrier's UK-based fleet of Airbus A320 and A321 twinjets to facilitate free messaging for passengers, and other functionality like live credit card authorizations.
But unlike the ASIP Bluetooth offering presently on Wizz Air, the AirFi LEO box is an IP solution that will use Iridium's new Certus 100 service from the get-go. "With this IP solution, we can cover over 90% of all use cases out there at less than 10% of the cost," said Heimerikx. He reckons that WiFi is "much more accessible and understood by the general audience" and provides advantages for payment validations, communication, and covering distances.
AirFi LEO fuels our 'mall in the sky' product so it enables the airlines to fulfill payments, which is a huge cost saver. Secondly, a low-cost carrier could put a paywall in between the messaging for passengers. But, at the end of the day, the entire system has been paid off several times by only doing the payments alone and then fueling maybe the 'mall in the sky' on top of that, and some other operational stuff.

[Under that scenario] in our vision you just give the messaging to the passenger because the size of a WhatsApp message is so small compared to anything else [so that's] a wonderful attribute to increase your NPS as a low-cost carrier or a small airline without the burden of a paywall.
The first Atlantic Airways aircraft will be fitted with AirFi LEO at the end of November. "We are conducting multiple trials at the moment because we created the entire set to be portable so we can go onto an aircraft, show proof of product, and then show the airline what they can do with it," revealed Heimerikx.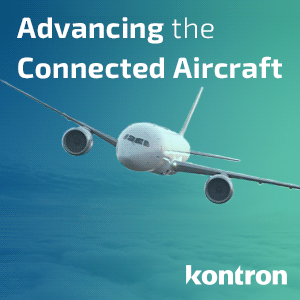 He continued, "Next to that, we have a group of airlines that will be going live in the first quarter, which accounts for approximately 20 aircraft, of both Boeing as well as Airbus in the single-aisle region, and a couple of double-aisles. So we're going incredibly fast there."
AirFi has focused much of its sales efforts on both low-cost carriers and smaller operators. To wit, its traditional wireless carry-on portable entertainment boxes are now being extensively trialled by easyJet.
"At the end of the day, the connectivity is a new requirement, but if you really look at what the requirement is, it's not about streaming video or having a massive connectivity pipe. It's about making money again because our focus is not on the legacy carriers," said the AirFi CEO at the exhibition.
Related Articles: