Wireless inflight entertainment systems, whether retrofitted to aircraft or carried on board in portable boxes, have served a number of roles over the last several years. They've become a stop-gap for airlines that want to entertain passengers but aren't yet prepared to invest in inflight connectivity. They also serve as a cost-efficient augment to connectivity (accommodating passengers who want to stream videos, without requiring use of the live and costly Internet link); and, for some low-cost and ultra-low-cost carriers, these solutions are expected to meet the entertainment needs of passengers for many years to come.
But with dozens of wireless IFE stakeholders vying for a piece of the pie, including with low-cost portable solutions, like the the latest from Global Eagle, the commercial market is very crowded indeed. And the number gets even larger when you consider the firms that are focusing their efforts on the business aviation community.
Lufthansa Systems, which is known for its 'BoardConnect' wireless IFE product line, and MRO giant Lufthansa Technik, which handles IFEC certifications and installs, are among the many firms offering entertainment solutions to airlines. As units of the larger Lufthansa Group, they're in an enviable position, not only to snag work with Group member carriers, but also to provide support to airline clients around the world. It's not news that the two are increasingly collaborating – indeed we've reported on such here at RGN – but strong opinions about how the industry will evolve are now emanating from the Group.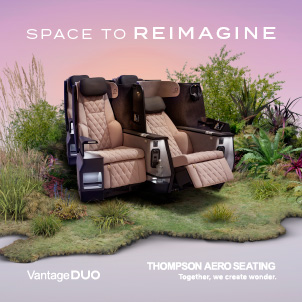 "Supporting an IFE product for an airline with a significant fleet takes a professional support organization and adequate resources – like the one offered by the Lufthansa Group. It is something most of the smaller companies with IFE solutions cannot deliver," suggested the Group in a press statement in advance of this week's Aircraft Interiors Expo in Hamburg.
Continued Jan-Peter Gaense, head of passenger experience products & solutions at Lufthansa Systems, "I have witnessed a trend toward professionalization in the industry, and I am sure that over the next two to three years we will see a huge consolidation in the market for wireless IFE solutions with only a handful of providers surviving. Together with our Group partners we are in an excellent position to serve our customers."
There's little doubt that some of the upstarts in wireless IFE will take umbrage with the comments coming out of the Lufthansa Group. But portable wifi provider AirFi, which has seen remarkable growth, is unperturbed. AirFi CEO Job Heimerikx tells RGN in an interview:
I think we should make a clear division between installed IFE systems versus portable. If I look at the installed ones, and you see what happened with Lumexis, I think there are too many providers. And only a few win. So, I do sympathize with the comments from Lufthansa on the installed base solutions [if they pertain to such].

On the portable side, I think that there is also a fast growth in different solutions that pretty much copied what we had used four years ago, and the challenge there is going to be who innovates the most and who innovates the fastest. And that will determine the level to which companies will exist in two years time. Because the portability makes it possible to make a vendor change, and with new innovations from various parties coming to market, the challenge is to stay ahead from the pack, and to bring true value for money.
Heimerikx agrees with the Lufthansa Group units' assessment that "there is going to be a shake down" because, he says, having so many players "puts prices under pressure. It puts revenue capabilities under pressure and it's not all for the benefit of the customer".
He adds, "Whether it's installed or portable, a certain economies of scale is absolutely necessary to have a sustainable model you can build on so having one or two aircraft or airlines with an installed system will be a money burner for a long time unless it's part of a larger deal or offering that you can recoup your investments with ancillaries. Every single-trick pony that comes to market now and doesn't have a very clear differentiating sector and a clear default interest from a larger group of airlines from a larger region will not make it."
Lufthansa Group's units also know, inherently, that they can't be a one-trick pony. For instance, Lufthansa Systems and LSG-owned Retail inMotion – itself owned by Lufthansa – are this week for the first time demonstrating the integration of BoardConnect's open aircraft IT platform with Retail inMotion's e-commerce solution. "This will allow passengers to create a personal profile, which the software uses to suggest personalized content. The longer the profile is used, the more the algorithm learns and the better the content recommendations become," they say.
But Lufthansa Systems' Gaense also believes that Lufthansa Systems "is one of the few providers who can deliver customized solutions based on the BoardConnect platform and in cooperation with partners to cover all variations and fleet types along the entire value chain". And his comments come at a time when Lufthansa Group airlines have been rethinking the IFEC experience with an eye on future proofing. "We are really looking into and working on how can we streamline all services and experiences on every airline and every plane," Lufthansa Group senior director of digital innovations Torsten Wingenter told RGN in November. To wit, DRM-protected movies will soon be available via BoardConnect without requiring a (cumbersome) pre-installed app.
For its part, AirFi's portable wifi and connected crew tablet solutions see the firm working in 37 countries. "It's not about only bringing entertainment to the cabin, it's way much more than that. I think the companies that will survive do more than just bringing the content to the cabin, it's about the innovations. It's about the ancillaries. It's about ensuring the crew has a better work life. You have to see it from a more holistic perspective if that's the right word and that's one of the secrets of what we do and what some of our competitors and partners do," says Heimerikx.
"You look further than only this single thing. Three years ago, you could only focus on one trick and bring that to the market, because the technology forced you to be good at one thing. But with new regulations with portability of [systems], and more and more tablets and bringing them to the cabin, doing only one thing good is not good enough anymore."
Meanwhile, AirFi says it has received non-App DRM approval from Warner Bros.
Related Articles: