Through the years, easyJet has tested a variety of digital retail and entertainment solutions including from catering giant gategroup. But while the European budget operator has not yet committed to a fleet-wide equipage program, it has just announced an extensive new trial of AirFi's popular carry-on portable streaming solution for its Swiss fleet of 27 Airbus A320 family aircraft. And AirFi is clearly optimistic about the possibility that the arrangement could be expanded.
From 4 October, easyJet passengers onboard A320 aircraft flying from Geneva and Basel will be able to connect their Wi-Fi-enabled devices to the carrier's onboard shopping menu, as well as access flight and safety information, destination content, inflight magazine content and a selection of games, all free of charge. In this iteration, the AirFi box does not support live inflight connectivity. Rather, content is cached in the onboard server and streamed to passengers' devices.
"We selected AirFi to work with us having been impressed by their overall capabilities and the flexibility of their systems and platforms," says easyJet director of inflight retail Simon Cox. "We are confident they are the right partners to support us in realising our ambitions to deliver an industry-leading, digital onboard experience for our customers across Europe."
This is not the first time that easyJet has been exposed to the AirFi solution. At the end of 2020, in the midst of the COVID-19 pandemic, gategroup announced that its digital platform, called Epax, would be tested by easyJet. As a hardware supplier to gategroup, AirFi was tapped to provide its battery-powered onboard Wi-Fi units for the Epax trial. Separately, easyJet previously assessed wireless inflight entertainment from Spanish firm Immfly (which later teamed with Boeing on a new Boeing Digital Direct solution).
According to an AirFi spokesperson, this new arrangement between AirFi and easyJet represents a new, unique program, as catering, inventory management and last-mile provisioning will be provided by easyJet's partners, Dnata in the UK and Newrest in Europe.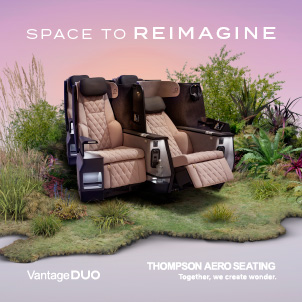 Effectively, the AirFi box serves as the hardware backbone. AirFi will also deliver all passenger-facing aspects of the user experience onboard including the retail shop, moving map, magazine integration and games.
"On the tech side, AirFi is integrating with RiM" the wholly-owned subsidiary of catering group LSG, which is responsible for the point-of-sale (POS) solutions and the crew-facing side of the technology, reveals the AirFi spokesperson.
"easyJet is and has always been a trailblazer in the air transport industry and we at AirFi are proud to have been selected by such a discerning partner," says AirFI CEO Job Heimerikx in a statement.
"The team at easyJet has challenged us to bring forward best-in-class solutions, innovative business models and to explore a fully customized solution that will further enhance the inflight experience for its customers. This opportunity has helped us to grow in many ways and we look forward to a very fruitful partnership."
Whether or not this trial will result in full-fleet equipage remains to be seen. AirFi says in its press release that the airline "will initially trial" the AirFi box.
Related Articles:
Featured image credited to AirFi