Safran Passenger Innovations, which supplies inflight entertainment and connectivity solutions to airlines, is seeing encouraging signs of recovery in the aviation industry. And this momentum, it says, is translating to increased airline RFPs for IFEC.
"[W]e are seeing a tremendous amount of activity across most regions when it comes to new proposal requests, which is very positive news for the midterm and seems to be broadly in line with the latest recovery profile for new narrowbody and widebody aircraft," says Safran Passenger Innovations (SPI) vice president, products and strategy Ben Asmar.
"At this stage, proposals for linefit are far outpacing retrofit proposals, and we anticipate that this will likely be the trend for at least the next 12 months."
SPI's current generation of embedded in-seat IFE hardware, called RAVE Ultra, has been flying since the fourth quarter of last year and is now being installed on more aircraft.
"This generation is what we will be deploying for the next few years," explains Asmar in a statement shared with media in advance of this month's APEX/IFSA EXPO in Long Beach. "It's something we are really proud of, and customers love it. With our 4K dockable displays in seven sizes, we continue to bring the high reliability of our seat centric architecture with displays that are lighter and thinner than ever."
He continues: "In addition to displays, we have our small lightweight headend stocked with 16TB of storage as well as a range of power supplies to suit any scenario from 60W USB-C in every seat and AC power outlets. Our current generation hardware is available now for linefit on both Boeing and Airbus aircraft."
Though RAVE Ultra is now flying, SPI has already started working on next-generation embedded IFE hardware. "Technology moves so quickly, as soon as we finish one generation we have to start on the next. Even though I can't tell you the details of what we are working on yet, what I can say is that we are actually working on the next two generations of hardware now," teases Asmar.
"The next generation will be more of an evolution of our current generation with a focus on weight reduction and efficiency targeted at narrowbody aircraft [and] we expect to see this coming to market in the 2024 timeframe. What comes next will really be revolutionary, and we expect the same type of disruption we saw when we originally introduced RAVE to the market. "
On the inflight connectivity front, Airbus recently named SPI as the terminal provider for its new HBCplus broadband Internet program, which enables airline customers to select the connectivity kit as Supplier Furnished Equipment (SFE) from the airframer, and SPI will then supply the equipment to Airbus for installation on the line.
The response to HBCplus "has been really positive, and we are very pleased with the level of activity we are seeing from customers interested to learn more," says Asmar.
"Although we are a supplier to Airbus in this case, we have been involved in many of the initial customer conversations. There are two key aspects of this solution that are getting people excited. First, this is an SFE solution from Airbus which offers a streamlined connectivity solution as part of the aircraft specification and second, the agnostic capability of the hardware, meaning the airline can select from a number of service providers that are compatible with the hardware and then change service providers in the future with as little as new software or a change to the modman (depending on the configuration). All of the other equipment remains the same." Inmarsat is, however, the first managed service partner for HBCplus, powering connectivity with its Global Xpress Ka-band satellite service.
SPI's new broadband terminal, which is based on ThinKom's VICTS antenna, has also been packaged for Boeing linefit and retrofit projects. Qatar Airways is the first publicized customer, as first reported by Runway Girl Network.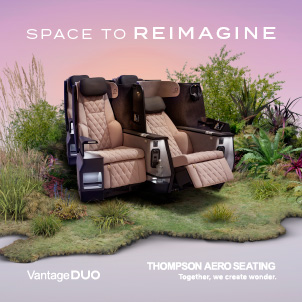 During the COVID-19 crisis, a push for more touchless IFE and digital retail solutions was observed in industry, which in turn placed some pressure on the value proposition for embedded seatback IFE. Even so, the embedded sector appears to be emerging from the pandemic stronger than before, with monetization now a key facet of that proposition. This trend is tracking alongside airlines' increasing use of narrowbody aircraft on longhaul routes.
Indeed, APEX/IFSA chief executive officer Joe Leader believes an incredible resurgence of IFE screens is afoot, noting in a message to association members that industry is seeing the fastest addition of new aircraft with screens in history.
"Clearly, after a shock such as the COVID crisis, airline executives are once again evaluating ancillary revenue projects to supplement ticket revenue to help get their airlines back to profitability and improve balance sheet outcomes. IFEC remains a key consideration for ancillary revenue generation; however there is also recognition that this has not been a very successful channel for many in the past," says SPI's Asmar.
"To a degree, this works hand in hand with digitization, as this significantly increases the opportunities to engage with the passenger over more traditional duty free and onboard retail, where crew become the limiting factor."
At SPI, he says, "we are totally rethinking how to approach IFEC revenue generation. Previous models have proven ineffective, so there is a need for something different. We are launching this effort later this year with our new digital advertising platform, RAVE Advertising. This is not an inflight advertising solution. Rather, it's a digital ad platform that we are using on-board an aircraft."
Our vision is that seatback screens just become another digital billboard in the digital ad ecosystem.  In fact, some advertisers may not even know they are advertising onboard an aircraft. This is just step number one. Our strategy also includes digital payments, e-commerce, and digital retailing.
Though the health of the aviation industry today is certainly rosier than it has been in the last two years, OEMs and their suppliers are still facing some choke points. "Unfortunately, I don't think anyone has been able to escape the recent supply chain shortages and Safran Passenger Innovations is no different," says Asmar candidly.
"[W]e have been managing our supply chain very tightly in order to minimize disruption to our customers. We are working closely with our suppliers, customers and OEMs to ensure that we are sending scarce parts to where they are needed most. So far, we have managed to mitigate delays that have caused significant impact to any of our programs, and we will continue to manage this daily until the supply chain begins to stabilize."
He reckons it's likely that SPI will continue to see supply chain issues well into 2023. "Although I expect to see improvements throughout the year, it is unlikely we will see what we would call normal until the end of 2023 or early 2024. This means that operating conditions will continue to be challenging for at least the next 18 months, so my hope is that as an industry we can rally and pull together and help each other as we all navigate these challenges on the path back to normal."
Related Articles:
Featured image credited to China Airlines