Redundancy is the aviation ethic demanded of virtually every aspect of flying. In recent years, many airlines applied it to inflight entertainment by adopting both in-seat and wireless IFE hardware for aircraft flying medium- and long-haul. If a system failed, passengers could avail of the alternative.
Having complementary entertainment systems on board also supported the double- and triple-screening trend, whereby passengers could watch the "big screen" on the seatback in front of them, while using their smart phone and other personal devices to connect to the inflight portal and Internet, mirroring at-home experiences.
The COVID-19 crisis has placed renewed emphasis on minimizing touchpoints on board aircraft. As such, airlines which adopted both in-seat and wireless IFE in the past are technically able to offer streaming entertainment as a contactless alternative to their embedded systems, while supporting onboard retail programs that enhance revenue. And airlines which only ever offered wireless IFE and/or connectivity to passengers can now boast that their solution is part of the touchless travel experience.
Some aviation suppliers are in fact using this selling point during the pandemic. Inflight Internet provider Viasat and wireless IFE specialist AirFi each separately bill their respective systems as "zero touch", with the latter explaining that the zero touch and "fully autonomous" nature of its FASE-branded, aircraft-powered portable wireless IFE solution is for the crew. "You turn it on once and from there, it will manage itself. And our remote support team is monitoring that," explains Martijn Moret, co-founder and EVP commercial Asia & Middle East of AirFi, which now counts Eastern Airlines as a customer for FASE.
Incidentally, long before the pandemic, Panasonic Avionics coined the phrase for its IFE content loading platform called Zero Touch.
It remains to be seen if COVID-19 will mark the beginning of a broader paradigm shift in onboard entertainment. Through the years, various news agencies and industry stakeholders have sounded the death knell for embedded IFE, and yet the hardware has shown remarkable resilience. COVID-19 poses new headwinds, however, not only around hygiene and sanitation, but also given the fact that early window movie content – a key value proposition – is under threat amid the pandemic. A more fully connected seatback IFE experience is likely in the offing.
According to AirFi, some carriers with seatback entertainment are presently evaluating cost-effective portable and semi-portable wireless solutions to avoid switching back on their legacy embedded systems in the face of depressed traffic and revenue. Noting that AirFi gets these questions "especially in Asia", Moret tells Runway Girl Network that some airlines "are evaluating whether or not to keep their seatback IFE on, and at the same time enabling a system" to support their onboard retail programs. "At this moment, it looks like everything is on the table and being discussed," he says.
Crucially, in addition to streaming movie and television content to passengers' own devices, AirFi's solutions can support digital menus and cash-free payments. "Here in Asia, there is hardly any restaurant that gives you a paper menu anymore. It's all 'scan the bar code and order my food'. And that's exactly what we have implemented already with a number of customers," notes Moret from his base in Singapore.
Is AirFi competitor Bluebox Aviation Systems – maker of the Wow wireless IFE solution – fielding the same types of evaluations from airlines?
"Our Bluebox Wow wireless IFE platform has always been a cost-effective and flexible alternative to seatback when there was an either/or decision on an initial investment. It really took off with airlines that had not previously offered IFE – low cost, holiday and regional carriers being a 'sweet spot' for us initially, both to enhance the passenger experience on board but also, significantly, as a channel for ancillary revenue generation. That second rationale being particularly relevant now of course," Bluebox head of marketing Catherine Brown tells RGN.
"We've also always had interest from airlines with classic embedded IFE in their fleet, usually to bring some consistency in their passenger experience, extending IFE to aircraft flying shorter routes in their networks – ANA deploying Bluebox Wow IFE onto its turboprops by way of example. And Bluebox Wow was also deployed in cases when a leased aircraft was brought in and either didn't have IFE or had a legacy system which was not economically viable to update.
"This mix of embedded and wireless IFE across fleets led to questions about a shift from seatback to wireless IFE long before COVID-19. In the multi-device world we were already accustomed to, we saw the potential for wireless IFE and embedded systems complementing each other on the same aircraft the more that technology and consumer demands evolved. The global pandemic and the requirement to reduce physical touchpoints on board, have brought this idea of two systems on an aircraft to the fore again – this time though the questions are now coming from airlines looking for solutions to maintain their inflight services and, critically, revenue from retail sales on board."
Brown continues:
So there has been interest, and we definitely have a solution that will help these airlines. However, we think it's a bit early to presume that this marks a permanent shift towards wireless IFE in aircraft where there is an existing embedded system on board. The market is too uncertain just now, and there is still an expectation that these systems will return to service.

Airlines will continue to make decisions balancing functionality and operating costs, as well as considering passenger demands and behaviour. The more we can deliver to passenger devices via Bluebox Wow, the more we're increasing the value of wireless IFE, and so we expect to look back and see that the pandemic expedited penetration of wireless systems into the more traditional seat-back cabin.
Both AirFi and Bluebox support PCI-certified onboard shopping payments for passengers, though AirFi's Moret says the service is still in the process of being implemented for new client Eastern Airlines because its first US customer, Sun Country "has not been using payments until now, and Eastern is the first one in the US, so we're connecting with a different acquirer". PCI compliance ensures credit card information is processed in a secure environment.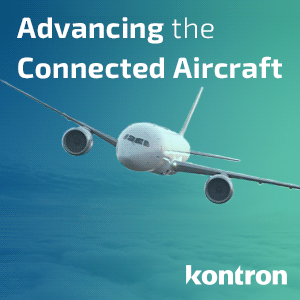 For Bluebox, new partnerships with Retail inMotion and dnata catering Australia will also help airlines to minimise contact and dialogue between passengers and cabin crew while delivering food, beverages and other retail offerings to passengers.
Even before it forged these relationships, Bluebox had reached a point in the organic development of its retail offering – including facilitating PCI-compliant payments for access to content – which naturally could have led it further into the onboard retail space. "But we recognised that aspects of this, order and stock management, logistics, and product merchandising in particular, were outside our own expertise. Partnering with companies with whom we could integrate our solutions was the logical route to expand both the proposition and our commercial reach," says Brown.
"Nothing energizes partnership talks better than live opportunities that play to partners' strengths and have some urgency behind them. That's been true with Retail inMotion and with dnata catering in Australia; though both relationships have roots pre-COVID, the pandemic has highlighted demand for integrated solutions and so expedited the technical development required. With Retail inMotion we are already working together with one large airline – a project we hope to be able to announce very soon – and with both Retail inMotion and dnata, we've been making joint proposals, so expect more to come."
Related Articles:
Featured image credited to istock.com/DaniloAndjus