Eurowings Discover, the new leisure carrier of Lufthansa Group which operates both Airbus widebodies and narrowbodies, next year will install AERQ's open IT platform AERENA — with in-seat monitors — onboard an A320.
The A320 will serve as a test aircraft of AERQ's new digital experience for passengers. But if the trial proves to be successful, AERQ tells Runway Girl Network that it foresees interest from Eurowings Discover and "a lot of other airlines".
As part of their wide-ranging partnership announced today at the Aircraft Interiors Expo in Hamburg, AERQ's so-called 'AERENA inseat' system will be fitted to the Eurowings Discover A320 from nose to tail. The system will provide passengers with "an upscale inflight entertainment experience building on latest technologies", says AERQ, and will be supported by the firm's cloud-based infrastructure.
"Seat integration and HIC [head impact criterion] testing will be started third quarter 2022," explains the firm, which is a joint venture between South Korean multinational technology conglomerate LG Electronics and aircraft maintenance, repair and overhaul giant Lufthansa Technik. The installed system will fly in 2023.
As part of this test, passengers' own devices will become an integral part of the experience, able to control the screens in front of them. Second screen functionalities are also in the works, particularly applications that allow passengers to continue watching a movie while checking information like the moving map or promotional offers. And Bluetooth audio functionality will be tested, RGN can confirm.
The AERENA inseat solution is billed as being "seat-centric". An AERQ spokeswoman explains: "Storage capabilities in the monitors will be substantial and the size can be scaled. Initially, the feed to the monitors will be wired which still supports a lean system architecture and thus limiting complexity."
In advance of AERENA's debut, AERQ has been working with a slate of new and potential partners to integrate a well-curated mix of applications, with the aim of both entertaining and engaging passengers as well as driving ancillary revenues for airlines.
For the Eurowings Discover project, apps and content are currently being defined between the carrier and AERQ. "It is likely that a number of apps where AERQ recently announced partnerships can be offered," the AERQ spokeswoman tells RGN.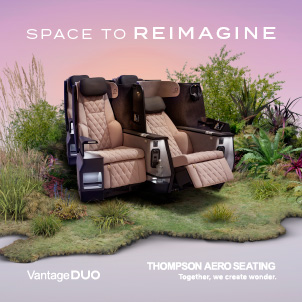 Maximilian Meintgens, who serves as director product & marketing at Eurowings Discover, says in a statement: "We are looking forward to this partnership with AERQ, as we believe in the great benefit of AERENA to our guests.
"By smart data capturing, analytics, and matching, we can learn about the passengers' entertainment demands and address them specifically. Continuous development of onboard entertainment is at the core of our product strategy."
AERQ co-managing director Son Yob (Louis) Pak adds that Eurowings Discover will profit from AERENA's agility which will allow "rapid updates of all content, whether it is AVOD, the graphical user interface (GUI) or any application to move the experience and engagement to a new level. With AERENA Eurowings Discover can customize its onboard product and truly differentiate from competitors."
Eurowings Discover is considered a competitor to German leisure carrier Condor, which has been stepping up its passenger experience (PaxEx) credentials of late. It is notable that leisure operators are taking PaxEx so seriously, as the aviation industry accelerates out of the Covid pandemic.
According to AERQ, various layers of passenger personalization will be supported by its AERENA trial with Eurowings Discover, with the final set-up to be defined in due time between the two firms.
Related Articles:
Featured image credited to Eurowings Discover