Panasonic Avionics and Inmarsat in the fall of 2018 announced an agreement that would effectively position the inflight entertainment and connectivity giant as a strategic VAR for Inmarsat's Global Xpress service, with a stated intent to sell GX as "a primary offering for new business" whilst continuing to invest in its own Ku-band network. But when the COVID-19 pandemic hit, Panasonic focused on its own business, leading to notable performance improvements for its airline customers, and a decision to tap ThinKom's nextgen Ku VICTS antenna for future IFC installs.
So what is the status of Panasonic's GX work? And does Viasat's plan to acquire Inmarsat — announced in November 2021 — change Panasonic's relationship with Inmarsat in any way? After all, the two firms were historic rivals before their pact.
Runway Girl Network put the question directly to Panasonic Avionics vice president, connectivity solutions Jeff Sare during an interview last month. He responded:
You know we were talking about the VAR stuff immediately prior to COVID. COVID hit. We, along with the entire industry have had the challenges we've had and so both companies, we've kind of hunkered down and focused on our knitting, hence the performance improvements you see in our current network which is all good news and so we were kind of leaving that alone. There just hasn't been enough demand for it to justify moving forward on it rapidly.

I think that the consolidation of Viasat and Inmarsat adds complexity that we haven't fully thought through yet, nor have we had any conversations with either of those parties. You know the nature of the regulatory environment; they wouldn't even really be able to talk to us as a single entity until some point after closing. So, it remains to be seen what it looks like in the future but we've not really progressed any, we have intentionally not progressed any at this point.

As things ramp back up, we are still not, nobody in the industry is healthy yet, has recovered totally yet. That merger could add complexity to this. It doesn't have to, necessarily. But it will depend on what the resulting entity wants to do, I guess, right.
Viasat has indicated it plans to make its forthcoming ViaSat-3 constellation interoperable with the existing GX network. Whether or not it intends to ultimately maintain Inmarsat's GX VAR ecosystem or go direct to airlines is one of several open questions which Viasat said it is unable to discuss until after the acquisition is complete, which is expected in the second half of this year.
Once the deal closes, the combined entity will certainly have a remarkable portfolio of Ka-band IFC solutions, and content on aircraft. Additionally, each satellite operator has outlined its own robust technology roadmap (the first Inmarsat I-6 satellite with a GX payload was successfully launched on 22 December 2021). Together, they'll be a powerhouse to contend with in aviation.
Boasting a leading position in Ku IFC, Panasonic is no slouch, however. The company on 24 November 2021 pinned its total satellite connectivity wins at "over 3,400" aircraft, and the rollout of its Gen 3 network has resulted in impressive service improvements. Several of its airline customers are now beta testing a new QoE tool. Notably, Panasonic has particularly strong cabin connectivity placement in Asia, and counts China Eastern, Air China, China Southern, and Xiamen Airlines as customers in China alone.
Given the COVID-19 crisis, the Chinese market hasn't really progressed as far forward as many had expected. "But we continue to talk to our [Chinese] customers. You know their domestic fleet, as is well known, is above 2019 levels. Their international fleet unfortunately is quite depressed globally still because of the COVID stuff and you know as they work through that, you know we get plenty of interest," said Sare in December 2021.
"We're talking to them but to our knowledge nobody's really pulling triggers just yet which I understand. You got to work through the issues of the day before we move forward to the next thing. We are still very high on China, you know, we have capacity, we continue to put investments into our entity in China and so I am very, very optimistic about the future. But like the rest of the world, it's a tad behind."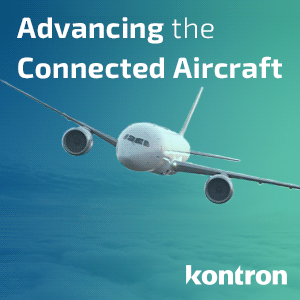 Panasonic's decision to tap ThinKom's nextgen VICTS for future installs seems to indicate that the firm intends to be involved in Ku IFC for the long haul, regardless of whether or not it will also actively sell GX in time. Sare told RGN that Panasonic is still on schedule "for a mid- to late-2023 delivery" of the VICTS solution to airlines. Initial aircraft installs will be accomplished via retrofit, with linefit offerability to follow at some point thereafter, he added.
The ThinKom antenna can also support future hybrid Ku GEO/LEO satellite networks, and Panasonic long ago preserved some of its extreme throughput satellite (XTS) GEO investment to acquire LEO capacity. "We are a believer in a multi-orbit strategy. One of the great advantages of being an independent service provider is that we can leverage whatever the best technology is that makes itself available and by having partners like all the satellite network operators out there, you [are] engaging more brains and more effort to find the right solution for our customers," said Sare.
There are still some moving parts. "LEO has a lot of promise as things ramp up but I think there is going to be great challenges over certain areas of the world to get market access," said the Panasonic executive.
"Early constellations aren't terribly robust in the amount of capacity that they offer. But I think even in a future state where you have a ton of capacity across the LEO network there are going to be some areas of the planet that you might say over Frankfurt or over New York or over Shanghai where the traffic is so much that it is much more efficient to use geostationary satellite. So, the combination of those things is much more powerful than any one of them by themselves."
One thing is clear. By continuing to focus on enhancing its own Ku IFC network during the pandemic (and not spread itself thin), Panasonic has helped to protect its position as a significant IFC player with a plan for the future, which could prove prescient if Viasat were to ultimately decide to phase out Inmarsat's GX VAR program.
Related Articles:
Featured image credited to Jason Rabinowitz