SpaceX's forthcoming Starlink LEO satellite-powered inflight connectivity service is gaining momentum, as public charter operator
JSX announces
it will be the first air carrier to adopt Starlink IFC, and as Delta Air Lines confirms it conducted exploratory tests of Starlink technology —  the latter reported
by The Wall Street Journal.
The JSX deal could be seen as a disappointment for both SmartSky Networks and Gogo Business Aviation because JSX previously vowed to launch SmartSky's nextgen air-to-ground (ATG) connectivity solution and later tested the Gogo AVANCE ATG offering as SmartSky faced delays to the launch of its network. SmartSky formally went live in October 2021.
JSX's guests are accustomed to hopping on the company's 30-seat ERJs and flying from private terminals at the cost of a commercial ticket. Given that JSX is seen as offering an 'almost private' passenger experience, it's natural for the firm to want to offer onboard Internet to its passengers.
In the fall of 2020, a JSX spokeswoman highlighted the importance of connectivity, telling Runway Girl Network:
I think connectivity will continue to be an important component of the customer experience — if not even more so — given our increased reliance on all things digital. For example, take a day trip, order your groceries online and then pick up on the way home. The blurred lines between living an in-person versus online life are only growing in importance.
Regarding the rollout of SpaceX's Starlink IFC solution, JSX CEO Alex Wilcox on Twitter said the first Starlink antenna has already been installed, and to expect "rapid deployment once certification [is] achieved".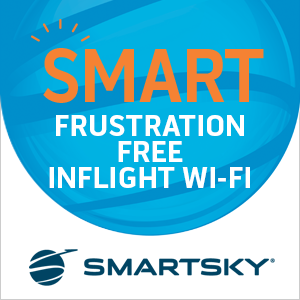 It is not yet clear if an electronically steerable antenna (ESA) or a mechanical gimbaled antenna has been fitted to the JSX regional jet.
CNBC reports that JSX's deal with SpaceX covers up to 100 aircraft, and that the service is expected to go live in the fourth quarter, pending regulatory approval.
Multiple satellite industry stakeholders are presently seeking to deliver ESAs that talk to LEO and MEO satellite networks, whilst meeting the price, performance and productivity needs of airlines and business jet operators.
US major Delta Air Lines, meanwhile, hasn't announced an order for Starlink IFC, though its exploratory studies are notable. William Blair Equity Research in a 6 April report stated: "We further expect Delta (DAL $37.72) to equip its CRJ-900s with Starlink over the next couple of years."
Related Articles:
Featured image credited to Juliana Shallcross