Panasonic Avionics has been described in the press as having "sidelined" its XTS satellite strategy, after years of vacuuming up GEO capacity. But while the IFEC giant has admittedly honed and rehoned its XTS plan, it insists it is "still committed to XTS".
In the past, Panasonic's goal has always been to maximize the economics of GEOs. "If you take the whole payload, you can get to the ultimate lowest cost," says Panasonic VP global communications services David Bruner. In doing that, however, "these things exist for a minimum 15 years, and [cost a] very large amount of money, and you're committed to that for a long time."
Given the "really rapid change in the business primarily driven by LEO operators and the investment we're putting into LEO constellations", the company doesn't want to "put as many eggs in the [GEO] basket", he says.
The XTS – eXtreme Throughput Satellite (XTS) – narrative is not new. Through the years your author has attended media briefings at the Aircraft Interiors Expo in Hamburg and the annual APEX EXPO where Panasonic's "massive capacity" scheme was touted, though never fully described in deep detail.
In March 2017, Panasonic told RGN it would focus on operating three XTS payloads and three broadbeam payloads, and that the six-payload architecture would fly on three satellites (rather than splitting into six custom payloads, as discussed in 2016).
But the three-XTS payload plan has been tweaked again. "In the past we said three payloads; we're reducing that a little to save money to support these LEOs … we want to be there when they're ready," explains Bruner.
We're going to play this very closely, testing and preparing for this and it could have big benefits for the aviation market, so what we need to do is reserve a portion of our capital … we will keep a portion of our [capital] to take advantage of this. That has modified our strategy.

[We're] probably not buying as much capacity on those [GEO] satellites as planned before. But I can think of two cases – one where we are buying exactly what we planned and another where we're increasing, and that includes a full satellite.
Reading between the lines, it sounds like Panasonic may have pulled back on one of three planned payloads. The amount of capacity acquired will depend on the airline contracts, notes Bruner.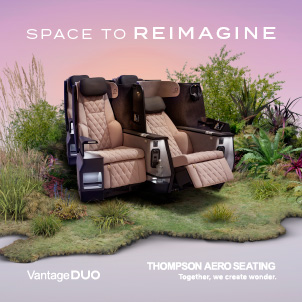 The Panasonic executive knows it will take a long time for new LEO providers to turn a profit, and some may not succeed, as also noted by ThinKom CTO William Milroy recently.
They're not alone. Responding to Aviation Week's December article, titled "Eight Satellite Constellations Promising Internet Service From Space", a commenter shares: "For those who don't (or choose not to ) remember the 1990s, in addition to Iridium, Globalstar, and Orbcomm, there were Teledesic, ICO, Skybridge, Ellipso, Constellation Communications, Starsys, ECO, Courier, Odyssey, (should I go on?). How did that work out? By the way, the $7 billion Iridium system assets were bought for $25 million in the bankruptcy fire sale, which is the only reason why they are in business today."
But out of the new breed of satellite operators "at least three of them are very credible players" and "have the financial and technical resources", suggests Bruner, "and so we are going to follow this very closely and then what it does is bring a lot more capacity to the entire mobility marketplace.
"It does not invalidate our XTS strategy because you still need geosynchronous satellites. You will have a large portion of the world without approval for LEOs, so it will be in hybrid mode for 10 maybe 15 years."
Related Articles: