Aviation industry recovery is coming in fits and starts due to the continued challenges posed by the COVID-19 pandemic, and the latest Omicron variant. An operating environment which is colored by travel restrictions, border closures and lockdowns obviously impacts airlines and their suppliers, including inflight connectivity service providers. But despite an uneven recovery, aero ISP and entertainment giant Panasonic Avionics has observed that passengers' per-device consumption of data is growing quickly onboard those aircraft that are equipped and have returned to service.
One can make some educated guesses about the reasons why. During the pandemic, as remote work and virtual learning became the norm, high-speed Internet evolved into an essential service on the ground. And now, as hybrid work models emerge to accommodate some travel, few of us have the privilege of being disconnected for long stretches of time. Some passengers also confide that the presence of onboard connectivity helps to reduce their anxiety, as they're able to stay in touch with their family, friends and social networks, and keep tabs on the status of connecting flights and changing travel rules at a stressful time in our world.
"What we certainly see — I can't really 100% speak to causation, causation is my guess like it's yours or anybody else's — but what we can see is consumption use per device is increasing much faster than the number of flights, must faster than, you know, people are getting back on airplanes," Panasonic Avionics vice president, connectivity solutions Jeff Sare tells Runway Girl Network. "So, the consumption you are seeing on the airplane goes up much more quickly than the rest of it. So even though the fleet is coming back, even though those things are growing, those are all good … the consumption grows at a faster rate than that."
Ensuring that its airline customers and their customers — i.e. passengers — have the best possible experience is at the forefront of everything Panasonic Avionics is doing today, says Sare. To that end, the firm has rolled out its Gen 3 network, including a new modem on aircraft fitted with its Ku-band satellite-supported connectivity solution. Together with high throughput satellite capacity, it can provide a much higher throughput than in years past. The results are not going unnoticed. RGN contributor Jason Rabinowitz reports, for example, that he consistently achieved download speeds of about 30 Mbps when recently flying on a Panasonic IFC-fitted Airbus A350 operated by Finnair from Helsinki to New York, though streaming remained blocked on the flight.
Panasonic is not resting on its laurels. "So, we are moving many more of our services to the cloud to create redundancy and resiliency. We've continued to work on sort of every level of our network and with our providers, the satellite providers, to continue to drive efficiency and effectiveness," explains Sare. "Right now, we believe we can fully support streaming on any carrier around the world should that carrier want to do that."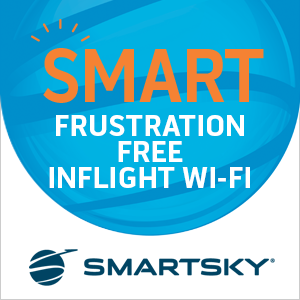 Though many airlines have not yet unlocked the streaming potential of their IFC systems, Sare reckons they will move in that direction in some way, shape or form in time.
At present, some of Panasonic's airline customers are beta testing a quality of experience (QoE) tool that helps to measure the delight or annoyance of a customer's experience with the service. "And when you take that tool, which is a number of metrics across the network, and you correlate that with customer satisfaction data, you can see the effect of what's happening on the network directly on what that customer experience is. Now I'll emphasize that it's in a beta test form. We've done three or four customers at this point and the reason it's in beta test is we need to learn what it means. Where we apply it directly to customer satisfaction scores," says Sare.
"And this is something we Panasonic can't do ourselves; it takes the involvement of our airline customers to correlate that data and say, 'okay I understand if this thing is happening on the network, that relates to a positive improvement on customer satisfaction. If this thing is turned down too low, then that's a negative impact on customer experience.' And so, we are trying to get to those things. Tough thing to do. Tough thing to aim at and say 'we know exactly the experience that Mary had' because depending on your day, your experience changes. You can have the exact same experience but if you've had a truly miserable day, right, your experience isn't as good. So it's a tough thing to correlate but we're getting there, and we are working through. Again, that's where we want to go. It's all about the user at the end of the day."
Related Articles:
Featured image credited to istock/Chalabala