Journalists and industry observers on 8 March finally learned details about Panasonic Avionics' first extreme throughput satellite (XTS). After years of broadly discussing XTS, the inflight entertainment and connectivity giant announced it will be anchor client on the high-capacity APSTAR-6D satellite, which has been jointly designed by China's APT Mobile Satcom Limited and Panasonic.
But airlines and other mobility customers have known about the plan "for a long time", says Todd Hill, senior director – global satellite capacity planning at Panasonic Avionics.
"We haven't been shy about sharing this" with airlines that will benefit from APSTAR-6D's multiple gigahertz of new Ku-band capacity over China and high-density routes around East Asia, he tells Runway Girl Network.
The satellite is slated to launch in 2019, and Hill says commercial service will be available to Panasonic's airline customers in early 2020.
No fewer than 21 Asian carriers – including Air China, All Nippon Airways, Cathay Pacific, China Airlines, China Eastern, China Southern, EVA Air and others – have collectively tapped Panasonic for Ku-band inflight connectivity on over 800 aircraft. These and other carriers around the world will use APSTA-6D as their aircraft fly routes to and over Asia.
Outside of discussions with its customers, however, Panasonic played its XTS cards close to its chest, opting not to publicize the specifics until last week's press release because "we felt like we were helping our competitors too much" by sharing information about the broader XTS plan, explains Hill.
That plan has evolved in recent months, with Panasonic telling RGN early this year that a portion of the capital previously reserved for GEO satellite capacity under XTS would be used for next generation LEO satellites.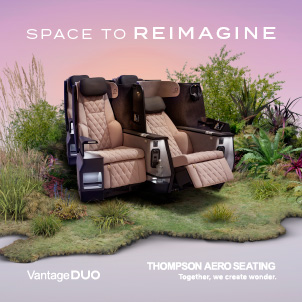 Panasonic already uses several widebeam Ku satellites operated by APT Mobile Satcom affiliate APT Satellite Company Limited (APT). But this is the first agreement covering a very high throughput satellite (vHTS) with 90 narrow spot beams, and branded as XTS, a moniker that Panasonic is now in the process of trademarking.
Hill likens Panasonic's anchor client status on the APSTAR-6D satellite to being "the Nordstrom of the shopping mall".
The satellite will be integrated into Panasonic's recently launched third generation communications network. A key part of that network is a new Newtec-made modem, which is currently being rolled out on United and Southwest, but will be "pretty standard" on board Panasonic's customer airlines in 2020, says Hill.
Additional opportunities with APT?
In 2016, China's main space contractor China Aerospace Science and Technology Corporation (CASC) announced plans for a global broadband satellite network, saying that two satellites covering "the Americas, Europe and Africa" would launch before the end of 2020. It made clear that the new network would be of a homegrown variety. APT – of which CASC's China Satellite Communications Corporation is a principal shareholder – partnered with mainland Chinese organizations in the APT Mobile Satcom joint venture to build the network.
Asked by RGN if Panasonic intends to tap into capacity on other forthcoming new satellites in the constellation, Hill remains coy, saying, "That's a great question for APT and APT Mobile Satcom."
In the meantime, Hill is excited about what APSTAR-6D satellite will mean for Panasonic inflight connectivity, noting that it is tailored to put capacity where it is most needed – including areas not served by any other HTS satellite – rather than spread evenly over the Earth.
Additionally, APSTAR-6D provides HTS coverage over the full field of view of the satellite including the Pacific Ocean, Indian Ocean, Australia and the Southern Oceans down to Antarctica.
It is capable of supporting a streaming class of Internet service for passengers at a reasonable price point – an important benefit of Panasonic's third generation network. "You can stream today just fine but nobody likes the price tag," notes Hill.
Related Articles: