SES is not content to simply book aero business for its GEO satellites. Nor is it interested in sitting on the sidelines while competitors eye shared networks for aero and other applications (see Intelsat and OneWeb). Having recently contracted Boeing Satellite Systems to build seven "super-powered" medium earth orbit (MEO) satellites to support the launch of its second-generation O3b network, dubbed O3b mPOWER, SES's aero intentions are clearer.
In addition to serving cloud service providers; mobile networks, and civil & government markets, SES Networks CEO Steve Collar says mobility – specifically maritime (which O3b already supports with 12 MEO satellites, and a further eight to launch in 2018/19) and aero – are "two parts of our industry where we have an absolute right to win and will continue to do so" with O3b mPOWER.
The "first multi-terabit satellite constellation", O3b mPOWER will be capable of addressing, among other things, "every aircraft flying in the world", Collar declares, ambitiously. Launches are scheduled to begin in 2021. And the full O3b network will provide coverage to 4/5 of the Earth's surface.
According to Collar, SES currently provides GEO aero service "to the operators delivering 90% of the service to airlines today".
If we're going to continue to retain that position we need to be not only increasing the amount of capacity we can deliver to planes, but also the quality of service, managing that quality of service, managing the customer experience, and all of these things we'll be able to do on behalf of our customers of O3b mPOWER.
So does SES have designs on going direct in inflight connectivity? In 2015, SES told Runway Girl Network that it didn't want "to be the invisible guy" in aero.
Following its O3b mPOWER announcement, RGN pressed again, asking if SES envisages approaching the aero market directly with mPOWER or if it will continue to work with various inflight connectivity service providers as it does in GEO.
SES Networks EVP, global sales Elias Zaccack says: "Our relationships with our leading inflight connectivity service providers remain unchanged. We continue to provide them with much-needed capacity, and look to continuously add value and flexibility to our offerings so they can focus on providing the best possible customer experience."
Does SES envisage offering any aero products via the current-generation O3b network *before* the launch of O3b mPOWER, as has been intimated by certain inflight connectivity stakeholders in the past? Says Zaccack: "We will disclose our product roadmap/strategy when we are ready – so watch this space!"
O3b, of which SES fully acquired in 2016, is perhaps best known in mobility for providing a powerful connectivity service to Royal Caribbean. With O3b mPOWER, SES can "serve the whole maritime industry. We can do the same with aero," suggests Collar. This will require all-new terminals, of course, and "a range of terminals and work is very much underway on all" four markets being addressed.
The O3b mPOWER constellation will have 30,000 fully-shapeable and steerable beams that can be shifted and switched in real time. "There's ultimately no sensible limit to what we can deploy and that scaling is fundamentally part of what we're doing here. We can dynamically route traffic, we can form beams and reform them on a dynamic basis across a day, a month, a year. We can form tens of thousands of beams across this system to serve our customers wherever they are, but importantly not put any power down on anywhere that isn't a customer."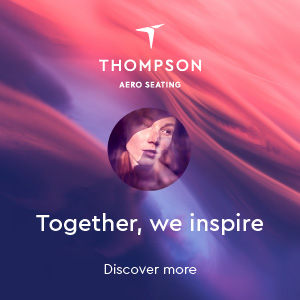 How will SES integrate O3b into its GEO constellation? "We'll have software defined capability that will route our traffic and our customers' traffic intelligently between our MEO and GEO whether that be applications or cost, we can route traffic accordingly," says Collar.
Does this system tread on any of ViaSat's patents? "This is not patterned off of ViaSat. This is something we did on our own. totally independent of ViaSat. We respect their need to maintain their intellectual property and all of that, so this is a totally different design," he says.
ViaSat president Rick Baldridge notes that ViaSat has "a very good relationship with Boeing", which built ViaSat-2 and has been tapped to build the first two ViaSat-3 satellites. "I do not expect that Boeing has compromised our intellectual property. We will ask them but I do not expect that," says Baldridge.
Intriguingly, Baldrige says he recently met with SES's Collar at ViaSat's headquarters in Carlsbad, California. "We're a technology provider to O3b today and we're certainly having discussions with them about future technology. I certainly think there is a way to work together. Time will tell."
Do those conversations include discussions about roaming between the two networks? "We have very good conversations with Steve and O3b," he ended.
Related Articles: