Spirit Airlines' new inflight Internet service was initially tested and formally launched using leased Ka-band satellite capacity on in-orbit Hughes satellites. But as of 17 August, a total of 55 Airbus A320 family aircraft in the budget operator's fleet have transitioned to the new high-capacity, high-throughput SES-17 satellite, the carrier's aero ISP Thales reports.
"As of last night, 55 Spirit Airlines aircraft equipped with Thales' FlytLIVE connectivity have transitioned to the SES Satellites SES-17, meaning 7,975 seats are now enabled with the Fastest Wi-Fi in the Sky," Thales revealed in a post on LinkedIn.
"We have moved over a third of the Spirit fleet equipped with FlytLIVE to SES-17 and will have 150 aircraft on SES-17 by the end of the month," added Thales' Romain Carton, program manager for Spirit. "A big thank you to the teams for all their efforts and dedication to achieve this major milestone."
In advance of this achievement, Thales engaged in a variety of tests to ensure a seamless switchover. "We've done mobility testing, we've done some flight testing on experimental STC'd aircraft, we've got mobile van testing that we're going to continue exercising the network to validate the beam switches — all of the technology," said Thales vice president of connectivity product delivery Jeffrey Payne last month, just before Spirit flipped the switch on Wi-Fi across its A320s and A321s.
He described how SES-17 is playing a key role in Thales' bid to support an "unmatched passenger experience" on Spirit.
"The digital transparent processor [DTP] — that dynamic allocation of the bandwidth — is a significant game changer for a satellite like this high-throughput satellite," he said. "It allows us to put the demand, put the power and the speeds where the demand is at. So we're no longer just heating up portions of the oceans or routes or areas [with] beams that are not needed. We can dynamically allocate that, the frequencies and the power, everything that we need to meet the growing demand of the passengers."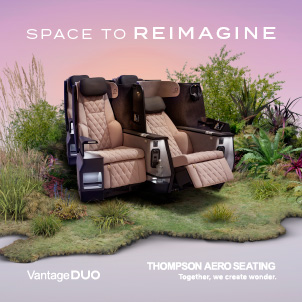 Payne noted that, with SES-17, Thales is able offer full coverage across all Spirit routes, including aircraft that fly to Latin America.
From a passenger experience standpoint, Payne said, Thales can achieve 400 Mbps on the downlink with ThinKom Solutions' Ka2517 VICTS antenna, which is now installed on the lion's share of Spirit's fleet. "We've seen 100 Mbps on an uplink. So you can imagine what you can do with that type of a capability." 
Hughes, meanwhile, whose Ka-band satellite capacity supported Spirit's initial trial period and launch, can provide a level of redundancy if congestion is experienced on the network, or should any gaps need to be filled. However, Payne said there is a "low probability" that such a back-up will be required, adding: "[I]t's there if we need it."
Nonetheless, Hughes still has an important role to play in the program, as its modem technology is part of the Thales IFC package, and able to support the speeds described by Payne. "We've seen this in a lot of our testing. No doubt that this is a solid waveform for us to continue to push through and to carry into the aircraft," he said.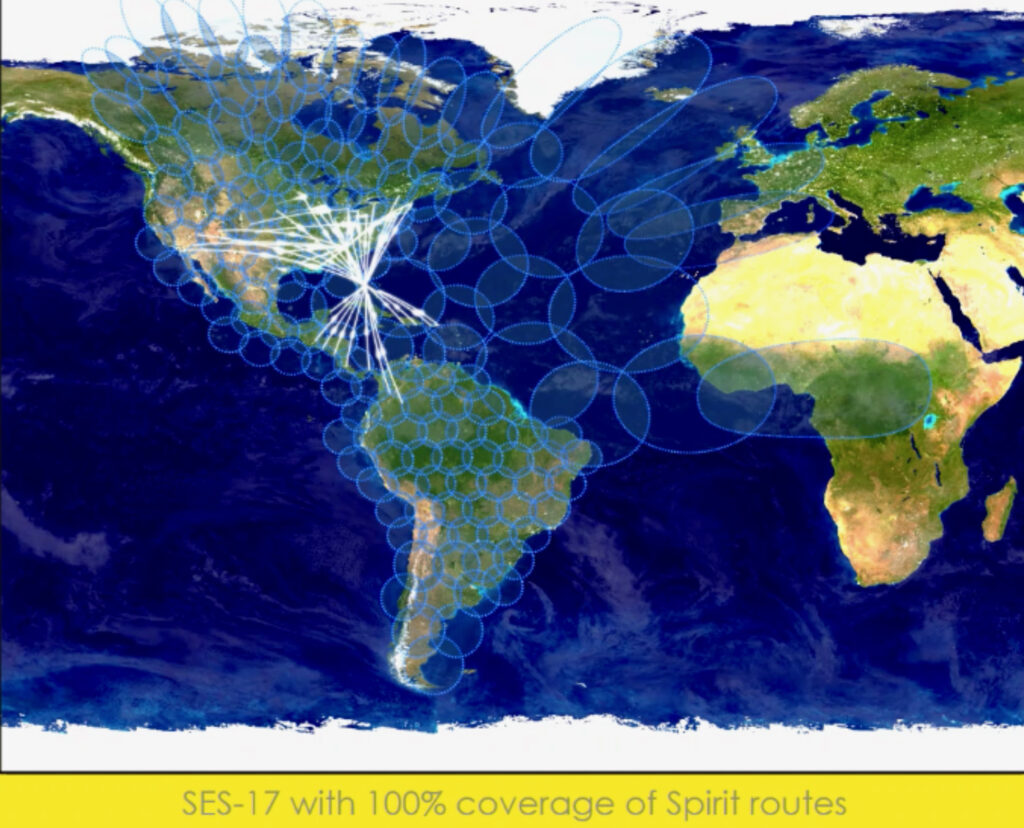 Since Spirit went live with onboard Internet for passengers last month, the low-cost carrier has entered into an arrangement that will see it acquired by JetBlue Airways.
In announcing the deal with Spirit, JetBlue vowed to bring the JetBlue experience to all aircraft. That will require substantial retrofit work on Spirit's fleet, as JetBlue offers seatback IFE and extra legroom seats, among other amenities.
It remains to be seen if JetBlue will retain the Thales FlytLIVE solution or retrofit Spirit's A320 family with its own inflight connectivity solution — a high-capacity Ka-band satellite system powered by Viasat, and offered for free to passengers.
But in the meantime, Spirit passengers can expect high-speed Internet at reasonable price points, courtesy of Spirit, Thales and its partners.
Related Articles:
Featured image credited to Spirit Airlines. Embedded image credited to Thales Aerospace