When someone says they're taking Amtrak from New York to Washington DC, the typical follow-up question is whether they're taking a Northeast Regional or the slightly faster but more expensive Acela option. But when browsing Amtrak fares to DC recently, I noticed something unexpected — and it might just be the most luxurious means of travel from New York to the US capital.
Depending on availability, a private Roomette on one of Amtrak's long distance trains departing New York can be less expensive than a "business class" ticket on the only slightly faster Acela trains. I happily paid Amtrak a modest fare difference to move from a Northeast Regional train to Train 91, the Silver Star with long distance service from New York to Florida, though I'd only be traveling through to Washington.
Amtrak Roomette passengers are treated like Amtrak royalty, though the experience was not without its disappointments and operational headaches in New York. Roomette passengers are invited to Amtrak's Metropolitan lounge in New York's Moynihan Train Hall, the type of perk that not even domestic first class airline passengers are afforded when traveling domestically.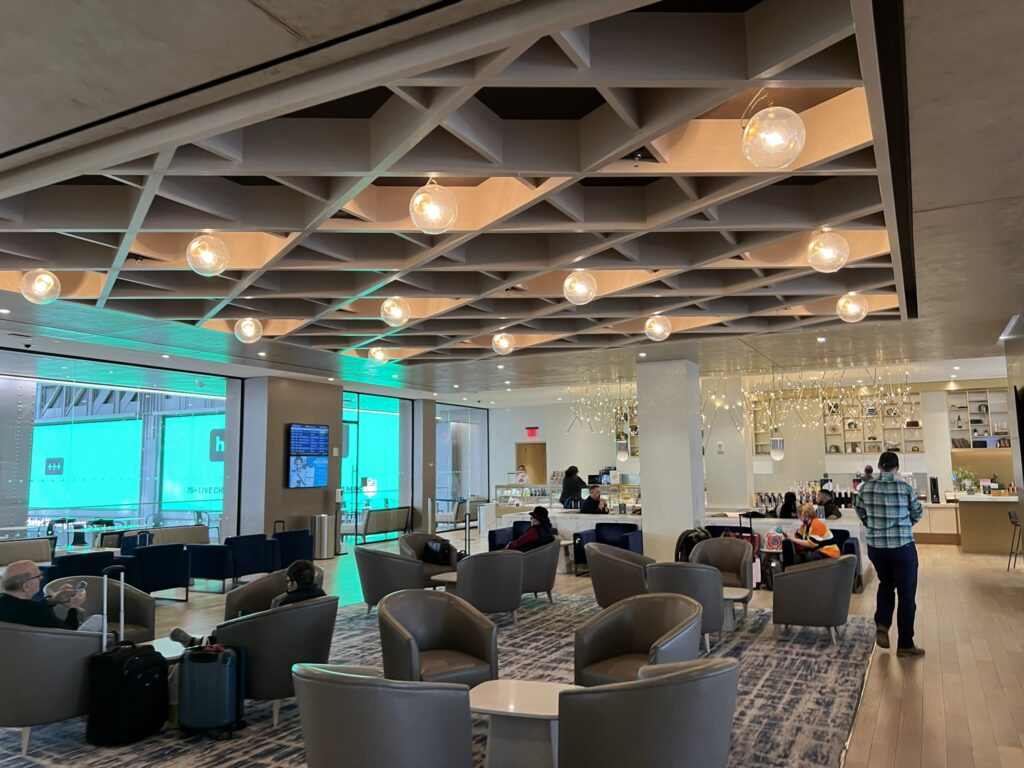 Amtrak seems to have taken inspiration from the latest generation of airline lounges, as the Metropolitan lounge closely resembles United's Polaris lounges. The lounge affords plenty of space to passengers and does not suffer from the chronic overcrowding that has been commonplace at airline lounges in 2022.
The lounge offered a wide range of complimentary food and beverages for my late morning departure, ranging from hot breakfast sandwiches to yogurts and unlimited La Colombe cold brew iced coffee. The employees working the food section were also a highlight, providing great service with a smile. The same could not be said for the Amtrak attendant checking passengers into the lounge, who could barely be bothered to answer basic questions or greet passengers.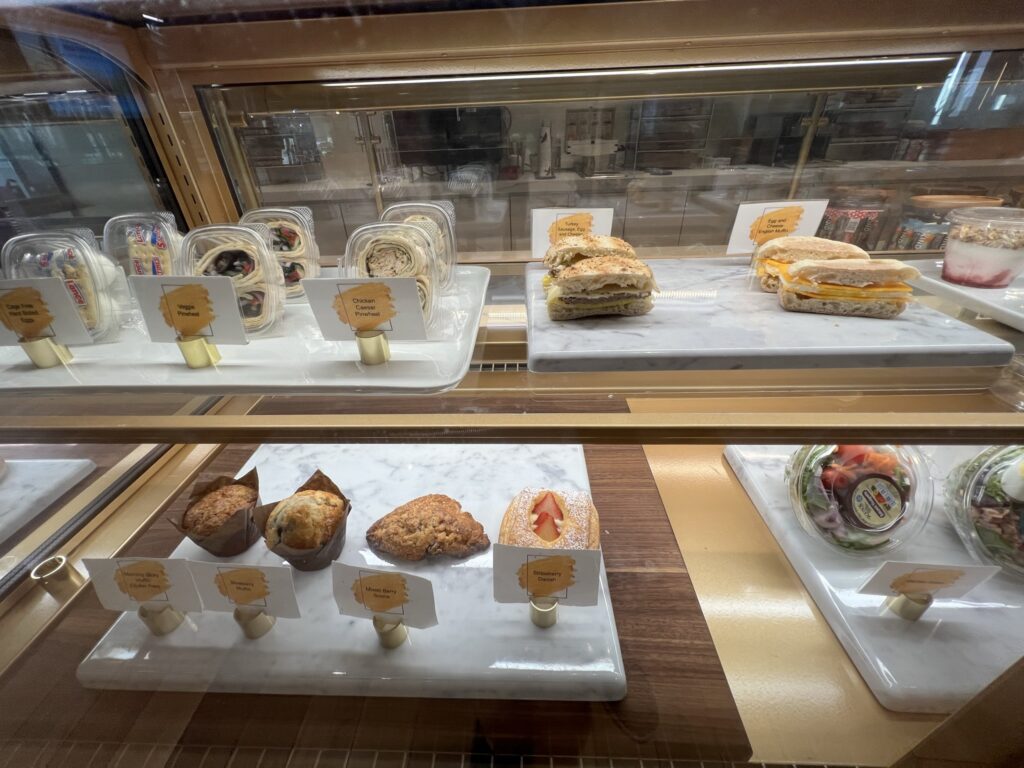 Boarding Amtrak trains is often more complicated than it needs to be, especially so in New York. Lounge guests are given advance notice of the track assignment for "priority boarding" before other passengers, but that proved to be rather meaningless on this occasion. I went down to the main train hall after the track was announced and stood by the roped-off section at the single escalator that Amtrak would use to board the train. And then I waited. And waited.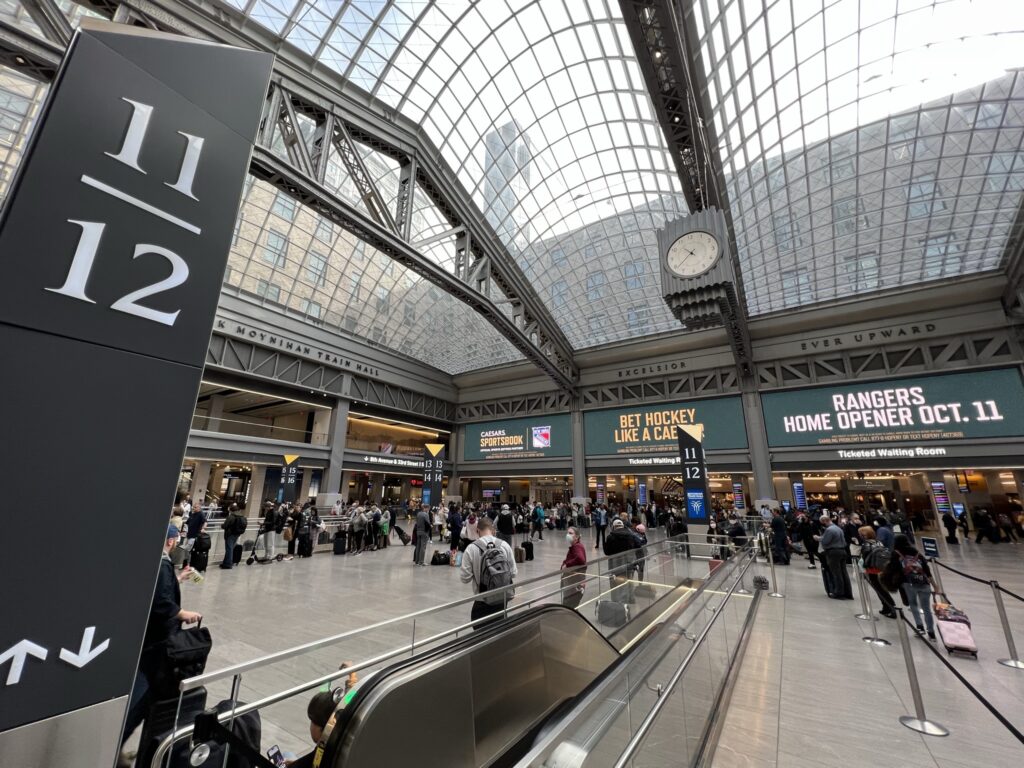 Eventually an Amtrak employee interrogated me as to why I was standing by the escalator and after I explained that the track was called in the lounge they scoffed and let me be.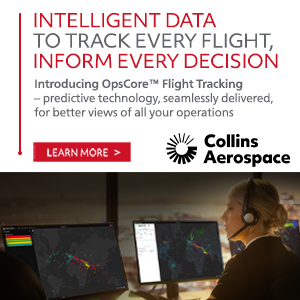 Boarding for all passengers began at the same time, as a rush of passengers without seat assignments all tried to quickly board. Due to the lack of communication from Amtrak personnel or signage, passengers didn't know what to do at the bottom of the escalator and it turned into a safety hazard. For whatever reason, this is how Amtrak prefers to board its trains and it led to the train departing about 10 minutes late.
I found my assigned car and room in the mid-1990s vintage Viewliner I, my first time in any train car with private rooms. I stashed my bag in the somewhat hidden upper storage area and acquainted myself with the space.
The Roomette features two seats that can be fully reclined to form a bed, while a second bed can be lowered from the ceiling to create a comfortable but small space for two. A tray table can extend from the wall to be used by both passengers and also doubles as a chess board.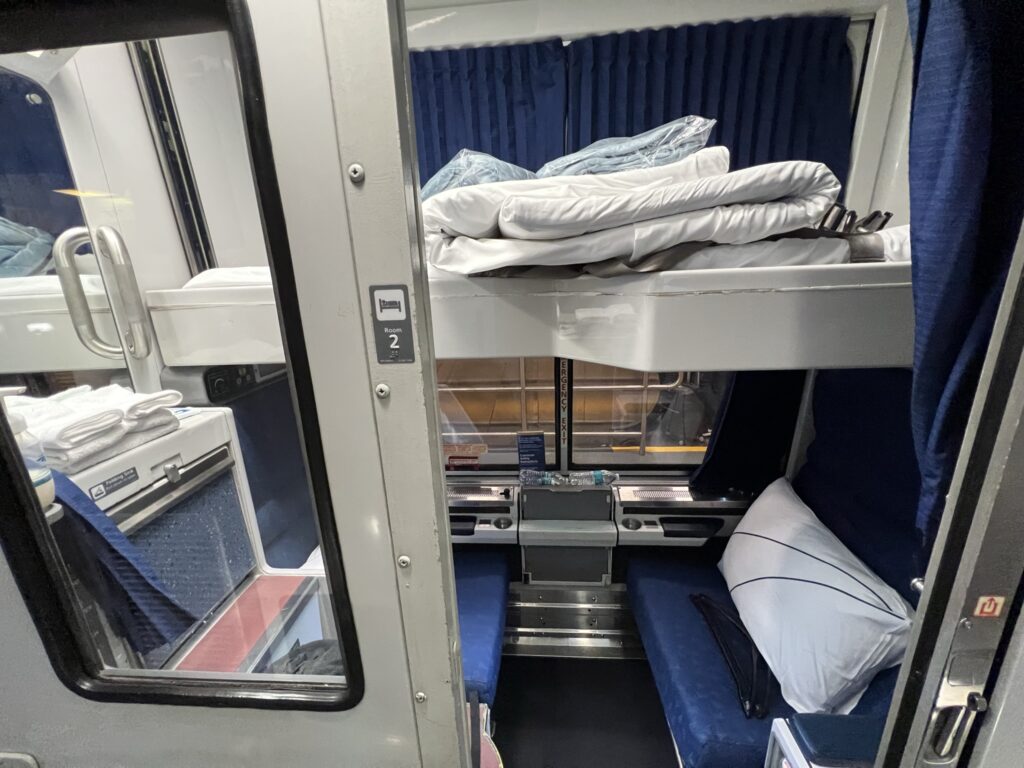 The 1990s-era configuration features just one power outlet location, though that's better than none. Each Roomette in the Viewliner I also features an in-room toilet and sink, though I wouldn't dare use the toilet since it is quite literally millimeters from the passenger seat. Each car has several other toilets and even a shower, which is likely why the newer Viewliner II cars have omitted in-room toilets. Multiple lighting configurations are available, and a thermostat to regulate the temperature is present.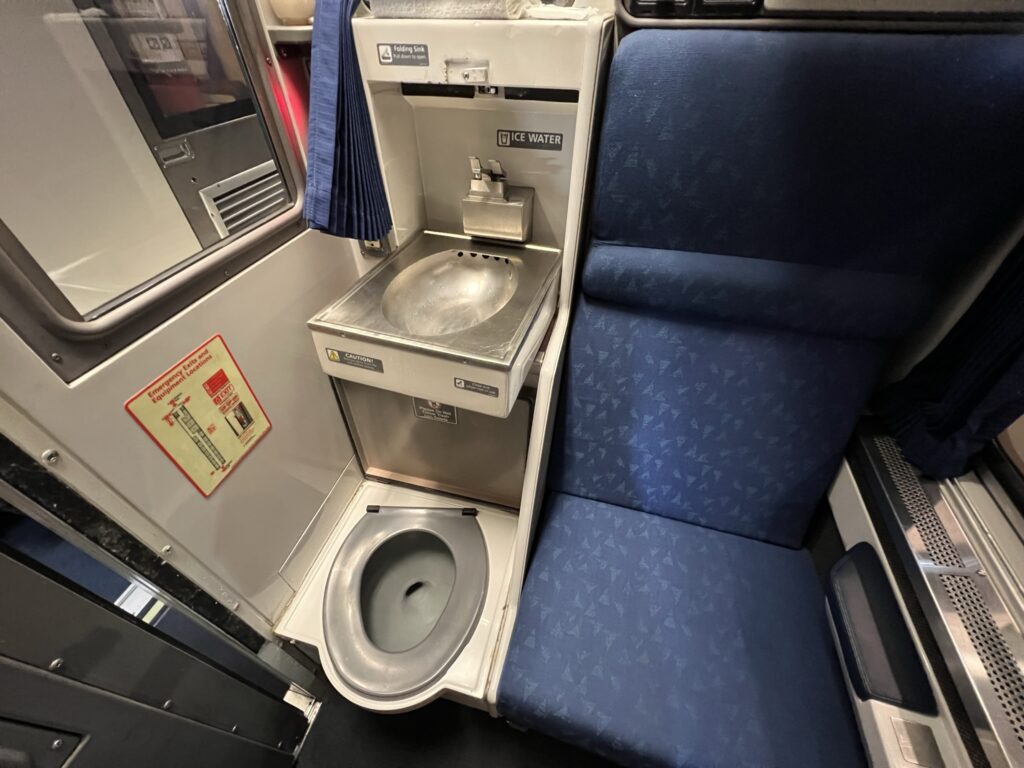 Shortly before departure the sleeping car attendant came by to introduce herself and point out some of the features of the Roomette, as well as to take my lunch order. That's right, another perk of being a sleeping car passenger is having all meals included, even on this short trip. The more expensive Acela business class ticket does not include any meals or beverages.
The menu being shown by the attendant was out of date, but the slow braised beef short ribs I selected was available. I opted to have my meal in the dining car rather than in my room, so I picked an available time that unfortunately happened to be when the train would be approaching Philadelphia's 30th Street Station, so the view was less than inspiring.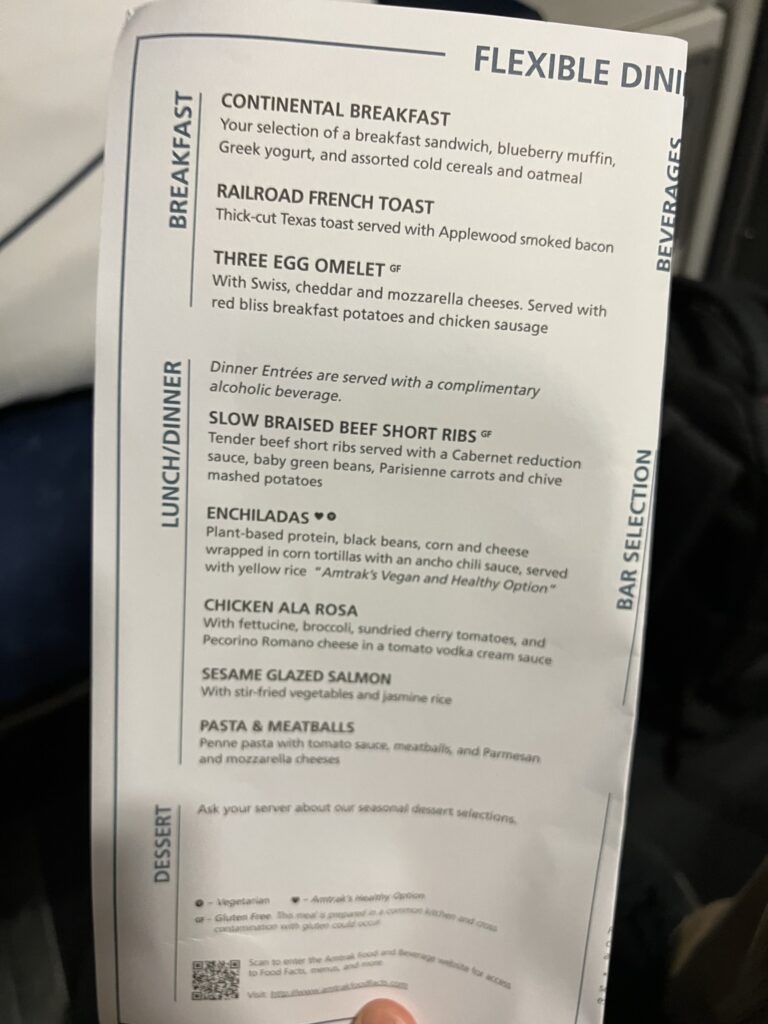 Amtrak's east coast routes still feature a "flexible dining" menu rather than the "traditional dining" menu, which basically means that only pre-prepared microwaved dishes are served. The main dish was served with an inedible salad, warm bread roll and a brownie. The meal was acceptable for my short journey but I would expect better for a train ride that can span days.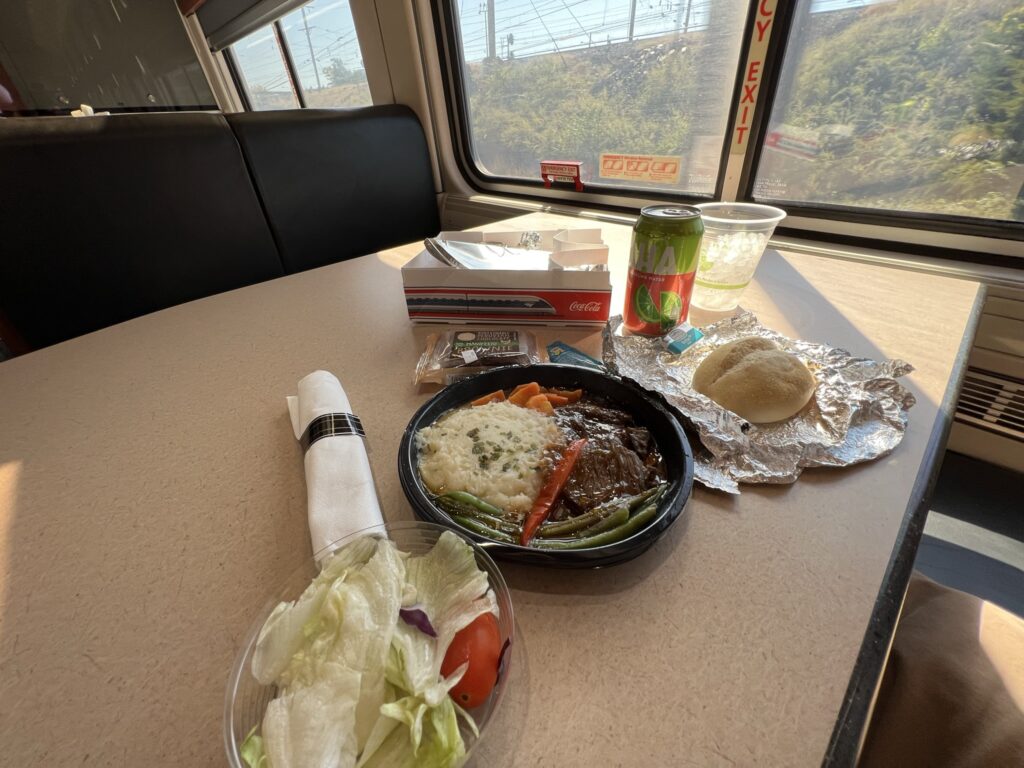 Wi-Fi worked uncharacteristically well along the Northeast Corridor, most likely because of the low passenger density of the sleeping car. I was able to stream YouTube in high resolution without much buffering. It's still disappointing that Amtrak doesn't offer any sort of local streaming media on its trains as that would help offload data from the limited Internet connection and help pass the time. Even Greyhound manages to provide this on its buses.
If the opportunity arises and the fare is reasonable, I would absolutely recommend an Amtrak Roomette for even a short journey. The lounge access, free but disappointing meal, and private space was unlike any other Amtrak journey I have taken before. Hopefully Amtrak can improve on its weak points and elevate its service to better compete with other, faster transportation options.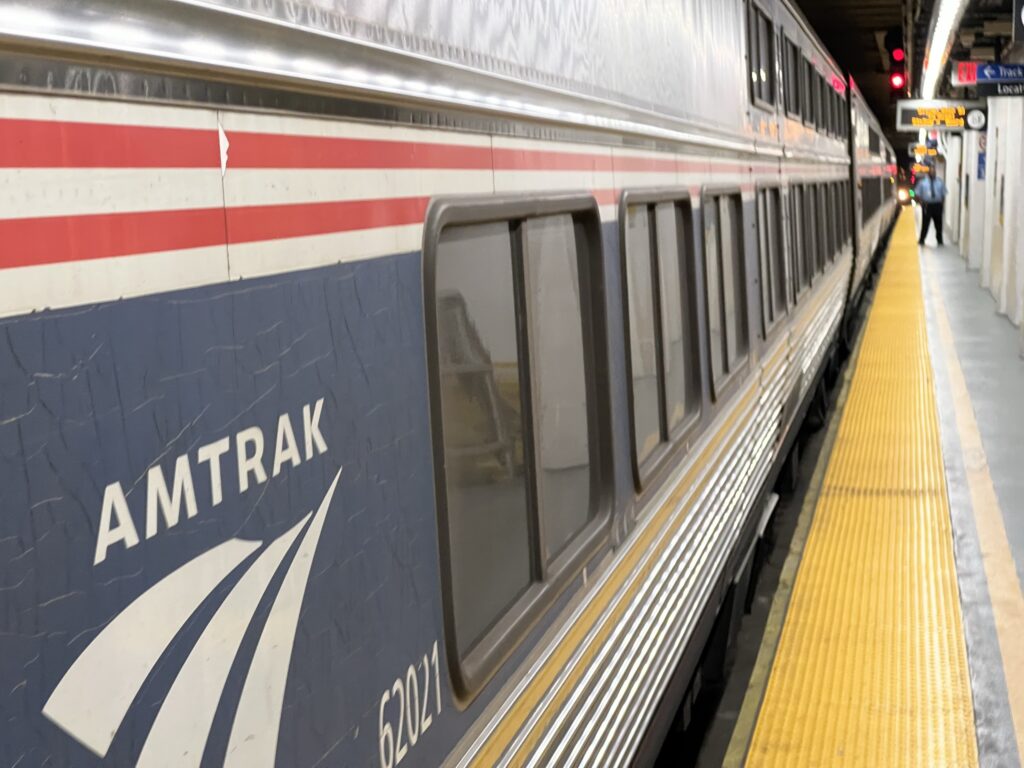 Related Articles:
All images credited to the author, Jason Rabinowitz