Rumors have long swirled that ThinKom Solutions was helping Thales rectify the problems plaguing its long-delayed Ka-band inflight connectivity program for Spirit Airlines – problems described by Spirit CEO Ted Christie to Runway Girl Network as "technical glitches".
Thales batted away the notion last fall, telling Runway Girl Network at the Airline Passenger Experience Association exhibition in Los Angeles: "For Spirit, the configuration remains the same. As you mentioned, there has been some hiccup in the program. We are overcoming all the difficulties. And now we work very closely with Spirit as far as the installation of all the aircraft from their fleet."
And, as recently as May 2020, it seemed that Thales' antenna was still being employed. After RGN broke the news about Thales layoffs in Florida and California, a source told us that the French aerospace manufacturer was still using "the TCS antenna" for the Spirit program, in apparent reference to hardware made by the Thales division once known as Thales Communications & Security (TCS).
"They had a problem with a polarity switch and then with moisture getting into the antenna and not getting out. Supposedly that issue was fixed last fall 2019," said the source, noting: "They did have a ThinKom [antenna] but stopped qualifying it." Neither ThinKom nor Thales has confirmed this information.
Now, however, ThinKom's Ka2517-branded antenna hardware appears to be in play. Ryan Vaughn, who works as certification project engineer/ODA unit member – structures at Thales, recently revealed to his followers on LinkedIn that Thales is nearing completion of "Thales' latest in-flight Ka-band connectivity system at STS Mod Center in Melbourne, FL. Next step is electromagnetic interference (EMI) testing then STC issuance!"
Notably the image he shared showed the signature slimline disks of ThinKom's mechanically steered, phased array VICTS-based antenna. As the saying goes, "A picture is worth a thousand words." Unfortunately, the post – with photo – was later removed.
However, before the post was removed, Vaughn was asked if the image represents the complete configuration of the antenna. ThinKom CTO Bill Milroy answered the question, saying on the thread: "Yes. 18 dB/K broadside G/T, full ITU TX and RX band coverage, GSO/NGSO interoperable, and with the ability to reliably close links down to 10 degree elevation (….but without the yellow protective shipping covers of course!)"
For its part, MRO provider STS has said it will equip more than 100 Airbus aircraft with Thales Wi-Fi systems over the next 12 months at its Melbourne, Florida facility. "The first aircraft to be a part of this program, an A321, arrived a few days ago and installation work is already underway," said Mark Smith, president of STS Aviation Group in a statement last week.
The Ka-band connectivity system, which will initially transmit via Hughes Ka satellites, and ultimately via the high-capacity SES-17 satellite, is a long time in coming for Spirit Airlines. In the spring of 2018, the ultra-low-cost carrier first announced plans to partner with Thales to bring the provider's FlytLIVE-branded solution to its fleet later that year.
In terms of price points, the carrier said it would offer two products to start with – a web and texting tier, and a streaming tier. The web and texting service will be, on average, $6.50, and the streaming will be $9.00, it said.
"Actual costs may be lower or higher based on the route and demand," according to Spirit's latest online statement. The entire fleet equipage program is now expected to be finished in 2021, roughly two years later than originally planned.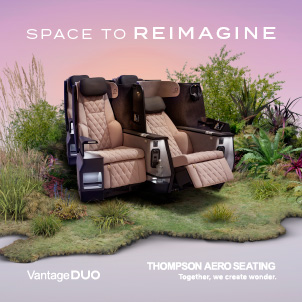 News that the IFC retrofit program is finally progressing will be welcomed by Spirit passengers, who have shown a strong interest in being connected.
But Spirit management might also be eager to flip the switch. It is generally not widely known by the traveling public that point-of-sale devices used to transact food/beverage and retail sales on board aircraft without connectivity do not authorize credit cards in real time. Rather, these transactions occur when the aircraft lands and arrives at the gate, and when passengers are long gone.
Some passengers have cottoned on to the fact that Spirit is unable to process credit card transactions in real time. That can make onboard theft a concern.
ThinKom, meanwhile, is certainly not new to the IFC game. Its Ku-band antenna hardware is white labeled by Gogo as 2Ku, and is installed on thousands of aircraft. MRO provider GDC Technics also recently announced it has installed 'all-in' Ka-band IFC package for a Hillwood Airways-operated Boeing 737-700 in collaboration with ThinKom Solutions, Kontron and Hughes Network Systems. These partners stand at the ready to support additional Ka IFC programs.
Related Articles: