Viasat has long boasted that its broadband Ka-band IFC delivers 12 Mbps to each individual passenger in-flight. But Thales InFlyt Experience aims to significantly trump those speeds when the Thales Alenia Space-manufactured SES-17 satellite is actively powering its FlytLIVE service for the Americas.
"SES-17 is a best-in-class satellite in terms of architecture and capability so with the combo of these [SES and Hughes satellites] on our network, we are planning to bring to market performance that will be capable of exceeding 20 Mbps to the passenger at the individual level on the aircraft, which is truly something that should enable the true broadband experience for inflight connectivity which is something we have not yet seen in this market," Thales head of strategy, IFEC Gustavo Nader told Runway Girl Network.
The SES-17 Ka-band satellite is set to be operational by 2021, and will power IFC on low-cost carrier Spirit Airlines. That's the same year that Viasat's new high-capacity ViaSat-3 satellite is slated to launch for the Americas, with the aim of supporting IFC at JetBlue, American Airlines and others. It will be interesting to see what speedtest results are shared by passengers on social media when these two systems are proverbially duking it out in orbit (do consider using the #ShowMeTheMegabits hashtag on Twitter).
In the meantime, Thales has been working with Hughes Network Systems' satellites to support the (now delayed) rollout of FlytLIVE on Spirit Airlines' A320 family fleet.
"So, our partnership in North America for the FlytLIVE system is really based on what we believe the strongest partners we could have. Hughes has a very, very solid track record on performance of the Jupiter platform. We're extremely happy with that, and we've just demonstrated that again with this GEO/MEO trial," said Nader. He is, of course, referring to the recent successful switching between GEO and SES O3b MEO satellite beams using ThinKom's Ka2517 antenna, and Hughes' Jupiter airborne modem and ModMan installed on a Gulfstream G-III business jet.
Your author took the opportunity to ask Thales again if it is turning to ThinKom's antenna hardware for the Spirit Airlines program, given the technical glitches recently discussed by Spirit CEO Ted Christie. Nader stressed that "this is a Thales supplied antenna we developed". He noted that "that's what we've committed to doing in the beginning" and that's the continued plan.
Even so, Thales is very pleased with the result of the trial of ThinKom's Ka2517 antenna, and agrees that the seamless switching between MEO and GEO satellites using ThinKom's mechanically steered VICTS-based technology puts to rest the notion that only electronically steerable antennas (ESAs) can support interoperable MEO/GEO or LEO/GEO networks.
"Well we certainly demonstrated that," said Nader, noting that the VICTS antenna "showed that there is technology in the market today with the right maturity and the necessary performance to support a hybrid network, not to say that a fully electronically steerable antenna wouldn't be desirable. If we have other solutions and as they come to market, we'll certainly be exploring and investigating those, but what the trial demonstrated is in the short- and medium-term, we would be able to roll out a solution that includes adequately performing antennas, satellite constellations and ground infrastructure to support hybrid service."
Having demonstrated what we were seeking to demonstrate, we are now going to continue to evaluate this and assess the necessary additional steps and harden the solution so that it can be eventually brought to market in a commercial way. We don't have a committed timeframe to do that, nor a formal plan to do so. We'll certainly continue to work with our partners …

We don't have any formal STC plans for this, we don't have any formal commercial opportunities that would be targeted with this solution, but we will continue to work on maturing this and eventually reach a decision as to whether it is something that we can bring to market. There are many things we've done that would be of interest commercially to a variety of airlines in certain market segments so we'll be evaluating those…
Lest there is any doubt, he added, "I think if there is one point here that is really worthwhile stressing is the strength of the partnerships we have. We feel very, very strongly that the partnership we have with SES and Hughes in creating the FlytLIVE service, now in this particular instance working alongside ThinKom [on the MEO/GEO trial], shows the commitment we have to inflight connectivity. When Thales entered this market, it did so with the intent of achieving a leadership position not only from a market perspective but also from an innovation perspective so I think this trial demonstrated [that]."
Thales has faced its fair share of challenges in its effort to have a leadership position in IFC. In 2018, JetBlue handed over prime ISP positioning to Viasat as it graduates to Viasat's Gen 2 connectivity kit and capacity, despite the fact that Thales acquired LiveTV from the carrier in 2014 for $400 million. But Thales, which supplies embedded IFE to JetBlue, took the news in stride, announcing the Thales/SES/Hughes partnership for the Americas in 2017.
In 2018, Thales revealed to RGN that it has global aspirations for delivering high-capacity Ka-band-supported inflight connectivity to airlines, beyond its work in the Americas with Hughes and SES, and indeed beyond its work as a value added reseller for Inmarsat's Global Xpress Ka-band service. The French multinational corporation wants "to have a worldwide offering" because, whilst the US is far more advanced on the inflight connectivity front, other regions will eventually catch up and the company realizes "we need to have a global solution covering all the value stations", said Philippe Carette, the CEO of Thales InFlyt.
Asked recently by RGN if an interoperable MEO/GEO network, inclusive of O3b, is formally part of Thales' plan to offer a global Ka-band network, Thales' Nader responded:
The trial we just announced is part of our constant effort to evaluate how to maintain a continuing evolution of the network. Adding a MEO overlay to our GEO network has a number of advantages – capacity, redundancy, low latency capability for applications that might require that. We are looking at this as an evolutionary step for our network.

I wouldn't say it is a formal plan to augment the network globally or even regionally, but it's part of the natural evolutionally cycle in our technology development. So that's how we're looking at it. We wanted to make sure GEO and MEO can deliver the performance we think the network needs to [address] demand. It had the right antenna technology, ground network management system, efficient switches between GEO and MEO, so all of those elements

Now that we have established the concept, we'll certainly be entertaining how this can be brought to bear in the future. But it's not part of a formal plan yet … it's really a technology evolution step.
Yet, as an Inmarsat GX value added reseller internationally, Thales can offer Ka-band service on a near global basis already. The GX service will see a further boost when additional Ka capacity and polar coverage come on line.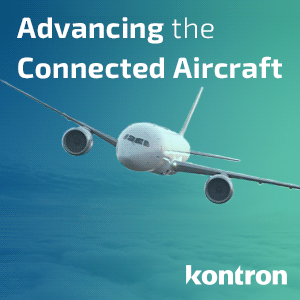 So, would Thales ever consider offering a hybrid solution involving FlytLIVE and GX, which would give operators flexibility especially as narrowbodies ply longer haul routes?
"It could be a possibility, yes," revealed Nader. "So GX is our global solution today. FlytLIVE is our North America solution and we do offer GX to our international customers and [that's] not to say that these are the only options or only solutions that are suitable. As each one of these partners evolve their networks, a combo of those could be best suited for certain types of users. There isn't a single network that is one-size-fits-all that is the best solution for any and all customers so it could be possible at some point that we conclude that for certain types of customers, a combination of solutions would be the best and we have entertained this in the past and we continue to look at it. But as it stands today, FlytLIVE is our solution in North America and GX is our partner elsewhere."
The GX service, mind you, is performing well, he confirmed. "We have won a number of important customers worldwide on GX and Inmarsat is committed to an evolution of the GX network that is certainly very interesting and promising in terms of bringing new capability to the market, adding new satellites to the fleet, adding polar routes so yes, we are very happy with the partnership. We have developed linefit positions for GX and will continue to work that way."
Related Articles: