Thales, SES and Hughes are teaming up to deliver an improved inflight connectivity solution under the Thales FlytLIVE brand. The new agreement will see SES leasing Ka-band capacity on in-orbit Hughes satellites in the immediate future; that coverage will grow with the addition of SES-17, a Ka-band satellite that SES and Thales are building together. Hughes will provide full network management and ground station services for the partnership. Thales will have access to the Ka-band capacity to support new aero connectivity partners across the Americas.
The combination of currently operating SES satellites (AMC-15, AMC-16) and Hughes satellites (EchoStar XVII, EchoStar XIX) provides significant capacity over the Americas, including coverage redundancy over North America. The new onboard connectivity kit will also feature redundancy, with multiple modems integrated into the platform to parse service from the different satellites. This is one aspect of what Thales VP global sales William Huot-Marchand believes will help position the new solution as a winning option for airline customers. Indeed, a lack of Ka-band satellite redundancy is often a black mark against Ka connectivity systems; the new partnership helps address that challenge, at least in the near term.
Speaking to RGN this week on the sidelines of the Satellite 2017 conference in Washington DC, Huot-Marchand stressed that the solution is tailored for aero mobility markets. "We are coming with three leaders in the market to address the specific aerospace market. It is not a piecemeal approach. We are coming with technology dedicated to a mission," he said.
Huot-Marchand hopes that the new deal will allow Thales to deliver an inflight connectivity solution at a price point that results in satisfied customers and airlines, no easy task as bandwidth demands continue to increase while consumer willingness to pay remains low.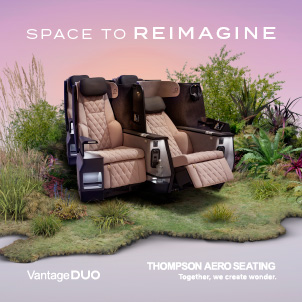 Converting this position into sales is something the company is still working on, though Huot-Marchand describes the market reaction as "very positive" and suggests that the conversations are in advanced stages in some cases, with a potential announcement "in the coming months." He was also quick to note that the new platform will not be used to replace current capacity deals with ViaSat, which are used to serve JetBlue and United Airlines. While that relationship is no longer the thriving partnership it once was, the expectation is that it will continue through the current contract terms for those two airline customers. An airline could switch over if it wants increased coverage, capacity or redundancy, though such a move would require a hardware swap on board so it is not to be taken lightly.
For Hughes the deal is an opportunity to expand and diversify its inflight connectivity position. Hughes is core to the Global Eagle Ku-band solutions flying for Southwest and Norwegian. The new partnership puts the company's Ka-band satellites into play for the aero market and expands potential across the company's portfolio.
Elias Zaccack, SES's SVP Americas, suggests new deal is a game-changer for the industry and extends well beyond the consumer-facing aspects of in-flight connectivity. "We want robust service, reliable service. Once you have a reliable pipe other services start to ride on that platform. We want to provide a fat, robust pipe to the airplane."
It also helps Hughes and SES eke out additional value on the old AMC satellites before they are replaced or retired in the coming years. The AMC satellites launched in 2004 with 15-year expected lifetimes. AMC-15 will be joined in its orbital slot by SES-11 in 2017, pending updates to the SpaceX launch schedule, but both should coexist as they serve Ka and Ku band services, respectively. AMC-16 does not have a specific replacement scheduled at this time.
Related Articles: