If airlines adopt free or "freemium" inflight connectivity models for their passengers, as many are expected to do, the amount of satellite capacity required to meet their needs "will far exceed available capacity in the near future", according to Hughes Network Systems. That's among the reasons why the EchoStar subsidiary believes its high-capacity Ka-band satellite service is well positioned to secure meaningful aero business in the Americas, despite the fact that Viasat has gained strong ground in the region.
Hughes is presently involved in two high-profile Ka aero projects in the Americas — its satellite capacity helps to power the SES/Thales program that will support inflight Wi-Fi across Spirit Airlines' fleet, and it has separately partnered with Inmarsat on an integrated GX+ North America solution that will see aircraft exploit Hughes' high-throughput Ka satellites over the continental US and roam into Inmarsat's Global Xpress Ka HTS fleet when operating outside of that footprint. Inmarsat boasts a remarkable technology roadmap for Global Xpress, and aircraft fitted with GX+ North America can be positioned anywhere in the world.
"We believe airlines have significant demand and need significant amounts of capacity to serve their passengers. Our Jupiter fleet is the largest fleet of Ka-band capacity across the Americas, and the launch of Jupiter 3 will bring even more capacity to the region," says Hughes vice president Reza Rasoulian. The ultra-high density Jupiter 3 satellite is now expected to launch in the first quarter of 2022, representing a delay due to the coronavirus pandemic.
When you look at the airlines' routes and hubs, Rasoulian tells Runway Girl Network "very high capacity is needed. Only a fleet like Jupiter Ka can deliver that performance".
Those are strong words given Viasat's recent successes in the US inflight connectivity market. In addition to fitting the lion's share of American Airlines' narrowbody fleet with Ka IFC — and having long powered JetBlue's free streaming class of service — Viasat early this month announced a deal with longtime Gogo customer Delta Air Lines to fit over 300 narrowbodies with its solution. The Gogo 2Ku kit presently installed on those aircraft will be completely removed and replaced with Viasat Ka.
But Rasoulian does not mince words, telling RGN that: "Only one provider will not be able to meet the airline demand." That's particularly true if a number of airlines adopt free or freemium models, he says. As such, Hughes believes the Jupiter fleet will become a "very important asset" to aviation.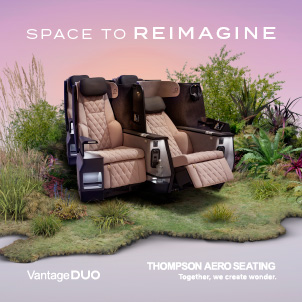 When industry emerges from the COVID-19 crisis, Hughes is hopeful it will see "a significant uptick" in airline orders. There is certainly heightened demand for high-bandwidth functionality on account of the pandemic and a transition to remote work. "Folks wanted to be connected prior to COVID, but post-COVID, they want to check on their loved ones and check social media, and check on their home from a distance — and all the home automation that we're seeing now as well. So absolutely, we're hopeful that in 2021, as we emerge from COVID, and everyone is safe and get back to a normal routine, that airlines are also ready to invest," says the Hughes executive.
Though Hughes supports inflight connectivity through both its service and hardware, the company does not go direct as an aero ISP for airlines. "Our strategy is to sell our Jupiter solution and managed capacity via partners, and basically the value of the partner system is they marry our systems and solutions with a value added layer that they bring to the table," explains Rasoulian. Among Hughes' service partners, Global Eagle, for instance, has expressed an interest in collaborating on the GX+ North America solution.
"There's a lot of art and science that goes into [implementing] an IFC program successfully for airlines. There is a lot of knowhow that requires an integrator. It's not just about bolting an antenna on an aircraft," says Global Eagle CEO Josh Marks.
Hughes' partnership strategy differs from Viasat, which is vertically integrated, and acts as aero ISP in addition to powering inflight connectivity service with its satellites.
"We're really giving airlines many choices, you're not limited to just one provider," notes Hughes' Rasoulian. "You can use the Jupiter technology or managed service via multiple channels, so the airlines will have to decide which is the best channels."
He continues "I think Hughes as a company is laser focused on connecting the unconnected and in aviation and aero we really have a compelling approach and strategy and compelling capacity to help our airlines really move the needle as the world kind of emerges from the pandemic."
Related Articles:
Featured image credited to istock.com/Leyn