Italian seatmaker Aviointeriors is always up for a new concept. Its history of bringing ideas like the saddle seat Skyrider to passenger experience events like the Aircraft Interiors Expo is one of enlarging the Overton Window — the space in which ideas acceptable to the mainstream exist, usually in a sociopolitical context. This is an inherently useful part of the interiors ecosystem, of course, and is how innovation happens: throw enough darts at the dartboard and you increase your chance of hitting the bullseye. 
But Avio finds itself at a transition point. Before and during AIX this summer, Runway Girl Network spoke at length to then-chief executive officer Paolo Drago, who recently moved into a more international partnerships, mergers and acquisitions role. Aviointeriors continues to offer its mostly retrofit seating products from lightweight low-cost economy through to fully flat bed with direct aisle access, but Drago's last contributions as CEO, it seems, were the eye-catching concepts that the company brought to its stand in Hamburg, and particularly Heric — an acronym from "herringbone in cruise" — and Dodo, or "double double".
The idea behind both products is that of flexibility, especially in the growing single-aisle longhaul market, where all kinds of ideas on how to arrange the geometry of narrowbody aircraft are floating around.
In essence, the idea is that, in cruise — putting the "ic" in "Heric" there — seatbacks swing forward, pivoting along a vertical hinge, while the seatpans remain flat. For Heric, which is three seats wide, the pivot point is between seats B and C on the left-hand side of the aircraft, and between seats D and E on the right-hand side. 
This creates the herringbone that has, for the last twenty years, been one of the most widespread ways to create a fully flat bed with direct aisle access for every passenger in business class. The space at the aisle seat (C or D) remains forward-facing, and the rest of the Heric pod-shaped space is spread across two rows.
On to Dodo, the double double, as aficionados of aviation's favourite hamburger restaurant might say.
For Dodo, which is two seats wide, then the pivot point is at the aisle.
As a concept, both are fascinating, and Aviointeriors is to be praised for having the confidence to put the idea out there at what is a very early concept stage. 
After climbing all over the seats, your author's perspective is that Dodo is more persuasive than Heric. The cross-seat clamber to span three seats is more than to span two, and Heric does rather feel a little bit "coffin class", especially if a passenger chooses to put their head at the window side rather than the aisle side of the herringbone pod shape.
Like any good early seat concept, there's something of a "no, but" series of responses that spark from thinking about Heric and Dodo.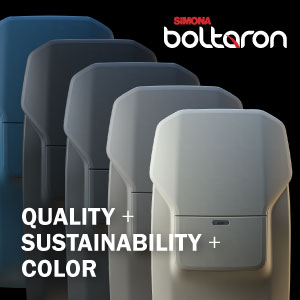 No, this heavy pivoting arrangement probably won't be a goer, but is there some sort of mileage in creating an economy flat surface arrangement beyond the Air New Zealand Skycouch, something suitable for a market beyond children and Hobbits?
No, Heric might be too engineered, but how do we think about making a kind of economy-plus seating option that feels more premium? 
No, Dodo isn't the answer for the two seats side of a 2-3 (or to a lesser extent 2-2) configuration, but how can we address that compelling amount of space generated by thinking about two full rows of seats in a double?
In this case, Aviointeriors might not have found the answers. But it's certainly provoking some fascinating questions.
Related Articles:
Featured image credited to Aviointeriors