The US House of Representatives has overwhelmingly approved five-year FAA reauthorization legislation containing language that, if agreed by the Senate, would force the FAA to set minimum standards for aircraft seating.
Among a multitude of consumer and crew protection provisions outlined in the bill – including making it generally unlawful to involuntarily bump an already-boarded revenue passenger – the FAA would have one year to set minimum dimensions for "seat pitch, width, and length" as deemed necessary for the safety and health of passengers, and as proposed by Congressman Steve Cohen's so-called SEAT Act.
Passage of the SEAT Act, as part of this broader FAA reauthorization bill, could be seen as a major victory for Flyers Rights, the consumer advocacy group which has been pressuring lawmakers for minimum seat pitch and seat width standards, and which last year won a judicial victory when the Federal Court of Appeals for the D.C. Circuit ordered the FAA to reconsider its decision not to place a moratorium on further seat size reduction. The three-judge panel agreed with Flyers Rights on the point that the FAA "failed to provide a plausible evidentiary basis for concluding that decreased seat sizes combined with increased passenger sizes have no effect on emergency egress".
The House's FAA reauthorization bill does not stipulate what the minimum seat size standards should be.
In an interview with Runway Girl Network following the D.C. Circuit decision, Flyers Rights director of communications Kendall Creighton suggested that the standards for aircraft seat pitch and width should be 28 inches and 18 inches, respectively.
The 18-inch width goal is seen as unrealistic by many, since seats on a major industry workhorse – the Boeing 737 – are roughly 17 inches wide in the traditional 3-3 economy class layout. But Creighton told RGN at the time that the consumer group is not asking industry to "retroactively go back" and make seats bigger. It simply does not want to see further shrinkage.
"It's just a small request; please don't shrink them anymore," she said.
Meanwhile, if the FAA set a 28-inch seat pitch standard, it would effectively stop some operators from adopting more tightly pitched seats – which are regularly showcased by seatmakers at the yearly Aircraft Interiors Expo in Hamburg – including Aviointeriors' updated Skyrider seats, pitched at roughly 23 inches (pictured at top and below).
Flyers Rights' Creighton cited the Skyrider-type of "vertical seating", in particular, as being a cause of concern for the group. However, there are very real questions about whether such concepts can be certified without requiring a re-imagining of the aircraft cabin, given that the center of gravity is so much higher than on today's economy class seats, and there is only so much load that the seat track can take.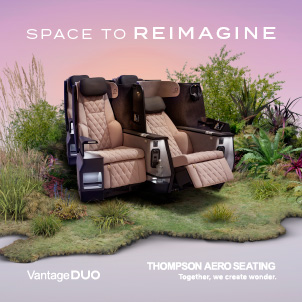 The FAA could not provide immediate comment this afternoon on whether it has the data to support building aircraft seat standards now, or if it would require further testing should the Senate support the House's version of the bill.
Congressman Cohen in a statement says, "House passage of the SEAT Act is a huge win for airline passengers and a huge win for safety.
"Airlines should never be allowed to put profits ahead of safety and health. Passengers need to be able to evacuate quickly and safely in the event of an emergency, and the FAA needs to make sure they can."
But given that the ball is now in the Senate's court, there is still plenty of uncertainty as to whether the House language will make the cut.
Significantly, the House bill also calls for a feasibility study of in-cabin wheelchair restraint systems; and "the ways in which individuals with significant disabilities using wheelchairs, including power wheelchairs, can be accommodated with in-cabin wheelchair restraint systems".
Disability rights advocates are eager to see industry explore ways in which disabled travelers can stay in their own wheelchairs, and have loudly championed the cause of late.
Additionally, the bill calls for a review of air carrier training policies related to properly assisting passengers with disabilities, an amendment proposed by Representative Jim Langevin.
The House just adopted my amendment to the #FAA reauthorization requiring a review of current regulations and encouraging timelier, more effective assistance for passengers with #disabilities, including more hands-on training for airline personnel. https://t.co/vaokR2wVWx

— Jim Langevin (@JimLangevin) April 26, 2018
Aircraft seat size is a disabled passenger issue as well, as smaller seats – with less living space – are seen as adding to the challenges faced by passengers with reduced mobility.
Also included in the House bill is a ban on voice calls in-flight. The US already disallows inflight cell phone calls. However, the bill specifies that wireless calls by passengers are prohibited (which includes VoIP); crew are exempt.
Responding to the House's vote today, airline lobbying group the A4A applauded the effort, while urging Senators "to adopt a long-term bill that continues to hold the line against unneeded tax hikes, while also protecting our customers from ill-advised calls to regulate pricing and services across the industry".
Related Articles: