Italian seatmaker Aviointeriors is having quite the run of interesting momentum this year, not least because of airline industry veteran and engineer Paolo Drago, who was newly appointed as chief executive officer on 1 August.
With 21 years at Alitalia, including 13 as engineering director, Drago tells Runway Girl Network that he is hoping to bring "a flavor of an airline mindset" to Aviointeriors, "trying to bring in new product development [at] this company, mainly for business class".
The seatmaker's existing product lines are also seeing a positive response. The appearance of Avio's Adagio seat in the cabin of the Airbus A320neo family mockup on Airbus' stand at the Aircraft Interiors Expo in Hamburg this April impressed at a time where the industry's larger consolidated players have seen some pushback over their dominance of the market from airframers.
"Business class," says Drago, "is our main point of view, our main element," but he notes also that "we are working on a completely new design of our economy class called Michelangelo."
The purpose, says Drago, is that the firm will be able and ready to meet the needs of customers, be it in linefit or retrofit, "to offer not only business class but also the very important low-weight and low-maintenance economy class with the aircraft."
Nose-to-tail multi-cabin offerings are an important way seatmakers can win business.
At the front end of the aircraft, meanwhile, Aviointeriors is innovating beyond its basic staggered fully flat seat Galileo and its more advanced Adagio stagger.
The future, Drago says, is Skywave, its zero-G entrant into a segment that he calls "higher business class". Skywave consists of a single extensively molded bucket frame that reclines as one, distributing the passenger's weight across the curved back and sides, sort of like a higher-tech, futuristic Le Corbusier LC4 lounge chair in the sky.
"The idea [is] to fit into the first class footprint that we observe is a declining trend in terms of installation," Drago says. While this segment is being reduced, "nevertheless the people that want a higher or first class service are still presently flying."
The crux of Skywave's comfort is that in adjusting the seat it changes the points at which gravity puts pressure on various parts of the body.
Rather than reclining a backrest, raising a footrest, or adjusting the angle of the seat pan independently, a single movement allows all of these changes to happen at once and to be adjusted regularly. As a concept, it is truly fascinating and an impressive foray into industrial design.
"For this kind of very zero gravity concept, we are testing the market," Drago says, explaining that the company is thinking of products like Skywave with exceptional seating comfort offered alongside sleeping options in a seat-plus-bed suite style.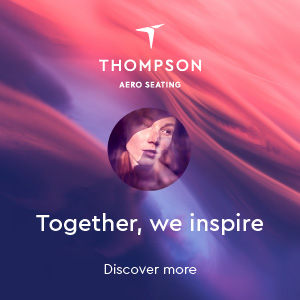 Aviointeriors is currently working on reimagining the cabin as a result: if storage can be built in at floor level, the overhead bins can be removed, and what new options does this open up for, say, wide beds to be installed to position above the reclined seat if the beds do not need to be certified for takeoff and landing?
It's an ambitious series of thoughts in a space that's ripe for innovation.
In discussions with Drago, the question of where and how those beds would be installed is clearly still in research mode. Fixing them to points above the floor would be complex, but a sort of Murphy-bed option would be neither beyond the realms of possibility nor so hugely revolutionary that regulators would struggle to assess it for certification. Indeed, Aviointeriors is not new to this idea, with earlier iterations of its infamous Skyrider saddle seat fixed to both cabin floor and ceiling.
Aviointeriors now has to maintain this momentum. With installations for as-yet-unannounced customers looming, getting the shipsets ship-shape will be the next crucial test.
Related Articles: