Amid the blizzard of new herringbone business class seating at the Aircraft Interiors Expo, a new staggered seat from the Safran Seats France unit of the French interiors supplier stood out. It's called Unity, and it's a surprisingly spacious, surprisingly premium product in the direct aisle access widebody game.
Unity is a direct forward stagger, rather than being angled in the way that Optima (the seat introduced by United Polaris and now used on Air France and elsewhere) is angled in order to add additional density. 
Within the Safran product matrix, the company is positioning Unity as what it calls a "super-business" seat between its Skylounge Core staggered product and its Fusio forwards/backwards product, calling the latter (which is All Nippon Airways' latest business class seat) a business-first class seat. 
Indeed, Unity sits somewhere between these two seats in terms of size and space, which is its unique selling point. Safran's Quentin Munier, executive vice president of strategy and innovation, tells Runway Girl Network that this gives the seat a "very wide seating position". 
Safran also highlights the options for privacy, with doors and an increased shell surround height on offer for airlines to select. The integrated Euphony headset-free sound system, which impressed when Runway Girl Network tried it out as implemented into a Unity product inside a special back room at AIX, is also available.
Indeed, customisation is a focus of this seat, with the seatmaker highlighting that both open and closed stowage options are available, and promising more than twenty customisation options and the opportunity for airlines to make large sections of the seat their own — at speed.
"We have a modular product that enable us to customise in a short time… while keeping some of the fundamentals," Munier says, highlighting that even the fundamentals "are also possible to change if you like, but that may take a bit more time than 12 months."
In person, Unity certainly impressed when RGN journalists tested it out at AIX. The footwell is spacious and allows for even the larger-footed passenger to roll over while asleep, and in seated mode the space is well thought through.
It will be interesting to see how many airlines select versus delete the tiny flip-down armrest on the centre partition, and indeed how many will want to create the "honeymoon" effect by having a double-drop partition to create a double bed for couples travelling together.
Also striking with Unity is the choice to step back the side console table above the footwell of the passenger behind.
Safran is showing this as a scalloped-edge fabric surface, which seems unlikely to reach primetime for reasons that become apparent as soon as you imagine the first glass of red wine knocked over as a passenger reaches for their wirelessly charging smartphone.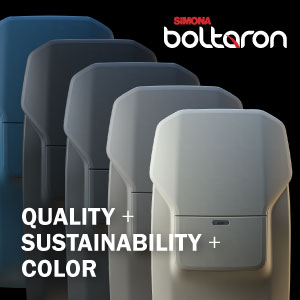 Speaking of tables, Unity also features a large, single-slab tray table, which extends backwards from underneath the monitor, and is able to be pushed forwards so that the passenger can exit the suite even while dinner is served or while working on a laptop.
Unity "is available for all widebody aircraft except the A330, which is to be discussed," Safran's Munier confirms, noting that the seat "is already sold to one customer and in developments, and it's also sold to another customer in a highly customised version."
Like the Vue outward-facing herringbone aimed at the narrowbody market and the Visa inward-facing herringbone recently unveiled as the next Air New Zealand Business Premier seat, Unity was one of the results from Safran's inter-business-unit Sapiens competition. 
Related Articles:
Featured image credited to Safran