Adding loudspeakers to business and first class seats sounds like it could produce a cacophonous nightmare in the cabin. But Safran Seats, in partnership with acoustic engineering company Devialet, has found a way to provide high-fidelity sound in its popular line of premium seats without affecting other passengers' experience onboard. At least that is what the company was pitching at the recent Aircraft Interiors Expo in Hamburg.
Runway Girl Network caught up with Safran senior architect Paul Wills and Devialet chief executive Franck Lebouchard at the show to discuss what this new technology can offer passengers and airlines, and to try it for ourselves.
The so-called Euphony system is designed to add further luxury in premium classes by dispensing with the need for headphones. As Wills explained, noise cancelling headphones are excellent for sound quality and privacy, but have limitations. Wearing a chunky headset for an extended period of time can be uncomfortable, and even more so with a mask tucked underneath it. Moreover, the advent of ultra-long-haul flying means that a Bluetooth headset will need recharging before landing.
For Euphony, Safran Seats added high quality Devialet speakers to an adjustable headrest, enabling passengers to effectively experience surround sound in their suite and ensuring they can enjoy the inflight entertainment unencumbered by wires or heavy headphones.
But this is not simply a speaker solution controlled by a volume button. Rather, Euphony has bespoke software that dynamically adjusts the sound to cover ambient noise from the aircraft, as well as manage the sound output of media. As explained by Devialet engineers, these speakers are not noise cancelling, as the technology is not yet able to support that kind of setup today, but the teams are studying this functionality for the future.
Runway Girl Network was given a private demonstration of Euphony at AIX. Clearly keen to prove that the concept works, Safran Seats had created a soundscape of a flight which played during the demonstration to make the experience seem as realistic possible. On a three-minute "flight", the system played a variety of sounds, from blockbusters to podcasts, while the typical noises of a widebody on takeoff, cruise, and landing were piped in from speakers around a closed room. 
Honestly, this journalist was highly skeptical about the product before testing it out. But the demo was convincing (photos of the mockup were not permitted). The sound quality was good, if lacking the depth of a noise cancelling headphone set, and there was very little vibration from the speakers themselves.
The adjustable headrest meant that I could pull both wings around my head, or pull one away to have a conversation with somebody else. While the mockup suite featured a door, there was no noticeable difference to the sound when it was open. The aircraft sounds were more like a soundtrack to Das Boot than anything I have heard in the air. In short, they were not distracting.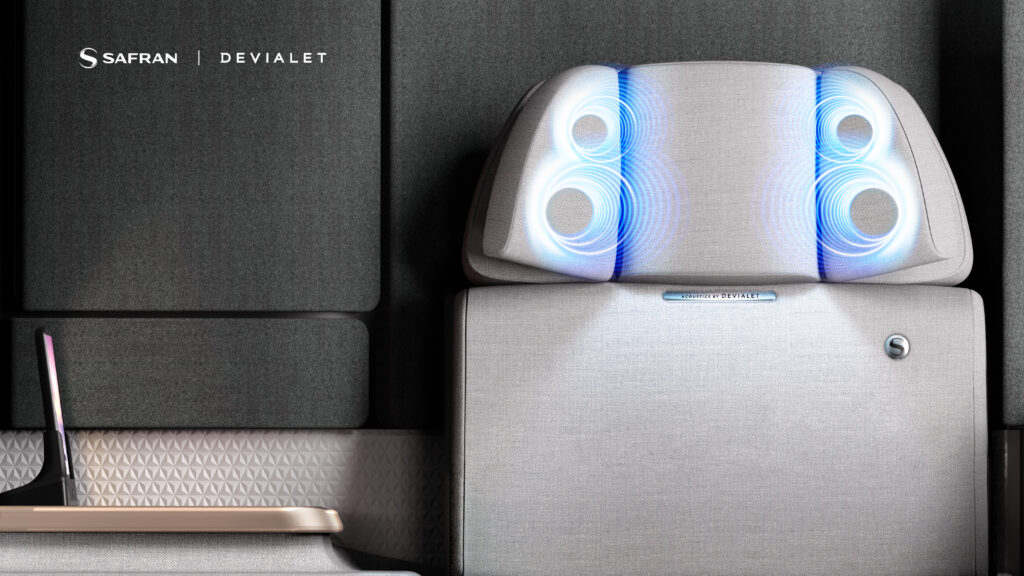 Following this test, I was also invited to board the same flight experience, but outside of the seat. Audio leakage, where the sound bleeds out into the surrounding cabin, was a key issue that the team wanted to solve from the outset. During this particular demonstration, I walked around the suite and leaned over the door. There was a whisper of sound in the aisle, but not much; it felt similar to walking past a cinema auditorium. This whisper is tolerable to Safran Seats, as long as it does not impact any other seat in the cabin.
For the seatmaker, Euphony is about "adding value" to the cabin experience. "If you can go to sleep or relax without headphones, this adds value," noted Mills.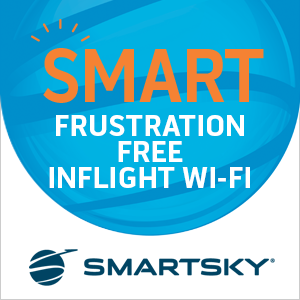 Rather than replacing headphones outright, Euphony simply provides a new way to enjoy media, including while interacting with other passengers and crew. Watching a film with a passenger next to you becomes a social experience rather than just watching the same content side-by-side but independently.
Naturally, Devialet is focused on the sound experience, and sees Euphony as the next step in improving premium travel. As Lebouchard explained, passengers' viewing experience has been improved consistently with new 4K screens, but sound still needs to catch up. 
Nevertheless, Mills freely admitted that Euphony is not designed for audiophiles. Listening to the nuances of classical music, for example, is better suited to headphones. As such, passengers will be able to seamlessly transition between Euphony and headphones by plugging into the jack. 
Safran is not the only player in the game. Jamco and Sonority also presented similar technology at AIX. What's clear is that headset-free sound for premium seating is not a gimmick. Euphony offers a way for passengers to enjoy media comfortably as they would at home without the need for headphones. Whilst not a revolution in sound, it is a transformation in the cabin experience. 
Related Articles:
All images credited to Safran