Safran's aircraft interiors business reported a 39.7% decrease in revenues for the first half of 2021, as the COVID-19 pandemic continued to hammer the sector and indeed the broader aviation industry even as air traffic showed signs of recovery. The French multinational corporation believes that it "in all likelihood" reached the low point for aircraft interiors' revenue during the six-month period.
In its latest earnings report, Safran said original equipment (OE) revenue dropped by 37.6%  — or 32.1% organically  — in H1, as its Safran Seats business saw a strong decrease in business class programs and its Safran Cabin activities reported lower volumes for galleys and lavatories on the Airbus A320 and A350 programs, floor-to-floor activity on the Boeing 787, as well as catering and inserts.
Services revenue also fell steeply during the first half, decreasing by 44.8% due mainly to a depressed aftermarket for seats, as well as cabin spare sales and MRO activities. "Cabin profitability strongly decreased due to the drop in volumes both for OE and services," said Safran.
Even so, Safran secured some new business in the first six months of 2021, reporting that it will provide its new Vue 'single-aisle super business class' seat to a Middle Eastern airline's Boeing 737 MAX twinjets.
Vue is billed as offering "a highly qualitative journey experience" that promotes privacy, well-being, ergonomics and high attention to detail.
"It was conceived as an element of rest and support, defined by its unique design language. [It] is our all new business class seat that encompasses the latest innovation, technology and know-how that offers an unmatched experience for the new generation of passengers," said the firm.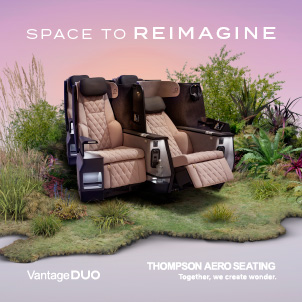 Safran will also supply an Indian operator with linefit Z200 economy class seats for 75 Airbus A320/A321 aircraft. A German airline has tapped the firm for crew rest areas and Skylounge Core business class seats on its future fleet of 16 A330neo aircraft.
"Safran's results for the first half of 2021 remain affected by the effects of the crisis and an unfavorable basis of comparison in Q1. They also show a start of the recovery in the second quarter," said CEO Olivier Andriès in a statement.
To wit, despite the drop in revenues, Safran Seats, specifically, improved its performance compared to H1 2020 thanks to the positive impact of a restructuring plan which began in 2020 and extended into 2021, noted the firm, whose restructuring exercise included site closures in Bellingham and Ontario in the US.
"As anticipated, the second half of the year will be essential to see if the effects of the anticipated strong recovery in air traffic in Q3 and Q4 are reflected in the full-year results. We are preparing for the recovery while maintaining strong discipline on costs and cash in line with the efforts achieved in 2020," said Andriès .
Related Articles:
Featured image credited to Safran