In 2019, Safran Seats began quietly developing a premium, international-style business class seat for long-haul, single-aisle twinjets. As an aircraft seating manufacturer covering all classes of service — from economy to first class — Safran Seats' decision to bring a tailored product to this part of the market was a no-brainer, and gave it the opportunity to enable a cohesive flight experience with widebodies in the world fleet, where its premium seats historically enjoyed strong take-up from airlines.
In developing the seating product, Safran Seats relied entirely on its own international teams, drawing on the expertise of its designers in France, the UK and Mexico. "We have annual internal challenges focused each year on a specific problematic. Four cross cultural teams had the occasion to imagine this new seat," Safran Seats EVP innovation & strategy Quentin Munier explained to Runway Girl Network.
In the midst of the COVID-19 crisis, Safran Seats was able to manage the product's development remotely, spending 2020 in the engineering phase — work that is relatively easy to accomplish without in-person interaction.
During Safran Seats' detailed analysis comparing the best LOPA configurations for the new business class platform, the company concluded that, in its view, a reverse herringbone architecture would provide a superior passenger experience to a herringbone configuration.
Given that Safran Seats (formerly Zodiac) brought the original reverse herringbone business class seat to market with Cirrus for widebody aircraft, RGN asked if the firm learned anything new in its studies that it didn't already inherently know?
"Yes indeed, thanks to our long history with Cirrus and the reverse herringbone market, from inception we were convinced of the fundamental benefits brought by such a solution, especially within a single-aisle configuration where all passengers would have their own windows," replied Munier.
"However, to make the best use of single-aisle cabin dimensions, the product had to be substantially rethought, introducing new angles, pitches and all kinds of engineering challenges. All in all, those changes were deep enough that we had revalidate our assumptions and design decisions through extensive passenger testing with full scale prototypes." Safran Seats' employees began returning to in-person work in the summer of 2020, after COVID-19 safety precautions were firmly in place.
Several seating solutions emerged and were extensively assessed and tested with some key airline partners and some passenger groups. "In the end, one design was chosen, enriched by ideas of the four teams," explained Munier. He said Safran Seats' original goal — to match the overall widebody business class experience on a narrowbody — was achieved if not surpassed.
According to Safran Seats, the new window-facing reverse herringbone seat for single-aisle aircraft, called VUE, boasts a longer bed length, a wider width at the waist and a wider width at the feet than traditional herringbone designs.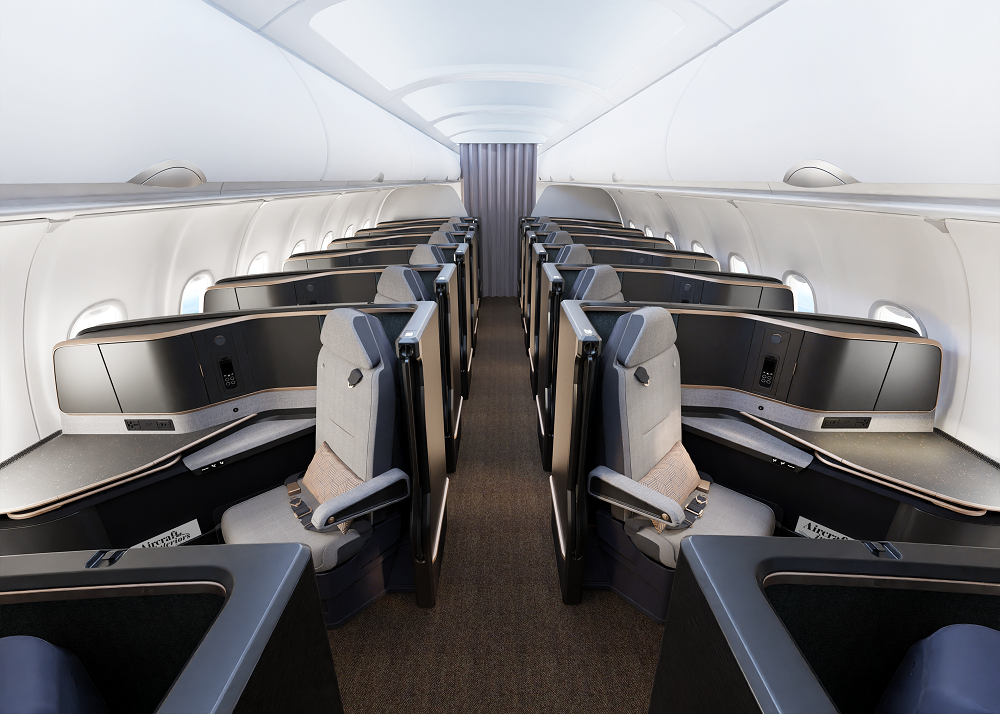 Safran Seats believes that, when compared with a traditional herringbone, the reverse herringbone design offers superior boarding access plus a better boarding view, storage, suite access, sleeping privacy — as passengers facing the window eliminates eye contact with other passengers — and takeoff and landing view, even though it has a narrower width between armrests than a herringbone. The finer details about VUE are still under wraps. But Safran Seats pitches the platform as being 'super business class' for single-aisle aircraft.
"It is no secret that matching the overall widebody passenger experience on a narrowbody represents a challenge. I think about the number of available galleys, the boarding process, the single aisle, etc… So, it was key for us to be able deliver a product that would match the most premium business class products in widebody aircraft, while making the best possible use of cabin real estate and achieve cabins seat counts airlines were asking for," Safran Seats' Munier told RGN.
"To achieve that with VUE, we combined the superior experience inherent to its reversed herringbone layout in terms of privacy, ease of access and window facing position, with an outstanding bed that is balanced, seamless and spacious like no other."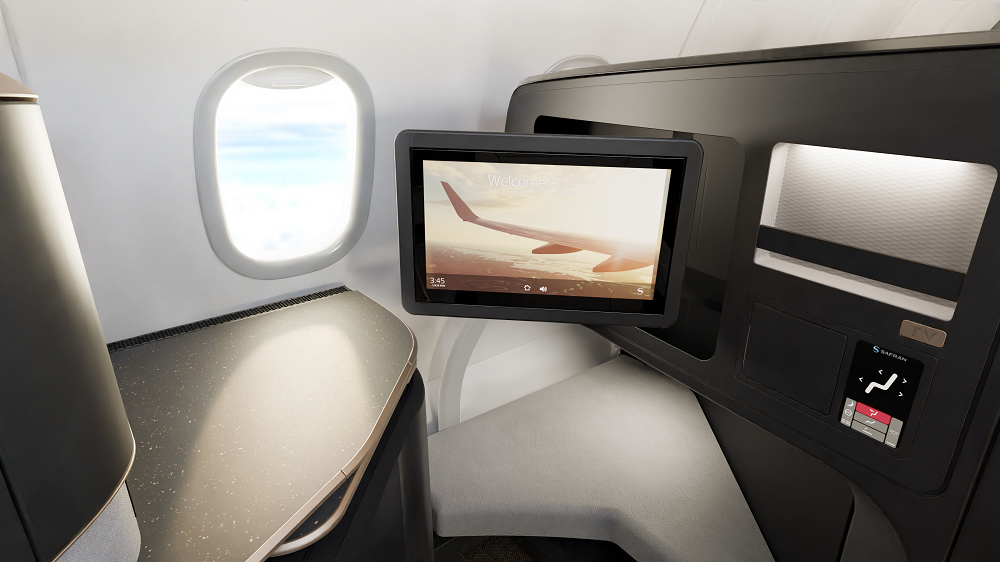 VUE will compete with a variety of other fully-flat, direct aisle access platforms in the single-aisle space, including the inward-facing VantageSOLO doored mini-suite manufactured by AVIC Cabin Systems' Northern Ireland-based unit, Thompson Aero Seating. VantageSOLO rolled out on JetBlue's A321LR this summer and has received praise from passengers. Opera, Stelia's latest outward-facing herringbone business class seat, is also designed expressly for single-aisle aircraft.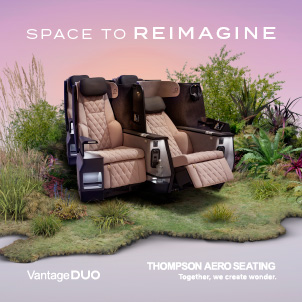 Notably, VUE has secured customers for both Airbus and Boeing narrowbody platforms, and the seat is now being offered as linefit, said Safran Seats EVP sales Christophe Accolas.
As of today, Safran Seats has secured two customers for VUE, one for the Airbus A321XLR, and another for the Boeing 737 MAX (a Middle Eastern operator, according to Safran's recent earnings report).
While the names of the firm's VUE customers are presently confidential, Accolas said VUE will debut on the A321XLR and should be flying in 2023.
The company initially planned to display VUE this year at what was expected to be an in-person Aircraft Interiors Expo in Hamburg, but the in-person show did not transpire due to the pandemic (a virtual AIX presentation was instead offered this month). Accolas said Safran Seats "should display it in June 2022 during the next AIX Hamburg edition".
As several players hone their business class platforms for narrowbodies flying long-haul, demand for the big twin-aisle widebodies remains suppressed. Noted aerospace consultancy Teal Group in a recent report forecasted "many early retirements coming", primarily twin aisles. And it highlighted the "quadjet bloodbath" underway, especially the A380.
While the Teal Group forecasted "a lasting shift towards single aisles, with profound consequences for primes, suppliers, and jetliner financing", it also suggested that twins have been in dire straits several times before and may bounce back to a degree given their "belly cargo (Asia/Mideast connectors); range (Asia/Mideast connectors); and post-fragmentation route thickening (legacies gaining, international LCCs losing)."
For its part, Safran Seats sees solid growth opportunities in the long-haul, single-aisle market.
"This market is clearly a growth market in a market for long-haul business class seats that is currently depressed. And our ambition here is definitely to be one of the leaders in this segment and achieve a market share that is comparable to our market share in the boarder long-haul business class seats segment," said Munier.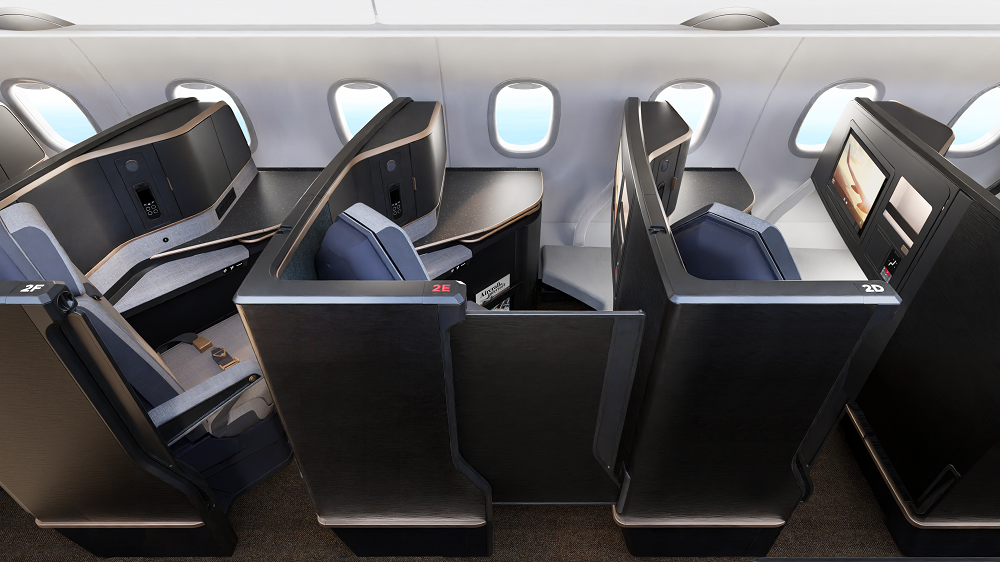 Related Articles:
Featured image credited to Safran. All other embedded images credited to Fintan Horan-Stear.