While I started my pandemic-era US domestic flying as soon as the COVID-19 shots were in my arm, I continued to shy away from international travel due to the constantly shifting entry requirements and airline schedule uncertainty. That finally changed 460 days after my last international flight, when I flew with SAS from Newark to Stockholm to reboot my annual December adventure.
When I first booked the trip my selected flights were to be operated by the Airbus A330, but later shifted to the A350 which was great news for this AvGeek. I booked premium economy but submitted a bid for business class using SAS' Plusgrade implementation for the outbound flight. The upgrade cleared 48 hours before departure, giving me ample time to select a new seat. Having flown SAS premium economy in the past and feeling a bit underwhelmed, I was excited to finally try its business class offering.
For entry into Sweden as an American I needed to provide proof of vaccination. SAS' Travel Ready Center allowed me to upload proof of vaccination online within 72 hours of departure. A notification confirmed that the airline had approved my document.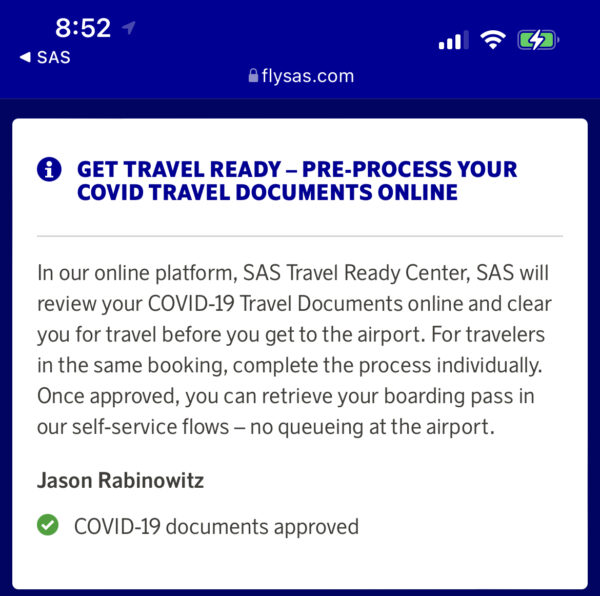 Unfortunately, that approval process didn't appear to actually do anything. I was able to checkin online but unable to get a boarding pass.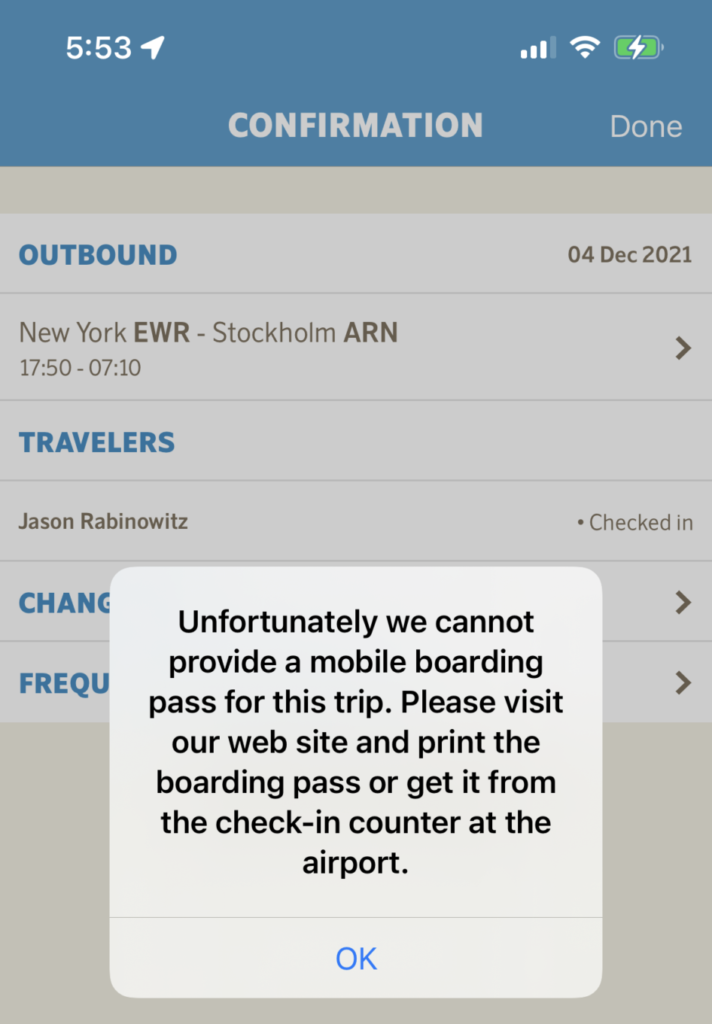 I tried the self-service kiosk at Newark as the SAS app suggested but it also refused to print a boarding pass. I had to go to the full-service checkin desk so that an agent could approve my vaccination documentation, even though this had apparently already been done beforehand. Not a great experience, but I had arrived early in anticipation of such an event.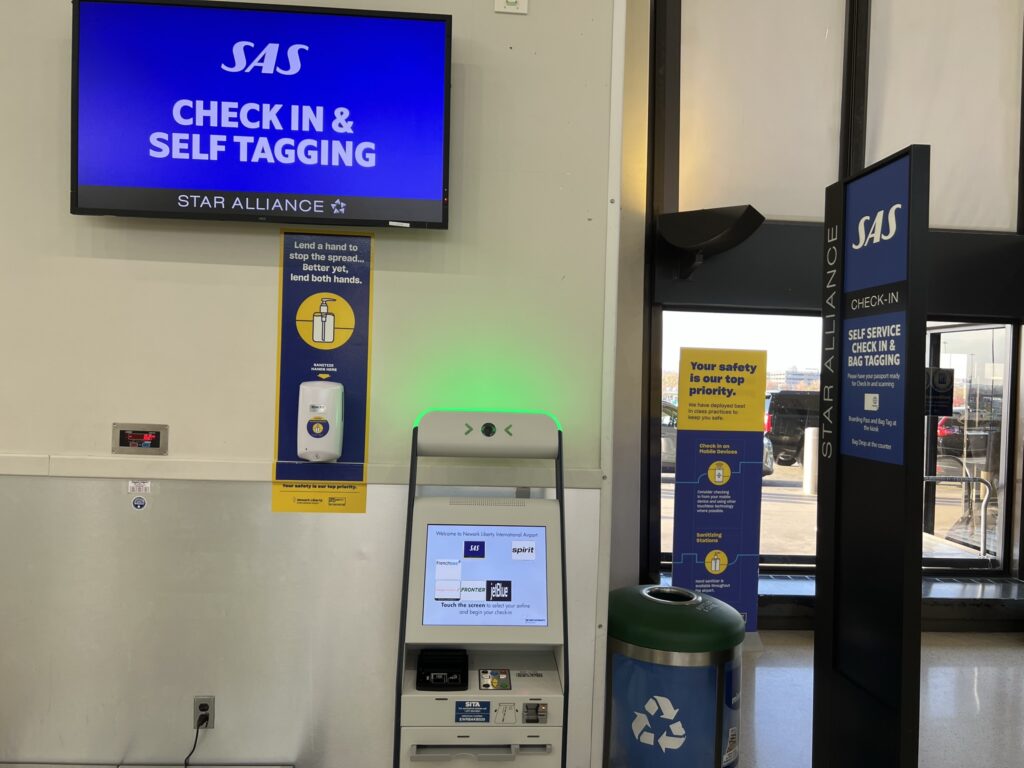 Before the COVID-19 crisis, SAS' lounge at Newark was uncomfortably overcrowded due to the airline's generous lounge access policy and small space.
I found a small private office space in the back and was able to hunker down in there until boarding.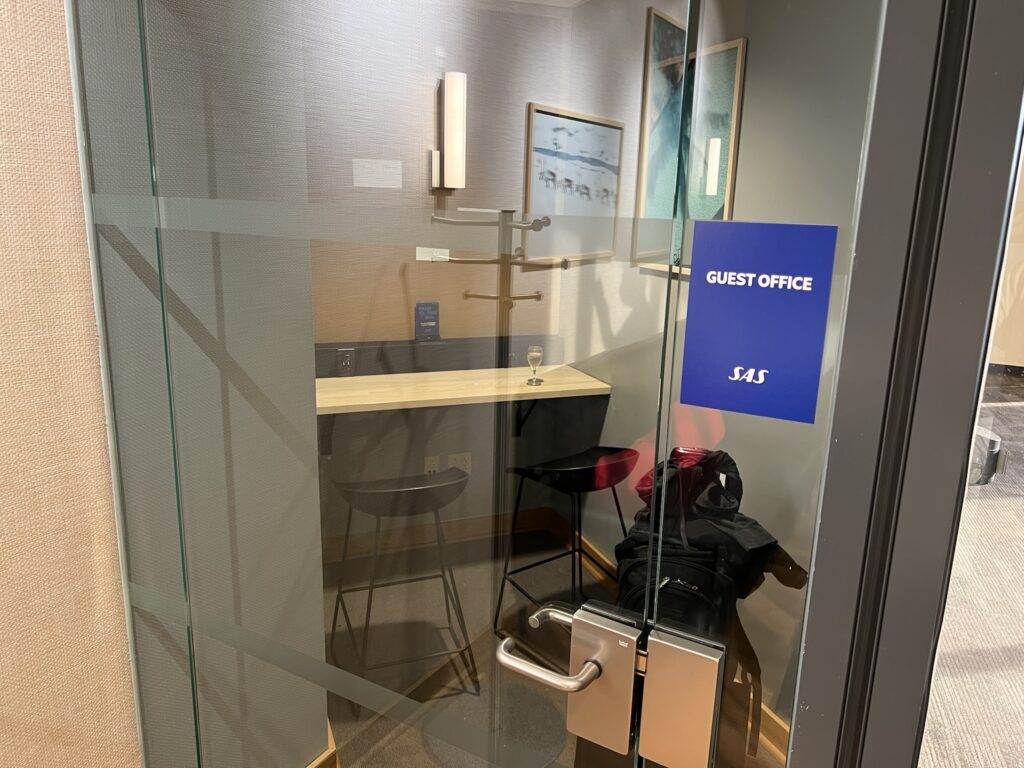 I was underwhelmed by the selection of drinks, and did not see fresh food beyond what I had seen in years past as only pre-packaged sandwiches were available.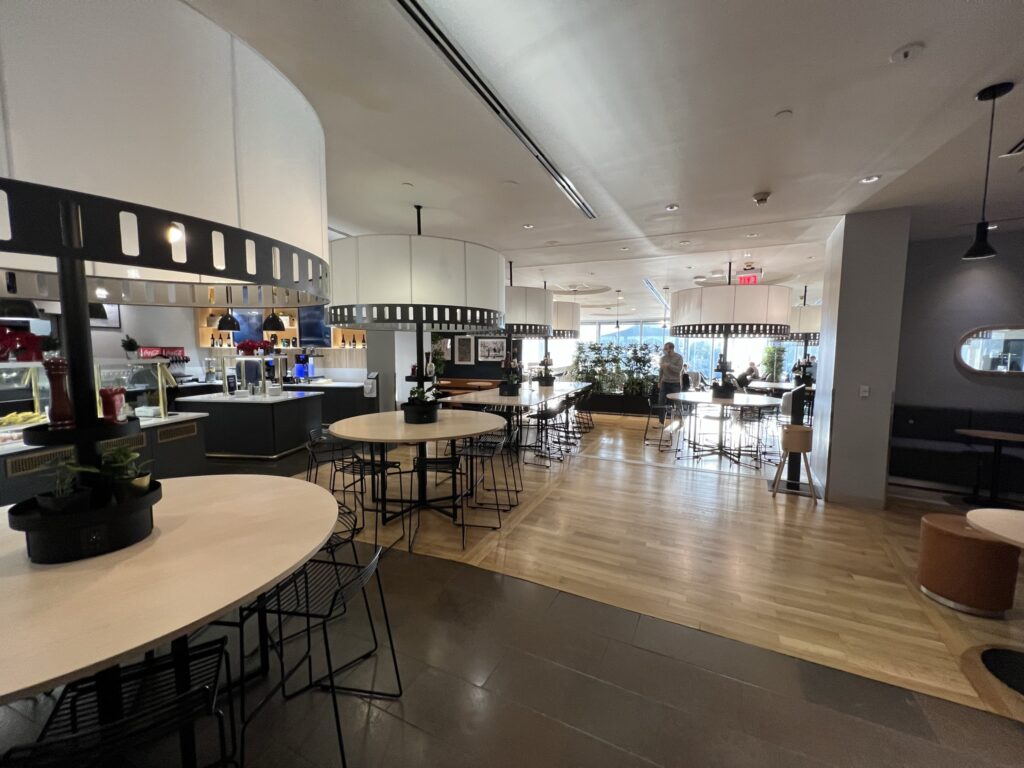 On board the A350, a duvet, blanket and pillow were waiting for me on my seat. I stashed them in the overhead bin and settled in for the roughly 7-hour flight. SAS business class is visually appealing, with warm design notes and an overall sharp color scheme.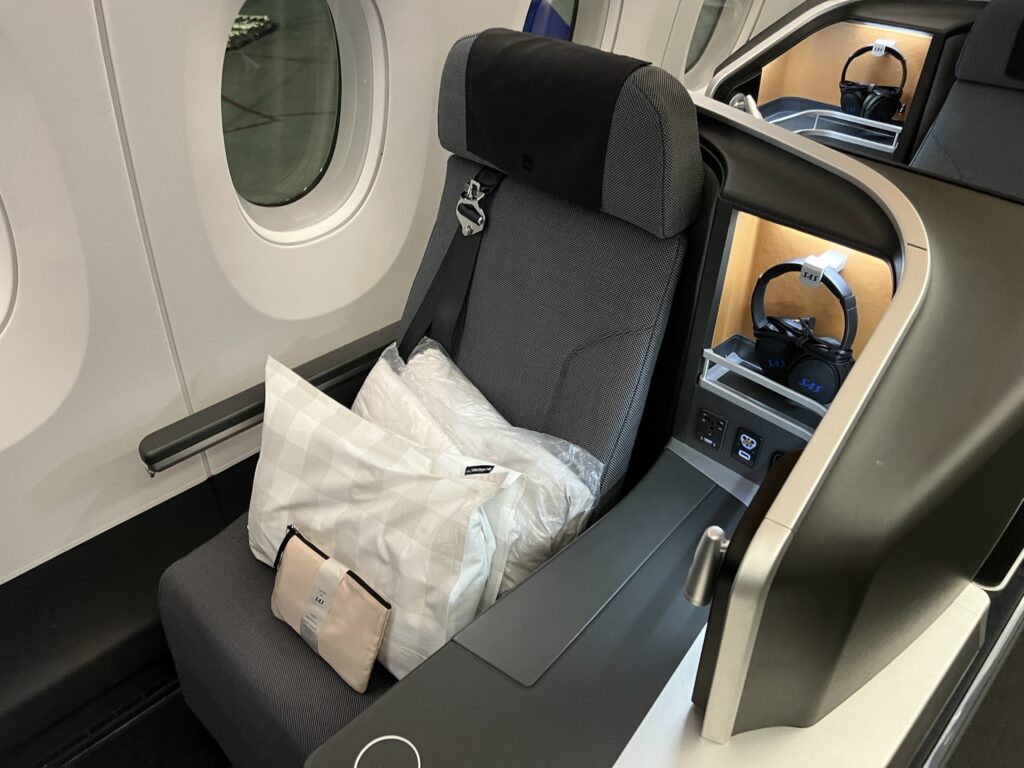 The Vantage XL seat from Thompson Aero Seating is well appointed, with multiple USB-A ports, an AC power outlet, and several nooks and crannies for storage and a touch of mood lighting.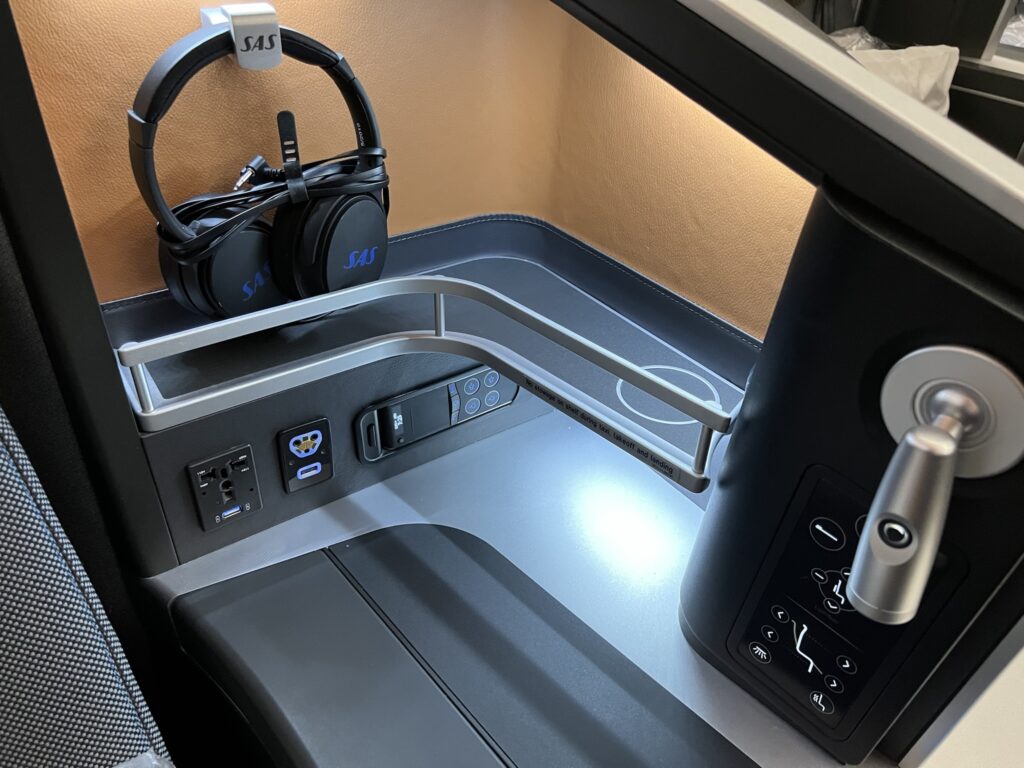 The seat lacks the level of privacy that many other premium seats provide, with or without a door. Compared to United's Polaris seat, even, I felt a bit exposed.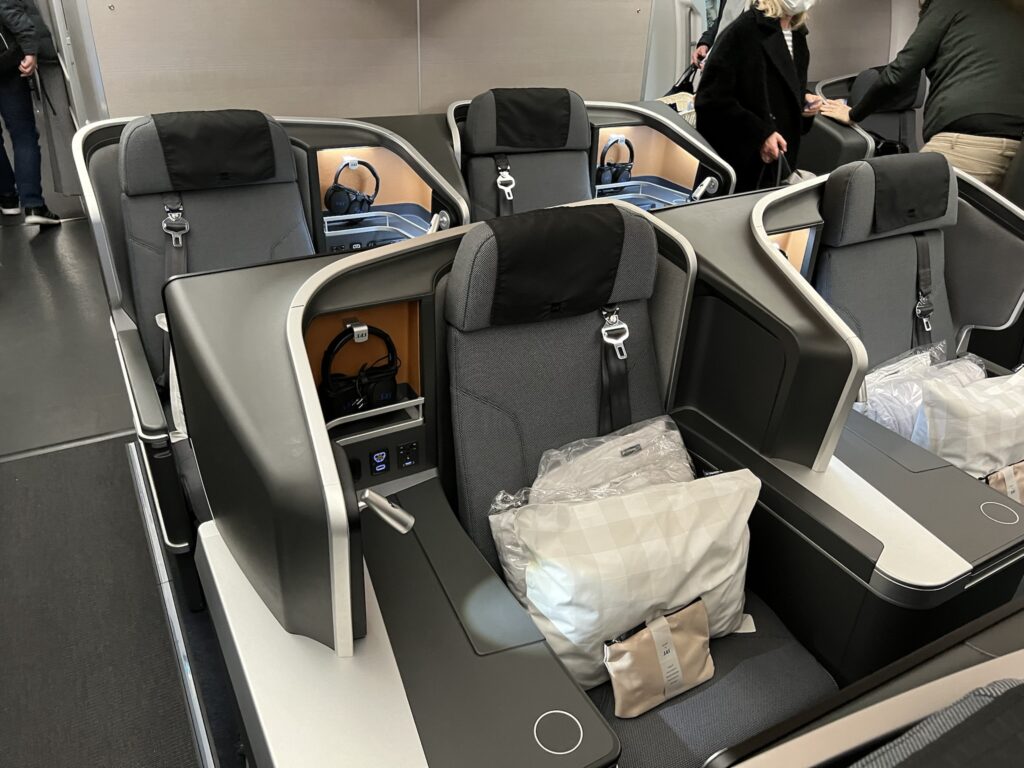 Nonetheless, the seat was plenty comfortable for long-haul flying, and the footwell was deep enough that I could lay down without issue.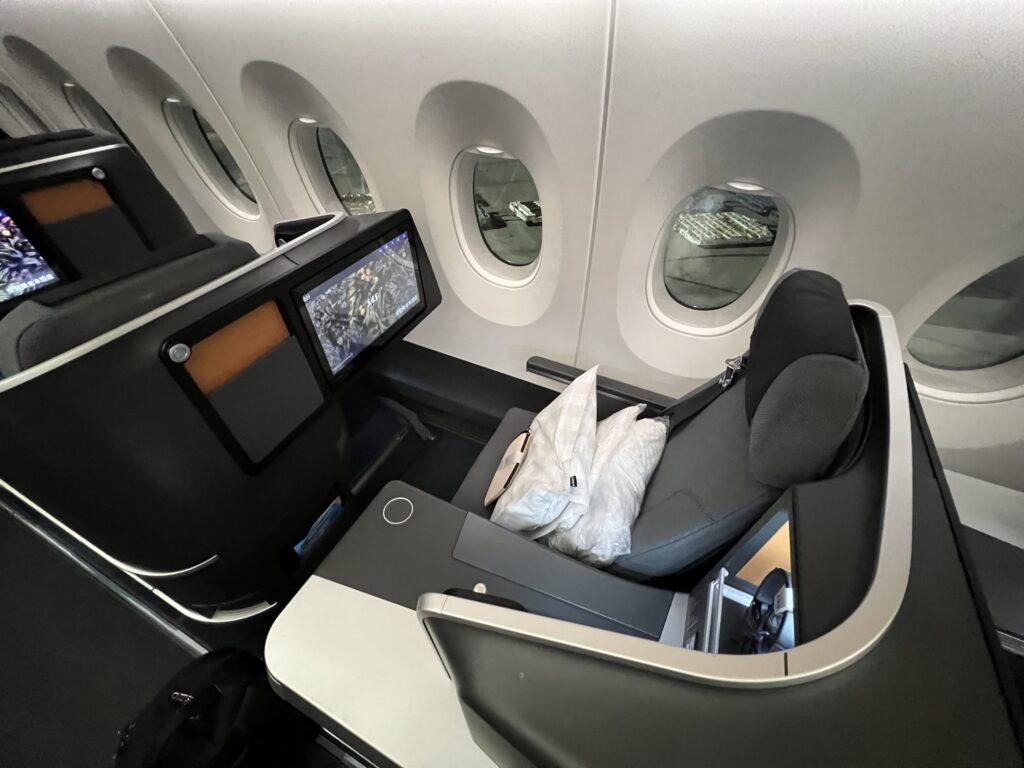 SAS stuck with Zodiac (now Safran's) RAVE inflight entertainment system for the A350, and its business class seats feature a beautiful large IFE screen. SAS continues to utterly disappoint when it comes to content selection, however.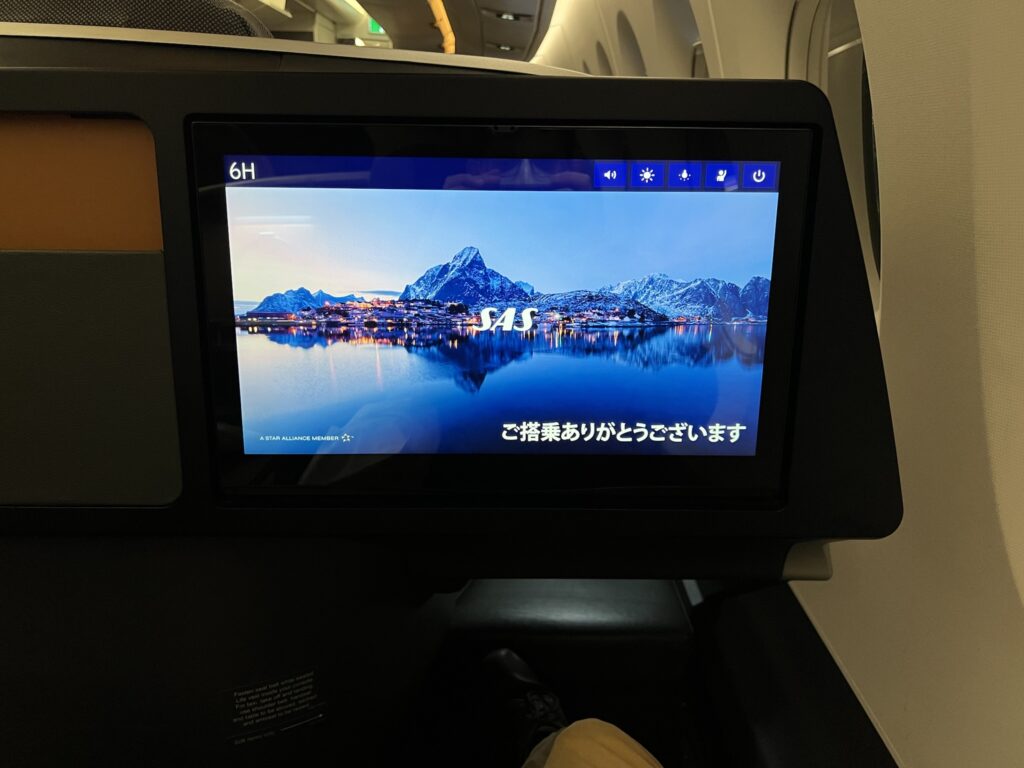 The system was loaded with just 37 feature length movies, an unacceptably low figure for a full-service airline. An additional 35 TV episodes were loaded, with most offering just one single episode each. The audio quality also suffered from being overly compressed, which seemed ironic given that the video server likely had plenty of space.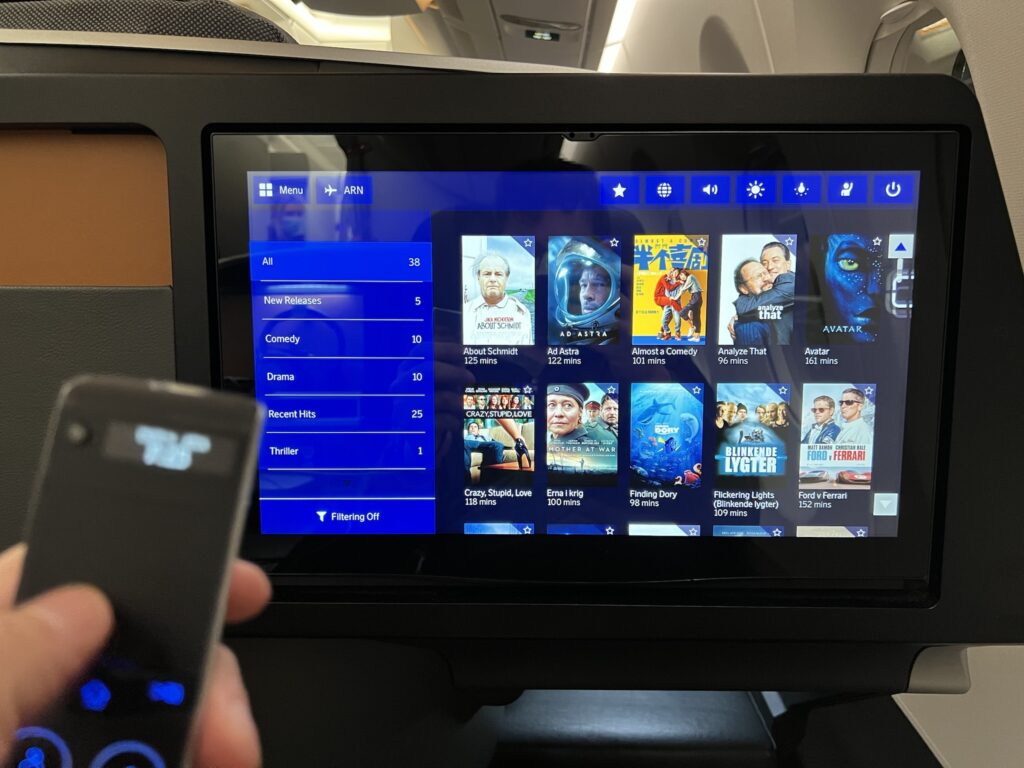 At least the A350 sports a HD tail cam that kept me entertained for a while. I am baffled by SAS' decision to barely load any content, and the shortfall isn't just a result of COVID-19 cutbacks as this was the case prior to the pandemic.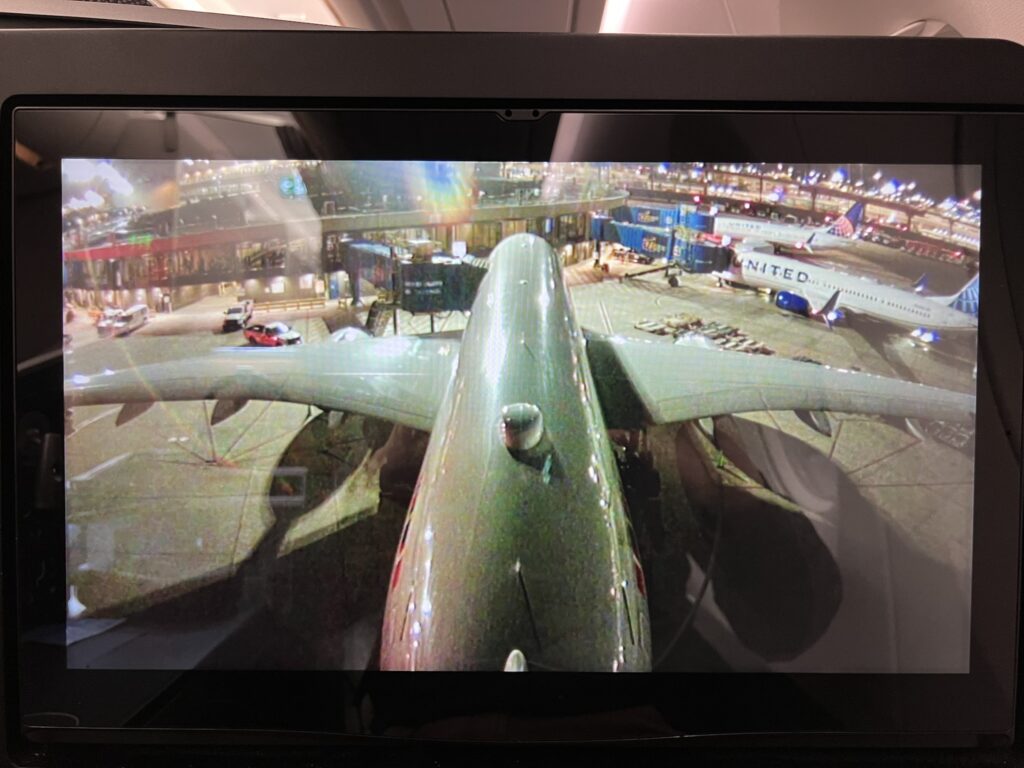 Speaking of COVID-19-inspired cutbacks, the meal service reminded me more of a premium economy service than a full service business class service. There was no printed menu, though the IFE system had a list of the available drink choices.
Of the steak, chicken, and pasta options I chose the steak, which was cooked well and enjoyable. The entire meal was served on a single tray and all at once, with foil and plastic covering each individual piece of the meal. A cold bread roll, side salad and a rather flavorless seafood side accompanied the steak.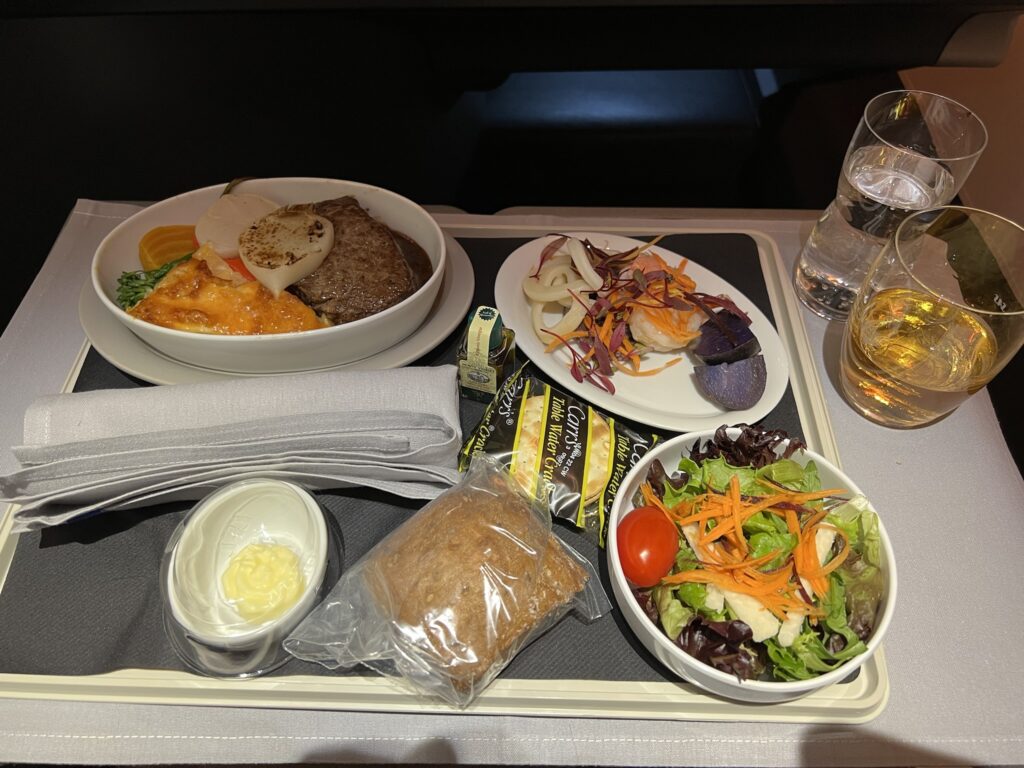 The dessert was a small package of three small chocolates. A cold breakfast plate of meats and cheese was served roughly an hour before arrival.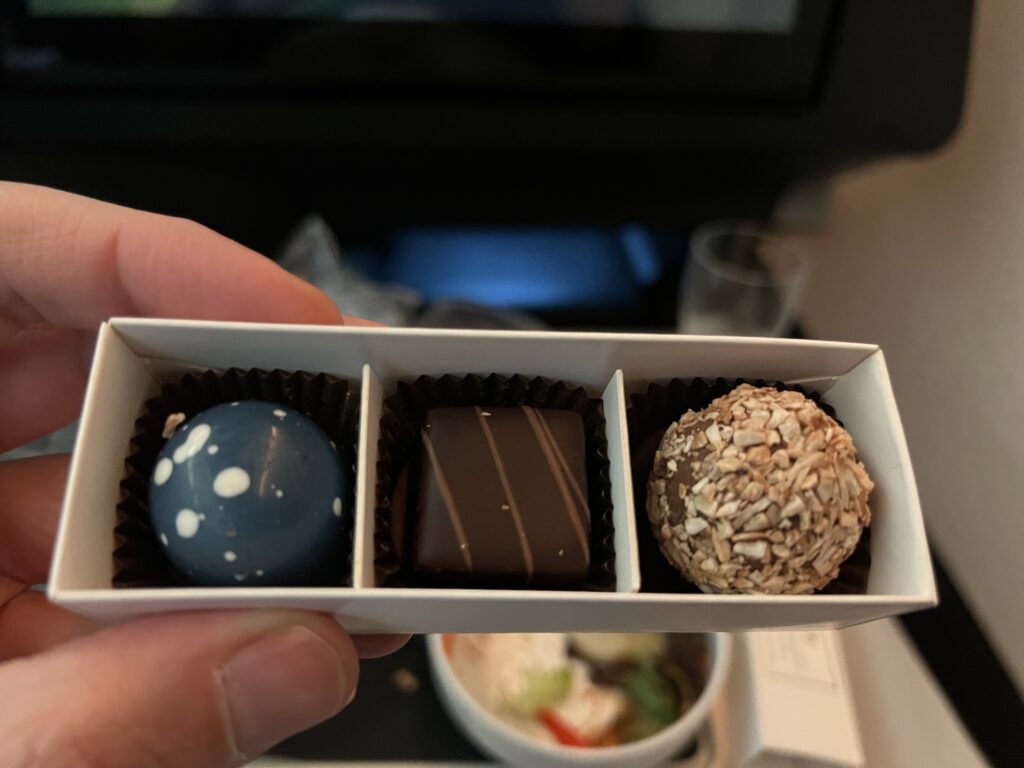 Overall this was a very forgettable meal service, though I did quite enjoy Sweden's single-malt Mackmyra Traveler Whisky on offer.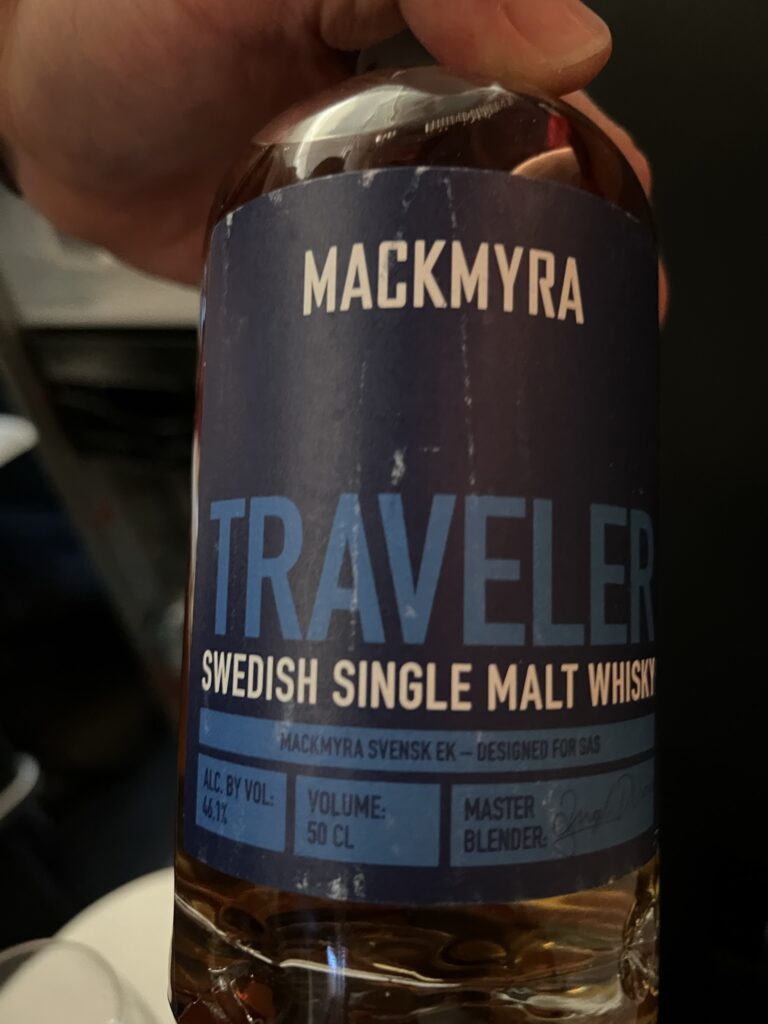 SAS offers free inflight Internet browsing for passengers in premium economy and business, with the A350 connected via Inmarsat's Ka-band satellite-supported system known as GX.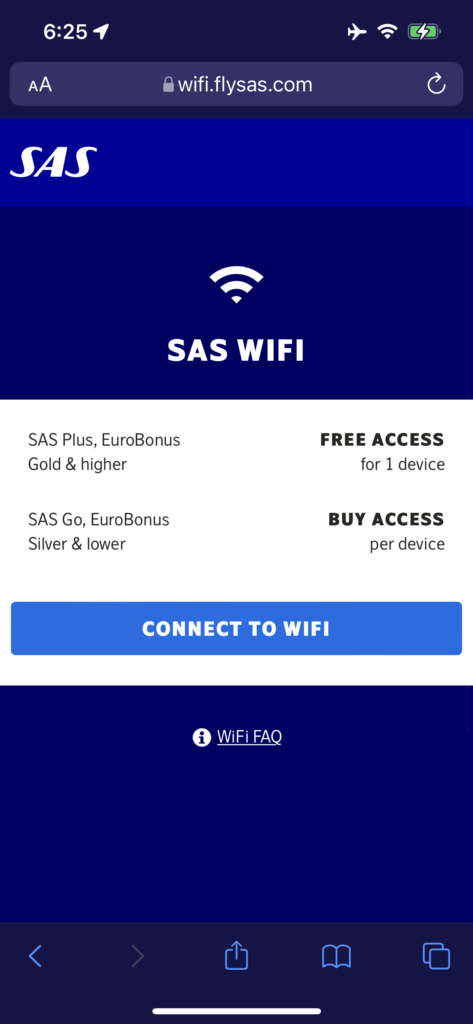 I was able to login and use the system without issue and experienced generally solid download speeds with passable upload speeds. All streaming video applications I tried, however, failed to connect. Being able to stream video over the Wi-Fi system would be a nice touch given the lack of IFE content.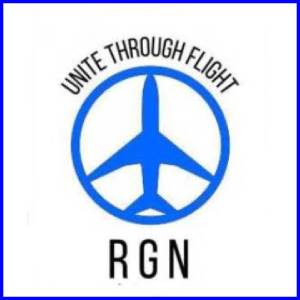 This flight was just days after the world became aware of the potentially high transmission rate of the Omicron COVID-19 variant, and I was quite disappointed by the nearly zero mask compliance on board.
Swedish citizens appear to have largely stopped wearing masks, and this carried over to the flight. While it seemed that everyone had on a mask in the airport and during boarding, once the meal service started masks came off and did not return until final approach when the cabin crew did their final safety checks. This is in stark contrast to my flights in the US where mask compliance has largely been universal.
Overall, SAS provided a solid hard product but continued to disappoint with its soft product offerings. I expect more from a full service airline, but it's increasingly difficult to differentiate between what is a temporary COVID-19 cutback or a permanent service modification, and what an airline simply does not wish to improve. In this case, I think it's a mix of both.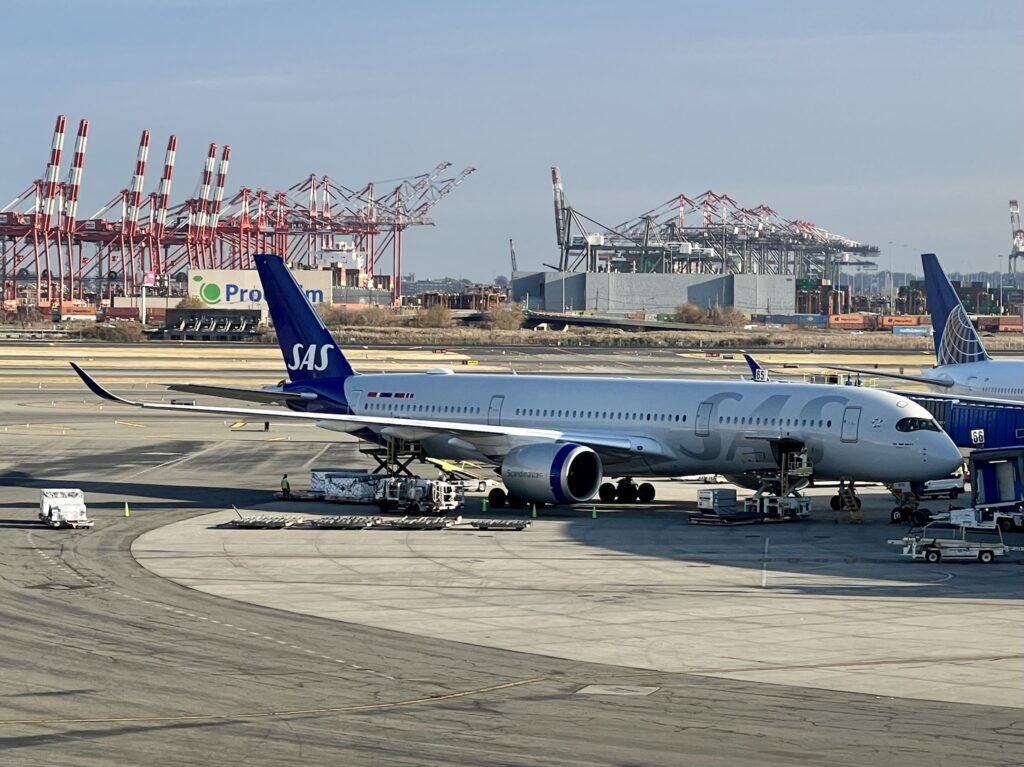 Related Articles:
All images credited to the author, Jason Rabinowitz